Exclusive
EXCLUSIVE: Dr. Brian Reagan Broke Up With Kelly Dodd Because She Beat Him Up & Cheated With Fox News Reporter Rick Leventhal!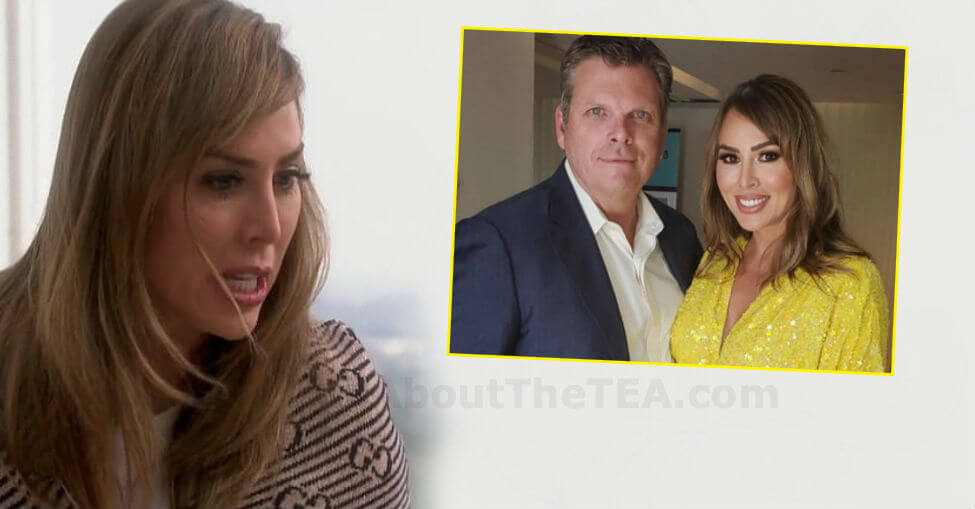 Kelly Dodd's ex-boyfriend, Dr. Brian Reagan, broke up with The Real Housewives of Orange County star after enduring emotional and physical abuse at the hands of the reality diva. Additionally, Kelly cheated on the plastic surgeon, AllAboutTheTEA.com can exclusively confirm.
Kelly Dodd's romance with plastic surgeon, Dr. Brian Reagan, is currently playing out on The Real Housewives of Orange County — the Bravo lovebirds seemingly on a fast track to the altar. However according to a ROCK solid source, Kelly Dodd cheated on Dr. Reagan with her new boyfriend, Rick Leventhal, who is a news reporter for Fox News.
"Kelly started secretly hooking up with Rick [Rick Leventhal] in July while she and Brian [Dr. Brian Reagan] were telling each other 'I love you' and planning to take their relationship to the next level" A source explains to All About The TEA. "They were talking about marriage."
READ ALSO: Kelly Dodd Lashes Out At Family Members After She Was Exposed For Ignoring Her Sick Mother — Kelly's Family Drags Her!
Kelly was smitten with Rick from the time they met over the Fourth of July weekend in the Hamptons and "Brian found out that Kelly was texting and talking with Rick every day since meeting him in July," A source tells AllAboutTheTEA.com.
To make matters worse, Rick Leventhal was not Kelly's only infidelity in her relationship with Dr. Reagan.
"Rick is not the only man Kelly cheated with while she and Brian were together. She had several hook-ups with male friends throughout her 9-month relationship with the doctor [Dr. Brian Reagan]."
Literally hours after breaking up with Dr. Brian Reagan — The Real Housewives of Orange County star embarked on a 4-week European excursion with Rick Leventhal.
Kelly Dodd and Dr. Brian Reagan hit the skids in August 2019 — and AllAboutTheTea.com has learned that Dr. Reagan cut ties with Kelly after enduring months of emotional and physical abuse.
"He [Dr. Brian Reagan] just could not take it anymore and broke it off. Kelly had become violent towards Brian. She would belittle him through verbal, emotional, and physical abuse. She did a complete 180 from the woman he first met. Also, he found out that she was cheating and using drugs."
Kelly Dodd has become notorious for her unhinged verbal outbursts, but stunned the cast when she struck Shannon Beador and Gina Kirschenheiter during a cast getaway in Arizona.
As exclusively reported, a member of Kelly's own family exposed that she use to violently assault her ex-husband, Michael Dodd. The beatings were so bad that one incident resulted in Michael sustaining a black eye — forcing him to get a restraining order against his ex-wife. On July 6, 2014, Kelly Dodd was arrested and charged with Domestic Battery for beating up Michael and severely injuring him.
EXCLUSIVE: Michael Dodd Beaten & Tortured By Ex-Wife Kelly Dodd During Their Marriage — He Got A Restraining Order!
In September 2018, Kelly Dodd's brother, Eric Meza, leaked a video recording of their mother, Bobbi Meza, confirming that Kelly pushed her down a flight of stairs. Click here to read details.
In April 2019, Kelly Dodd was publicly accused of viciously attacking a woman linked to her Bravo featured beau, Dr. Brian Reagan, in a San Diego bar. 
As reported, Bravo forced Kelly into an anger management after she repeatedly lashed out in anger, in Arizona. 
AllAboutTheTEA.com reached out to Dr. Brian Reagan for comment and his response was "No comment."
The Real Housewives of Orange County airs Tuesday nights, at 9:00 pm, on Bravo.
"Follow" us on Twitter and on Instagram