Exclusive
EXCLUSIVE: Bravo Orders Kelly Dodd Into Anger Management After 'Violent' & 'Unhinged' Spa Outburst!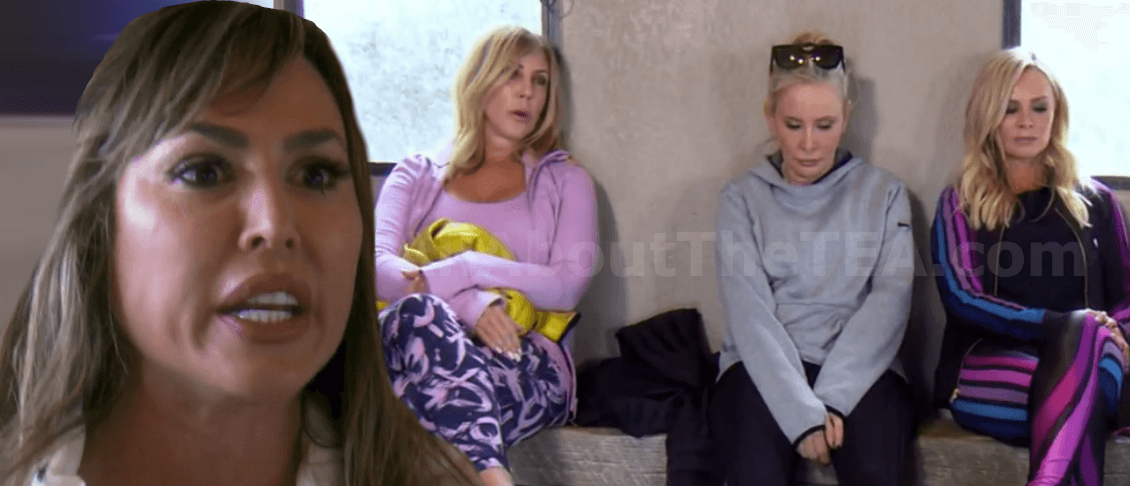 Kelly Dodd shattered the zen vibe on recent episodes of The Real Housewives of Orange County — wrecking a cast getaway with unhinged outbursts and physical lash-outs. AllAboutTheTea.com has exclusively learned that Bravo production took action — and forced Kelly Dodd into an anger management time-out. 
Violent Outbursts
Viewers watched Kelly Dodd strike Shannon Beador and Gina Kirschenheiter during a cast trip to an Arizona wellness resort — landing Shannon in a local emergency room. But Kelly wasn't buying what the Miraval Spa was selling — and snapped at any cast mate who stepped out of line.  
Read Also: Top-Ranking Employees Quit Mauricio Umansky's Real Estate Firm To Work With Competitor Kathy Hilton Husband's Company Amid His Legal Drama!
Bravo In Crisis Mode
A production insider dished the behind-the-scenes dirt to AllAboutTheTea.com, revealing that producers stepped in. 
"Bravo went into panic mode after Kelly [Dodd] hit Shannon in the head and sent her to the ER, then slapped Gina [Kirschenheiter]." A ROCK SOLID source revealed to AllAboutTheTea.com.
The source continued.
"Evolution Media (the production company that produces RHOBH) called Kelly into an emergency meeting and gave her a very stern warning to keep her hands to herself."
The source explained that Kelly Dodd's volatile behavior has become a legal liability and "places the show [The Real Housewives of Orange County] and Bravo at risk for lawsuits." Additionally, her uncontrolled outbursts "affects insurance coverage." 
Anger Management
Bravo took swift action and forced Kelly Dodd into anger management, which will be a part of her season 14 storyline.
"Bravo demanded and practically forced Kelly Dodd into an anger management program." The source told AllAboutTheTea.com exclusively. "The head producers made it very clear that they did not condone her unhinged behavior and urged her to seek help for her own benefit."
Violent Bar Brawl
As reported, Kelly Dodd will be exposed as a bar brawler in season 14, after she violently attacked a woman back in March. AllAboutTheTea.com spoke exclusively to a source close to the victim and was informed that Kelly badly injured a woman during a vicious attack at a San Diego bar in March. The woman's injuries include: rotator cuff injury, hand and shoulder injuries, two compound fractures, severe ligament tears, neck pain, emotional stress and mood swings. As reported, the victim has plans to pursue legal action against the reality diva. Kelly's Bravo ride has been tainted by unhinged outbursts, about-face apologies and cast feuds.  
Read Also: Bad Mother! Kelly Dodd Blows Off Her Daughter's First Day of School To Party With New Boyfriend In London
Pushed Her Mother Down A Flight of Stairs
AllAboutTheTEA.com exclusively reported that Kelly Dodd pushed her mother down a flight of stairs and routinely abused her mother while she lived with her. Kelly's younger brother, Eric Meza, documented their mother speaking about the alleged abuse in a revealing video recording. Press play below to watch.
Will fans see a kinder, gentler Kelly Dodd as the season unfolds? 
Watch The Real Housewives of Orange County, Tuesday nights at 9:00 pm, ET, on Bravo. 
"Like" us on Facebook  "Follow" us on Twitter and on Instagram