Kelly Dodd's Mother Says 'RHOC' Daughter Pushed Her Down A Flight of Stairs! (EXCLUSIVE VIDEO)
Kelly Dodd's Mom Accuses Daughter of Elder Abuse!
Eric Meza, brother of Kelly Dodd, is speaking out about his broken relationship with his sister, and the chaos that once gripped their family.
Eric was occasionally featured during Season 11 — Kelly 's rookie ride on The Real Housewives of Orange County.
Eric, 37, spoke exclusively to AllAboutTheTea.com about the behind-the-scenes beginnings of his brief stint on the Bravo reality show. He clarified that he did not need to live with his sister, nor did their mother.
"Kelly begged me and my mom to move into her house when Bravo hired her, because our family was part of a package deal," Eric told AllAboutTheTea.com. "The only reason she got on the show was because Bravo interviewed me and my mom for five hours, and they were sold on our unique family dynamic. That's the only reason we lived with her, not because we needed a place to stay."

Eric explained that he moved out during Kelly's sophomore season, in order to purchase a condo with his girlfriend. He dropped a shocker when clarifying why their mother disappeared from the Bravo landscape.
"I had to move my mother out of Kelly's home because Kelly was mentally, emotionally and physically abusing her," Eric said. "Jolie also witnessed the abuse."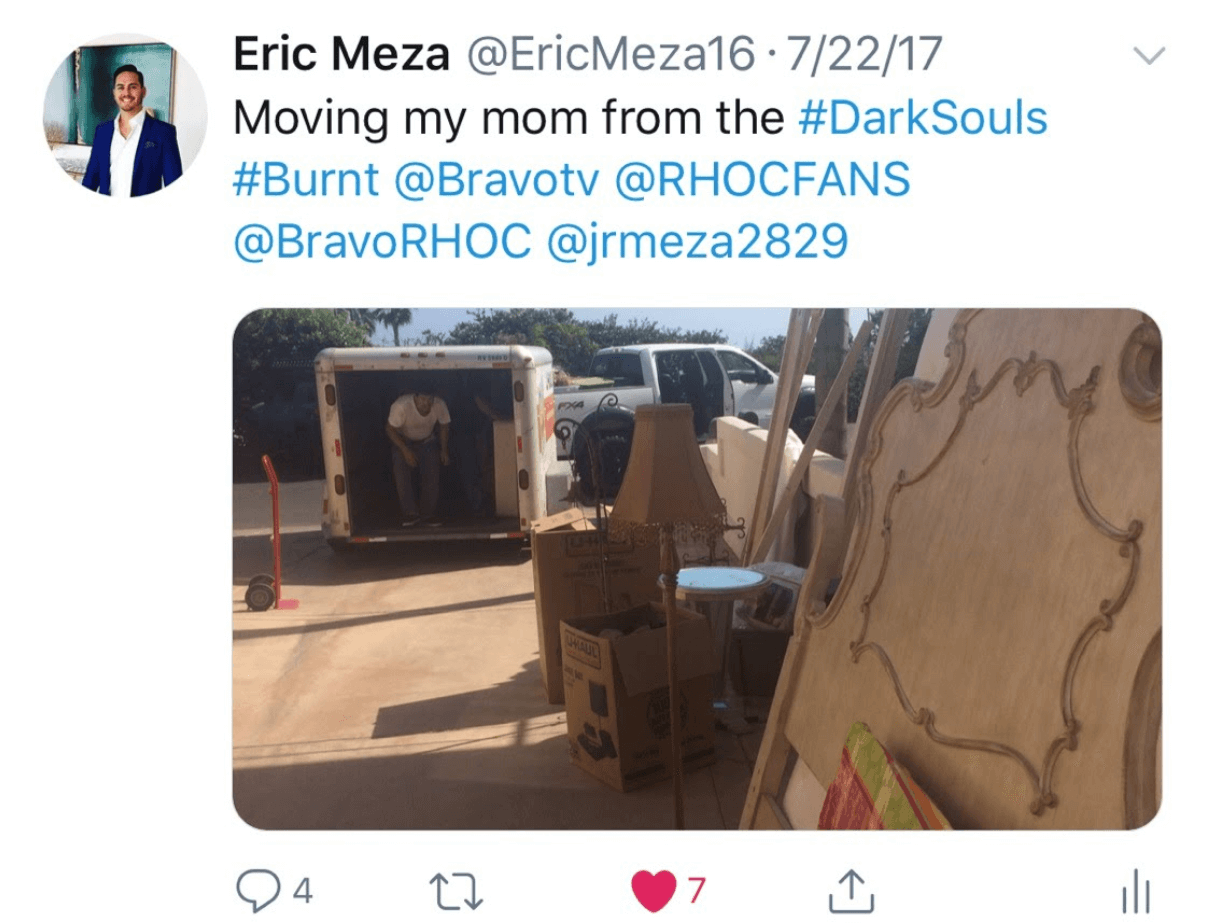 Below is an Instagram post from Eric Meza dated January 22, 2018 — about his mother's abuse at the hands of his sister, Kelly Dodd.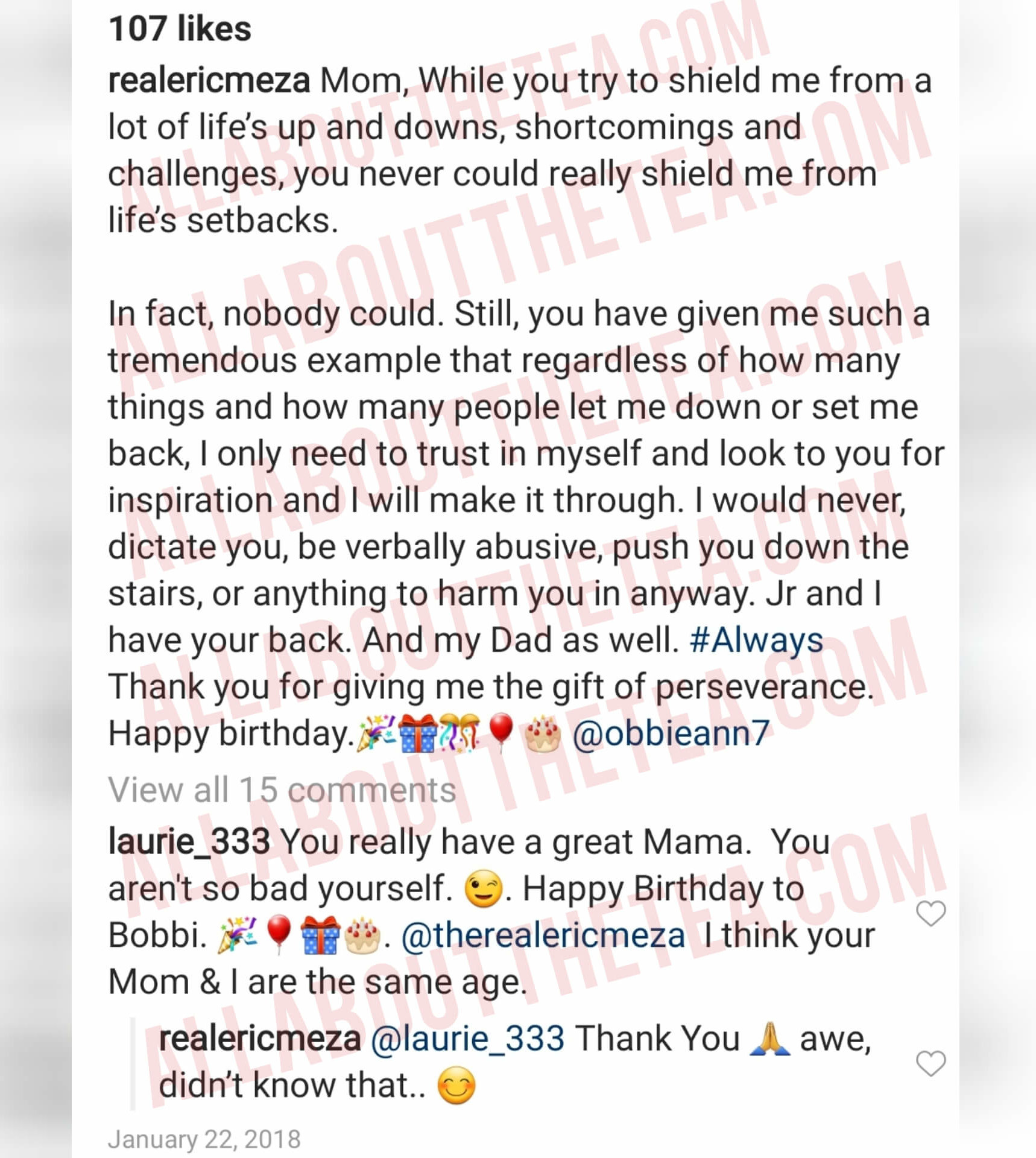 Eric documented their mother speaking about the abuse in a revealing video recording. Press play below to watch.
Eric noted that their mother often took care of Jolie, while Kelly was "out partying with friends or traveling." 
"Our mother has had no contact with Kelly or Jolie, since I moved her to Arizona," Eric revealed.
Eric shared how he believes Kelly's distinct personality contributed to their shattered sibling relationship. 
"Kelly is Kelly's own biggest fan. She has a strange sense of self-importance, and requires constant attention and admiration," Eric said. "She's jealous of others, but at the same time, believes that people are jealous of her. She lacks empathy skills, which is why she doesn't really regret her unhinged outbursts. She's arrogant and always on defense…always ready to fight."
Kelly has tussled with many of her co-stars — and Bravo has captured several mouthy outbursts. Kelly's fiery persona might make for good TV — but according to Eric, his sister's real life relationships have taken a brutal hit.

As the drama between the reality starlet and her family blew up, Kelly Dodd posted a blistering since-deleted Facebook post on September 7.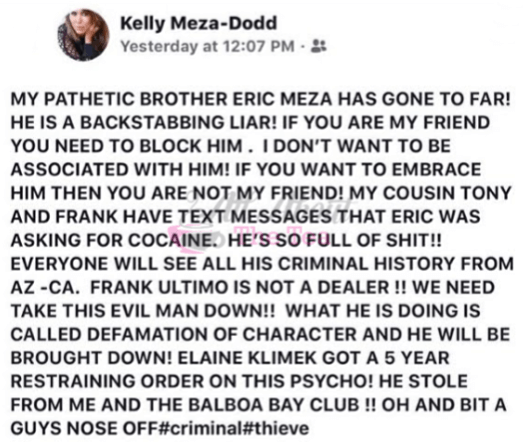 Share your thoughts on Kelly Dodd's mother's abuse claims in the comments below.
The Real Housewives of Orange County airs Monday nights at 9:00 p.m. ET, on Bravo. 
"Like" us on Facebook  "Follow" us on Twitter and on Instagram 
Becca is a Senior Editor for All About The Tea. She's a coastal girl who loves the outdoors, and writing about the sneaky and silly side of reality TV. Her bio is short, but her snark is endless. She loves writing for the sharpest posters in the world.