Sister Wives
RECAP: Robyn Brown Breaks Polygamy Rules By Kissing Kody In Front of Her 'Sister Wives'
Sunday's episode of Sister Wives opens with Kody Brown gathering his wives — Christine Brown, Robyn Brown and Meri Brown at Janelle Brown's house to revisit his one-house plan.
Kody Revisits His One House Plan
The uncomfortable conversation is especially troubling for Christine Brown. She does not want to see Kody go on a date with another wife. She HATES the thought of sharing one entrance. Robyn agrees and does "not want the awkward moment of running into another wife." Robyn is against the idea and feels living under one roof might lead to divorce, "plural marriage is already hard without all the extra rubbing." She says.
Janelle Brown on the other hand is all for living with her Sister Wives under one roof. Janelle says she "REALLY wants this," and feels it strengthens the family bond. "There is a psychological thing of – we live in one home. We are a family. And our kids do feel like they're siblings but our older kids have a different kind of bond than our little children do." Janelle added.
"I feel sometimes like I'm the only person in the family that thinks what we had in Lehi, Utah, was awesome," Janelle Brown explained. "The living under one house. It wasn't Utopia, there are things that definitely we need to change. But the whole idea of living together, I think, was so brilliant. And beautiful." 
READ ALSO: Kody Brown Reveals Tony Padron Won't Appear on 'Sister Wives' Because of His Secret Job!
Meanwhile, Christine Brown is on the opposite end of the spectrum, "This is an awkward conversation — we didn't want to have during the holidays – we kept putting it off – this is hard. Christine Brown says in a talking head confessional. She makes it very clear that she has no interest in the other wives watching her smooch Kody and vice versa. "I don't want to…I just DON'T want to!" She says in a talking head confessional.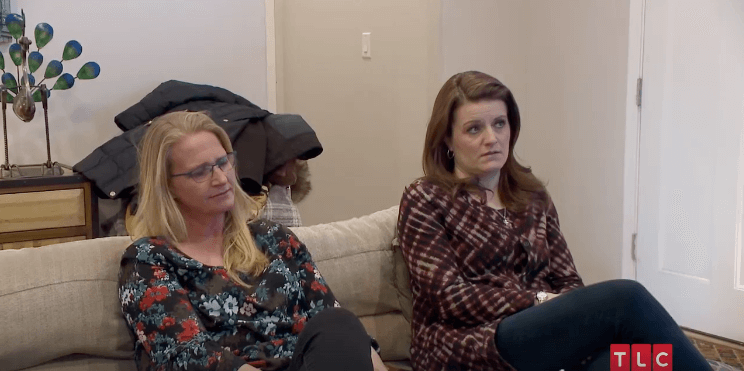 Kody Brown asks the women to pray on it and try not to be close minded.
READ ALSO: 'Sister Wives' The Browns Sell All Their Vegas Homes After Major Price Cuts & Kody Buys Robyn $900K House!
Robyn's Valentine's Day Diss
Kody Brown wants to make Valentine's Day family-friendly all-inclusive so none of the wives and their kids feel left out. They all gather at one house and Kody goes out of his way to ensure that each wife gets equal attention on the romantic holiday. He gives each wife elaborate bouquets and gift bags for the kids.
Robyn decides to break protocol by embracing Kody and planting a kiss on his cheek when she receives her flowers — despite, knowing her actions goes against a rule among the wives.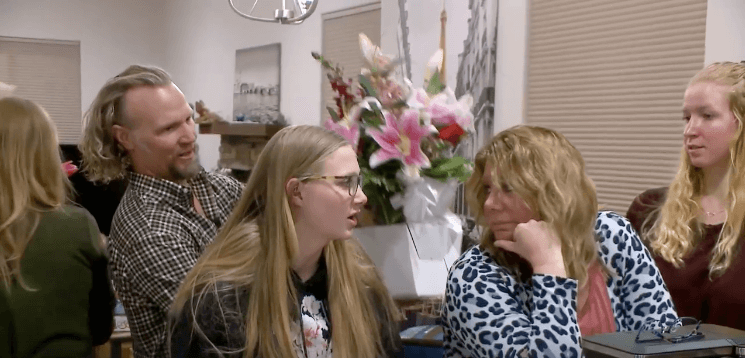 In a couch confessional, Robyn defended her actions. The Head Wife In Charge Robyn feels should be able to thank her husband with a kiss if she so desires. 
Robyn asked Meri, Christine and Janelle how they felt about openly showing affection to Kody. Christine and Janelle are in agreement with Robyn but Meri does not agree. Meri and Kody no longer have a romantic relationship so obviously seeing the other women being affectionate would make her feel some type of way.
READ ALSO: 'Sister Wives' Recap: Robyn Goes Off On Kody Over Lowering the Price of Their Vegas Homes!
Kody's Birthday & Mariah's Engagement
King Kody turns 51 and in honor of his big day, his wives plan something very special for the polygamous patriarch. The Sister Wives and the family throw him a birthday party to honor Kody Brown and surprised him by wearing sexy matching t-shirts that read, "Home is Where Your Wives Are," wrapped in a heart.
Christine Brown orchestrated the t-shirt surprise for all the wives to unveil at Kody's party. Kody smiled and appreciated the gesture but commented in a couch confessional that Flagstaff, Arizona won't feel like home until their Las Vegas homes sell. Kody Brown's master house plan includes square footage allocations for each of his four wives in Flagstaff, Arizona. The family has already moved from Vegas to Arizona, however, they made the move before unloading their Vegas properties and now scrambling financially. 
READ ALSO: 'Sister Wives' Fans Slam Kody Brown For Uprooting His Kids From Vegas Just To Please Wife No. 4 Robyn!
Meri and Kody's only daughter, Mariah Brown and her girlfriend, Audrey, drop in for a surprise visit and the family rises to their feet to greet the girls. The family gifts Kody a mountain bike. As he reads the card, he mentions "adoring family," to witch Mariah chimes in "Did you say growing family?" Kody corrects her but asks if she wants the family to grow, and she responds, "I do actually" and holds up Audrey's ring finger — signaling the couple have gotten engaged.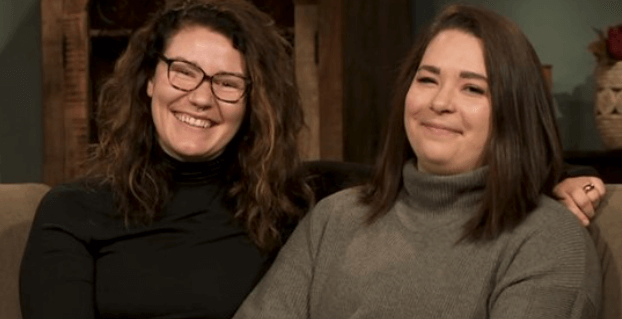 Kody looks perplexed as he process the engagement news. Later he says the couple shouldn't wait to get married. Mariah explains she wants to wait until after she finishes graduate school in Chicago. Meri rushes over to give Mariah a bear bug and is overjoyed. Audrey has gained a few pounds — must be happy weight despite Mariah's recent admission that she suffers from depression. Maddie then announces that she's temporarily moving to Flagstaff for a few months while hubby Caleb starts a new job in North Carolina. Kodie's face lights up like a Christmas tree.   
Sister Wives airs Sunday nights, on TLC, at 10pm ET.
Stay Connected With All About The Tea: Twitter Ι Instagram Ι YouTube