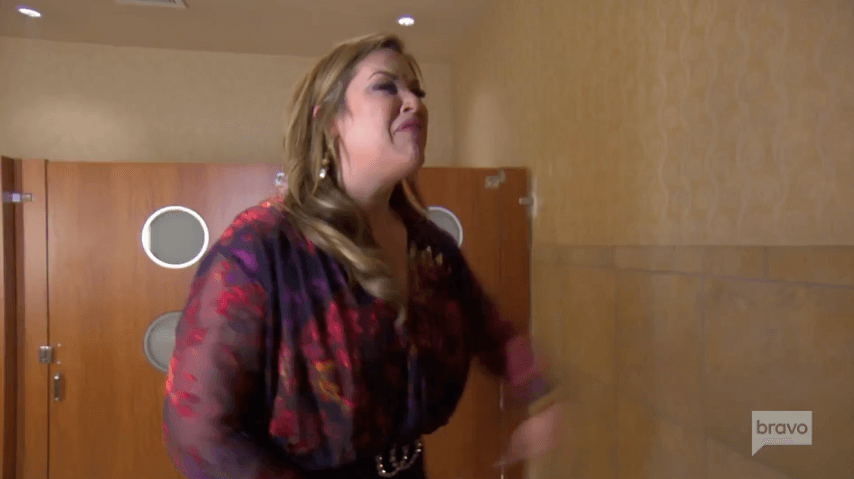 Welcome back to the Real Housewives of Orange County. We start tonight's episode with Tamra Judge back to her true form as a shit-stirrer. This time, she's prepared a birthday trip for Shannon Beador. The ladies will be taking a train to their destination. And the rumors of Kelly Dodd pulling a train are still fresh in the ladies' minds. Get it? Taking a train, pulling a train. Very witty, Tamra. But Vicki Gunvalson doesn't think Kelly will find it funny. And when you add in the novelty penises Tamra plans to give out as party favors, well, I think we can all agree this might be a bad idea.
Vicki and Tamra then discuss Gina Kirschenheiter's no-show blind date. Emily Simpson and her husband, Shane, had set Gina up with Shane's cousin. But Gina discovered that this cousin already had a girlfriend. Now, Gina is shunning Emily because she thinks Emily tried to set her up on a pity date. Oh yeah, this trip is going to be a blast!
Shannon is joined by two of her gal pals for this trip. While Braunwyn Windham-Burke arrives solo. Kelly and Gina share a ride. And Meghan Edmonds arrives in an outfit that Britney Spears wore in 2001 and tops it with a hat straight out of Thomas the Tank Engine. You're so very cheeky, Meghan!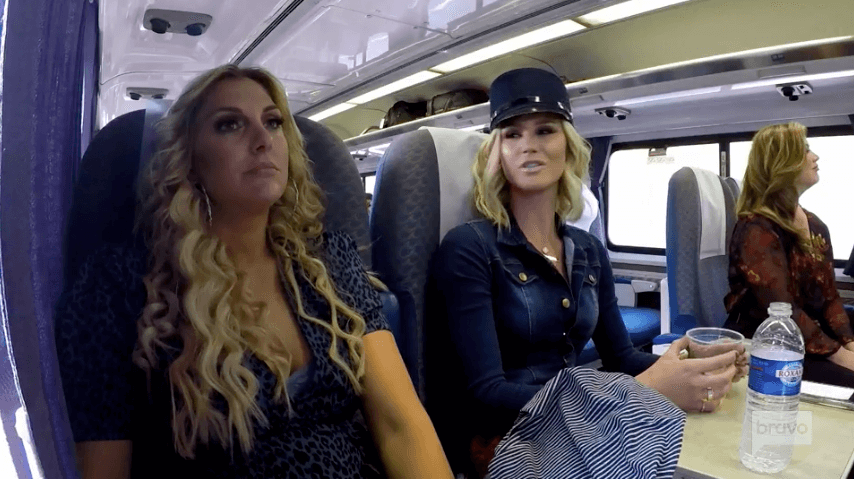 After Shannon and her crew show, Gina and Kelly are the next to arrive. Emily stands on the fringe of the group, trying desperately not to make eye contact with Gina. Finally, Vicki and Tamra show up to get this party started. For kicks, Braunwyn brings along conductor hats for herself and Shannon. Then, Tamra brings out her X-rated party favors: penises pre-loaded with vodka. Time to pull the train, people!
On board, Kelly Dodd finds the train pun funny, fortunately. And she remarks that if she'd be lucky to have 8 guys like her at same time. Welp, that's one way to look at it.
As Shannon reaches for her phallic sucker, we're treated to a flashback of Vicki giving oral to a rainbow dick-pop. Now, Tamra nibbles the balls off the lolly, Shannon bites the tip, and Kelly proves she has almost no gag reflex. Braunwyn confesses that she hates giving blowies…unless she gets a handbag out of it. While Tamra films Kelly's master performance, the rest of the commuters enjoys her antics.
EXCLUSIVE: Kelly Dodd's Raunchy Sex Train During A Coked Up Threesome Exposed!
Kelly Dodd's new boyfriend, Dr. Brian, has started ignoring her calls. She wants him to check in every few hours. Going a whole working day without talking isn't acceptable in Single Kelly's world. And when Brian called her insecure, Kelly blows (okay, bad choice of words) her stack.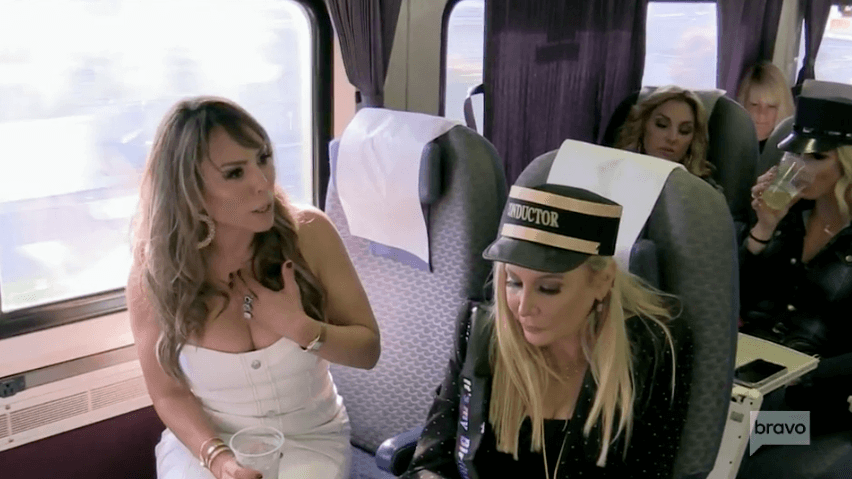 The ladies disembark and head to an al fresco restaurant for apps and drinks. Kelly and Vicki sit side by side in peace. Something we wouldn't have seen just two weeks ago. At one end of the table, Shannon remarks to Gina that it's strange she and Emily aren't sitting next to each other. Vicki butts in and explains what happened on the almost-date with Shane's cousin. Gina tries to shut the convo down. The only thing to solve this awkwardness is tequila.
Emily Simpson can feel the vibes at the other end of the table. She knows Gina has been talking to the other women about what happened. Emily excuses herself from the table. Meghan and Braunwyn follow to make sure she's all right. And probably to get her side of the story. Emily reveals texts to Gina that went unanswered. She still is confused about why Gina won't speak to her. Braunwyn and Meghan try to calm her down, but it doesn't work.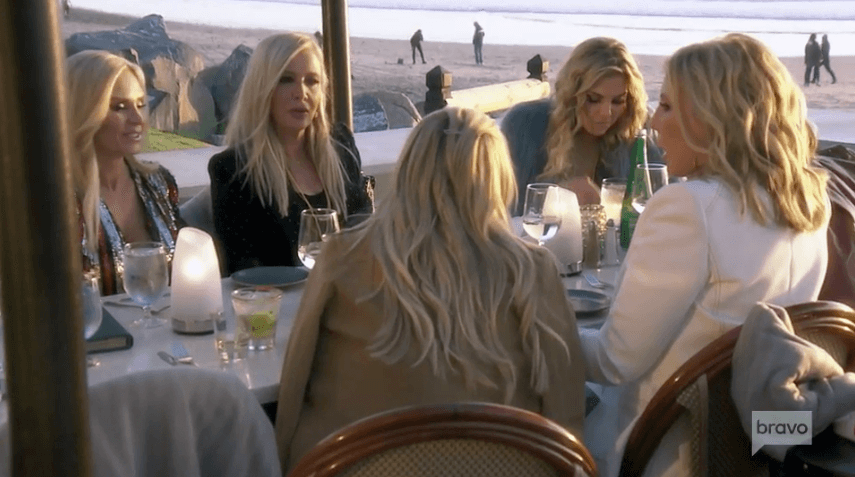 Braynwyn Windham-Burke heads back to the table and asks Gina to go settle things with Emily. Tromping into the ladies' room, Gina comes in with guns blazing. Two strange women scurry to get out of the way as Gina lays into Emily, saying she shouldn't have brought Meghan into their argument. Emily points out that Gina was talking smack at the end of the table. So, why should it matter if Emily discusses things with Meghan? 
READ ALSO: Gina Kirschenheiter's Husband Accuses Her of Being A Drunk In Heated Courtroom Showdown!
Emily Simpson screams that Gina should just say what's on her mind instead of ghosting her for days. They both yell that they're pissed with each other, then Emily storms out of the bathroom and demands production to let her go home. But back in the bathroom, Gina is doing the very thing she attacked Emily for doing: involving Meghan in their business. Gina complains about Emily's abandonment issues as Meghan nods and tries not to look bored.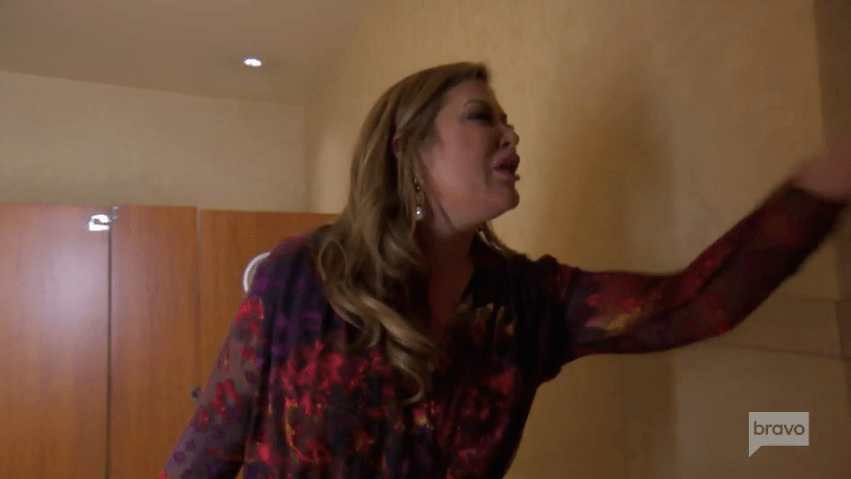 Next up, Kelly leaves the restaurant to find Emily sitting outside. Gina finally trails behind to try and rehash this stupid argument. Kelly acts as the translator for these two, telling Gina she shouldn't be talking to everyone about her problems with Emily. Gina says she's allowed to be hurt, damn it! 
But Emily Simpson didn't know Shane's cousin had a girlfriend. In fact, she doesn't know Shane's cousin all that well. The two men didn't meet until a couple of years ago. Gina jumps on that piece of info, demanding to know why Emily would set her up with someone she didn't know well. What's his social security number? His blood type? How can she set up a friend on a blind date without all the facts?!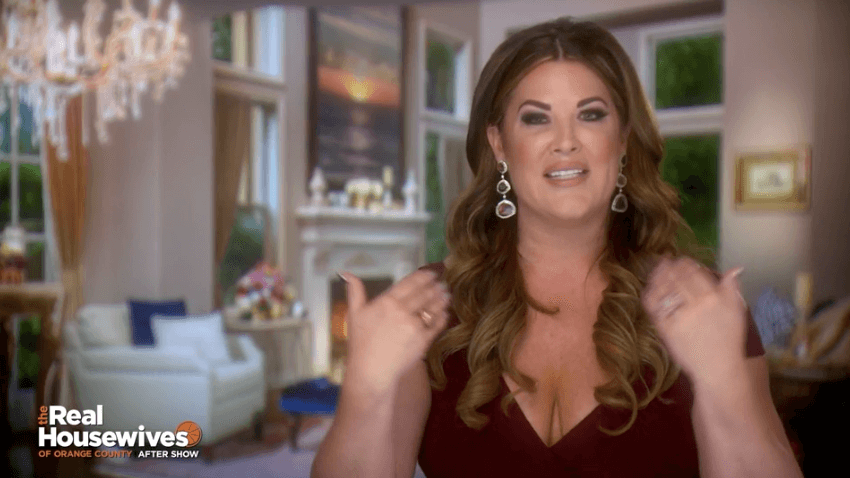 Back at the table, Meghan says that Emily plans on leaving. Tamra and Shannon jump up and go to her. As they try to get the women to come back to lunch, Emily tells us that Gina actually met this cousin a year ago, and they had a bit of chemistry. So, what was the harm in getting them together for a casual dinner? But Gina ridiculously refuses to let go of her anger.
Things settle down and the women leave the restaurant and head for dinner. Shannon wants to find a cute guy to kiss her on her birthday. Drunk Vicki yells that Shannon is a whore and Tamra screams out to the room that Shannon needs to get laid. 
READ ALSO: Twitter Drags 'Major Dumbass' Shane Simpson After He Fails The Bar Exam THREE Times!
Shannon Beador and Tamra mosey past the bar to find the cute guy, but unable to find one who strikes Shannon's fancy, Tamra leads the way into the kitchen. Surely there must one single man in the entire restaurant. Nope. Shannon comes back to the table solo.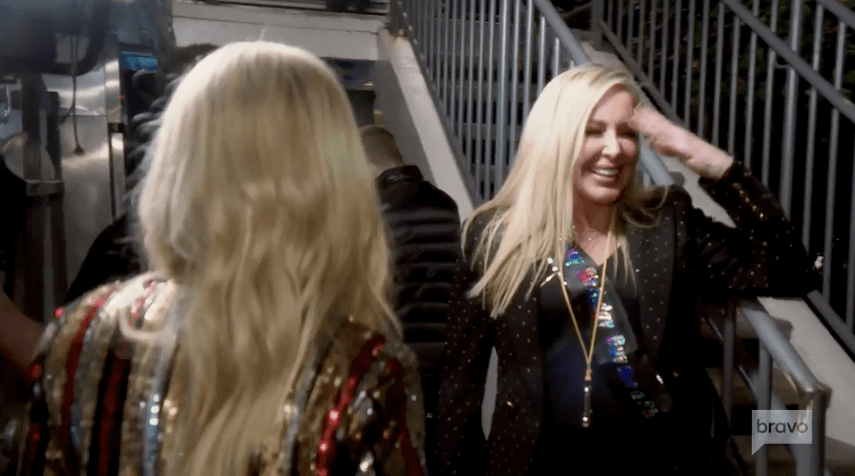 Braynwyn Windham-Burke starts talking about her love of threesomes. She tells Tamra and Gina that she no longer finds men attractive. She's all about the V these days. Tamra and Braunwyn discuss their fantasies. While having sex with their husbands, the two close their eyes and imagine another woman in bed with them.
Sitting one seat away, Emily Simpson taps on Gina's shoulder and tells the younger woman she loves her. Gina's response? "Duh." Emily grovels, swears on the lives of her rowdy kids, and promises that she'd never do anything to intentionally embarrass or upset Gina. But Gina isn't ready to forgive. She tells Emily her abandonment issues are out of control. Gina promises she won't leave Emily. Even though she may ignore her for several days. Finally, they hug it out, even as Gina still complains about Emily's character flaws. 
And while they're trying to patch up their tattered friendship, Braunwyn climbs onto Tamra's lap. Tamra lightly gropes her for a second. Then Shannon and Tamra share a kiss. Without tongue. Shannon isn't a fan of lip moisture. Next, Shannon kisses Braunwyn. Then Tamra and Braunwyn start full on making out. The diners around them are intrigued. Well, the men are intrigued. And the two women keep at it. They can't keep their hands or tongues off each other. Braunwyn even gives Tamra's eighth set of boobs a long squeeze.
Vicki is getting icked out by all the girl on girl action. But as Kelly points out, we've seen Vicki wag her boobs at men before. (Hello, Dr. Terry Dubrow!) So, what's the big deal about two drunk women swapping a little spit?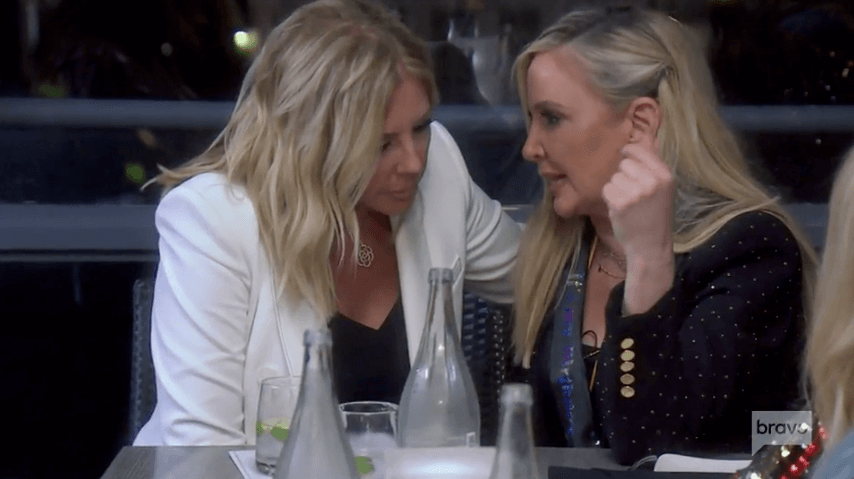 Tamra insists all this making out isn't not cheating, because she's kissing a girlfriend. She even admits that the last time she and Eddie had sex, she had visions of Braunwyn in her head. But then again, Tamra's drunk off her ass. In fact, she falls off her chair during dinner. Shannon, Vicki, and Braunwyn try to help her up, only to find themselves rolling around on the floor with her. Fortunately, the other diners think their antics are hilarious.
As things calm down a bit, Shannon admits that her birthdays haven't been so great in the past. (I think we all remember the time David took her to a sports bar.) But she's so happy to be with these women, having a wonderful, drunken time on her special day.
After a wild dinner, the ladies head next door to a nearly empty club. Braunwyn drops it low on the dance floor, and Kelly is soliciting men to dance up on Shannon. She even offers a couple hundred dollars as incentive. Tamra and Braunwyn perform a sexy, sloppy dance for one another, while Vicki complains that Braunwyn is a trashy woman who needs to be the center of attention. Vicki's tired of watching the Braunwyn show, so she leaves. 
READ ALSO: Kelly Dodd Denies Having A Sex Train Despite AATT's Exclusive Report About Her Raunchy Tryst!
Tamra Judge and Kelly hop up on the table to shake what their mamas gave them husbands bought for them, before the bouncer Kelly tried to bribe throws her over his beefy shoulder. But don't worry about Shannon. She's found a forward man named Marco. He grabs her by the waist and gives her a very awkward kiss while the rest of the women gather around her, cheering her on. Not to be outdone, Tamra lies down on the booth, and Braunwyn straddles her. The kissing and groping continue. 
Toward the end of the episode, we're finally out of the birthday trip and back on safe sand that is Orange County. At Kelly's condo, Dr. Brian stops by with a bottle of wine. They discuss her girls' night out, but also her fury upon returning home. Remember, Brian rented out the condo below Kelly's and stays there a couple times a week. He doesn't understand why Kelly gets so upset when he doesn't call right after work. Though he tries to explain that medicine is a demanding mistress and sometimes he needs some space to decompress, Kelly isn't buying it.
READ ALSO: Gina Kirschenheiter Defends Abusive Ex-Husband After He Choked & Dragged Her: 'He's Not a Monster'
Their relationship isn't going as smoothly as they'd like. Even Kelly's parenting style is different from Brian's. For instance, she gave his son a Playstation 4 without consulting Brian. He felt blindsided by her gift. Brian points out that Jolie went to camp in a private jet. Who does that?! Kelly, that's who. She has her own money. She's not asking Brian to foot the bill, so why should he care? When Kelly asks if Jolie is spoiled, Brian prevaricates. He questions if Jolie appreciates what Kelly does for her. But we see a flashback of Kelly taking Jolie to serve dinner to the homeless. Jolie asked to come back and serve again. I think she's a good kid.
Brian likes it that Kelly Dodd is so attentive to him, and he promises to do better. They make up and agree to some changes in order for their relationship to work.
And this ends this Real Housewives of Orange County episode. So, do you think Braunwyn and Tamra went overboard with the PDA? Was Gina over the top with her grudge against Emily? And have you missed Meghan?
"Like" us on Facebook  "Follow" us on Twitter and on Instagram