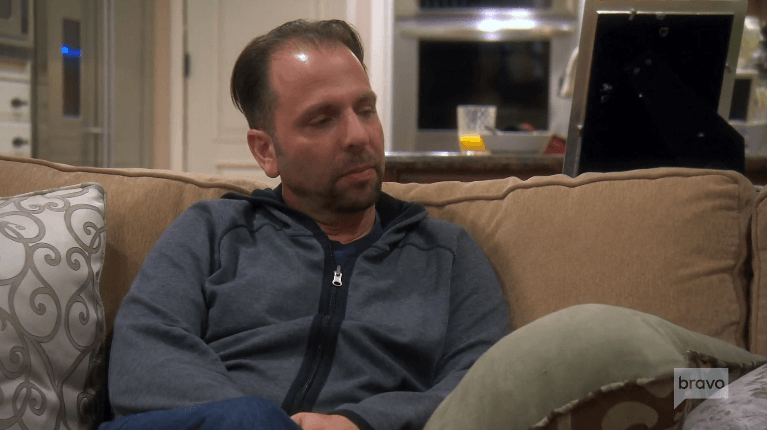 Emily Simpson's husband, Shane Simpson failed the California bar exam for the THIRD time and social media wore him out!
As fans know, The Real Housewives of Orange County star's husband has been away from home to study for the bar exam and his distance has created major problems in his marriage.
A source tells Radar Online that Shane Simpson took the California Bar exam in February and failed. He took it again over the summer and is waiting for the results. He is not currently not permitted to practice law in California. Fans were quick to clown the RHOC dad, who is known for his sarcastic digs towards Emily.
Shane is a weakass douche! And a major dumbass to boot! Taking the bar for the third time! Bet he fails!#RHOC

— kim mahaffey (@Kimmyrocks47Kim) August 14, 2019
Shane is so jealous of his wife. It's so obvious. She passed the bar the first time and he's on his 3rd or 4th attempt. #RHOC

— Monie the Stallion (@_moniemontana) September 7, 2019
*Not* a fan of the way Shane speaks to Emily. Dude, it's not her fault it your 3rd time taking the Bar Exam. #RHOC

— Jaclynn K. (@jaclynn_k) August 15, 2019
Shane fails his bar exam after staying at a hotel for 10 days in a hotel to *study*

That relationship is cooked #RHOC

— G-SMILF (@SupahSmart) September 11, 2019
Shane failed the bar? Say it isn't so! All that nastiness for nothing!! Bravo ??

— sherryshagwell (@shazlv) September 13, 2019
Shane: "Do you know what satire is?"

Producer: "Did you pass the bar?"#RHOC

— Linda the Good Witch (@hopeashling) September 11, 2019
Emily and Shane's marriage crisis and cringeworthy interactions have played out in season 14 for viewers to witness. Shane opted to stay in a hotel while he studied for the exam and appears completely checked out of his marriage while his wife begs for his affection. Outraged fans on Twitter called out Shane's behavior towards his wife.
Oh Emily ,honey, when you haven't seen your man for 10 days and he gives you a one arm hug and offers his cheek… it means it's time to move on. I think Shane's cheating, much like David Beador was before he confessed ?‍♀️ #RHOC

— RealityBich (@RealityTVbich) September 5, 2019
I like Emily but I just don't understand how the producers kept her on the show with Shane. Her home scenes are so cringeworthy. It's so uncomfortable to watch. Then again, look at where BH is going. Evolution has lost the plot. They don't know good tv anymore. #RHOC

— Keirn (@KeirnThomas) September 12, 2019
Shane absolutely made a total ass of himself on tv ? disgusting man… if he can even be considered a man #RHOC

— Zachary Gonzales (@ZBravo94) September 12, 2019
Shane is on national television disrespecting his wife. He knew anything he said could be a final cut. If I were Emily, I would be filing for divorce tomorrow #RHOC

— Kami (@FroBunni) September 11, 2019
Shane Simpson: BIGGEST ASSHOLE ON TV. #RHOC

— ?Renee? (@r_kollman) September 11, 2019
In a recent episode, Shane Simpson returned home after staying in a hotel for 2 weeks and you could cut the tension between the couple with a knife.
"I have trouble with the way that you talk to me sometimes," Emily said to Shane. "I don't like the condescending tone. It's sarcasm all the time. I get tired of being the butt of all your jokes sometimes."
The couple, who commemorated their 10-year wedding anniversary alone during the season, share three kids.
The Real Housewives of Orange County airs on Bravo Tuesdays at 9 p.m. ET.
"Like" us on Facebook "Follow" us on Twitter and on Instagram