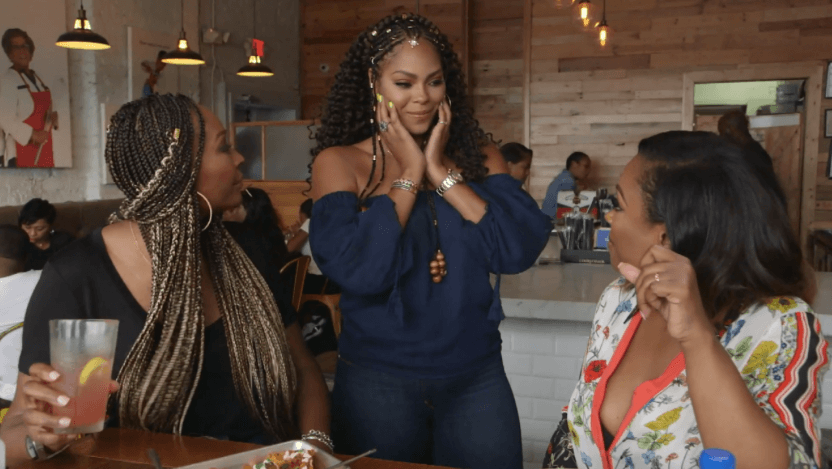 Bravo dropped a juicy first look at The Real Housewives of Atlanta ahead of the season 12 on November 3.
In the video clip below, Eva Marcille, Cynthia Bailey and Kandi Burruss are getting their grub on at the Old Lady Gang restaurant, when a drink arrives for Kandi from a woman at the bar. Then the mystery woman who sent over the cocktail approaches the ladies to discuss recent allegations that she's Dennis McKinley's mistress.
Read Also: NeNe Leakes Drags Kenya Moore Over Her FAKE Marriage In EPIC Fight!
"I'm sorry, I didn't want to interrupt you guys," Sincerely tells Kandi and Co. "I actually, I kinda saw you, so I feel like I should take an opportunity, because I wanted to mention something to you. Can I sit down for a second?"
"I don't know if you've been, like, on the internet or heard anything, or seen anything, but apparently there's this story out and I'm this girl in a blog that's supposedly a mistress to Porsha [Williams'] fiance," she adds, seemingly dropping a bomb. "I'm 'the mistress.'"
Read Also: Porsha Williams' Fiance Cheating, Kenya Moore's Crumbling Marriage & Fights In 'RHOA' Season 12 Trailer! (Video)
The woman is Sincerely Ward, who some viewers may remember as a cast member from E!'s WAGS Atlanta.
Read Also: Porsha Williams' Fiance Dennis McKinley's Cocaine Use, Beastiality Fetish, Gambling & Clout Chasing Exposed!
In May, Porsha Williams called off her engagement to Dennis McKinley after catching her finance cheating with multiple women, including strippers. 
As reported, the man behind The Original Hot Dog Factory, Dennis McKinley, has a shady past that involves: beastiality, beating women, cocaine, gambling, shady business practices, and clout chasing.
Real Housewives of Atlanta season 12 kicks off on Sunday, Nov. 3, at 8 p.m. ET on Bravo.
"Follow" us on Twitter and on Instagram