Welcome back to the Real Housewives of Orange County. We start the episode with Emily Simpson packing for her trip to Las Vegas. If you'll remember, Emily plans to get on stage, and in a body positive moment, dance with semi-naked women. She wanted husband, Shane, to come with, but he flat out refused. Instead, she's dragging Kelly Dodd and Braynwyn Windham-Burke along for support. Emily tells us that even though she was a cheerleader back in the day, she's super nervous about getting up in front of a crowd.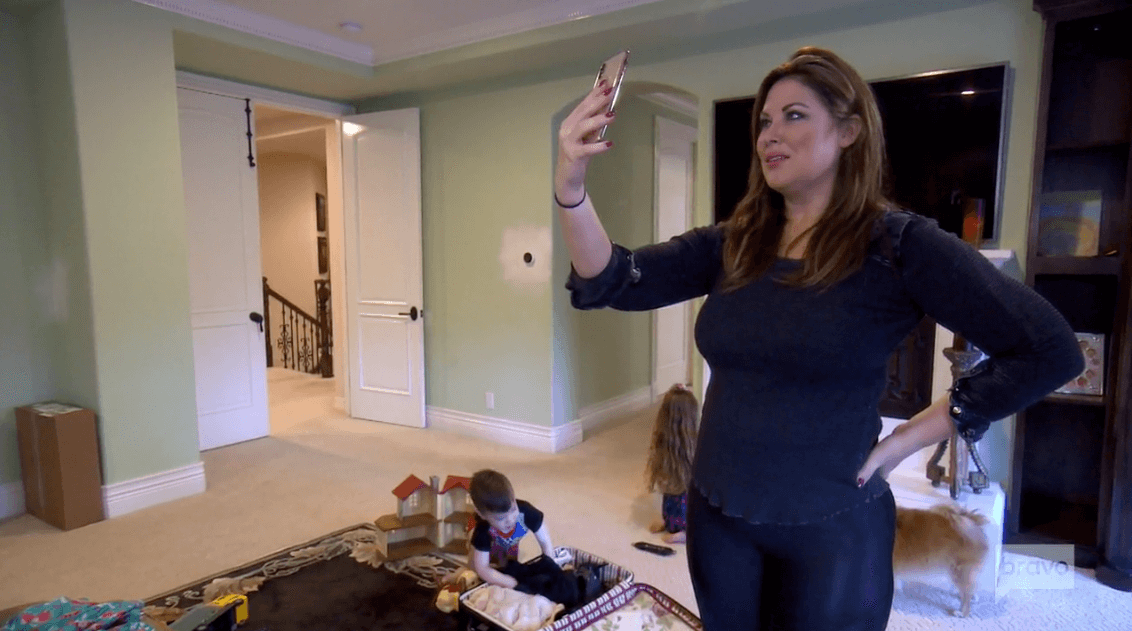 Gina Kirschenheiter is meeting with her new lawyer. She didn't show up for her last arraignment, nor did her former lawyer. She's grateful that her new attorney isn't a flake, and she owes that to Shannon Beador. Gina can have her license suspended for up to a year because of this DUI, and since she's a single parent that won't be easy. She's going to need an Uber minivan to make those school runs.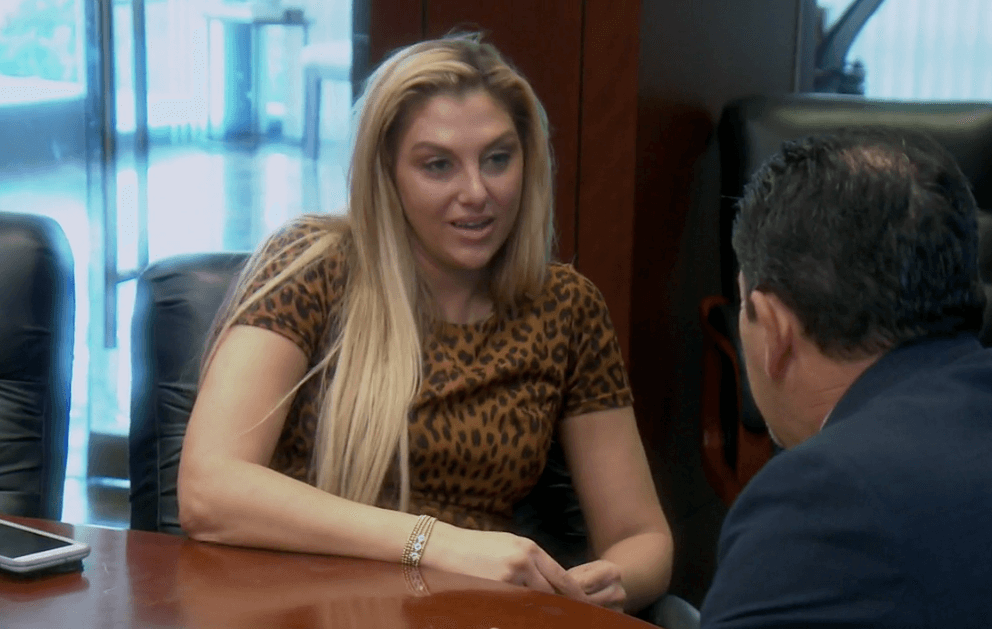 Meanwhile, Kelly Dodd is hawking water at a conference. Since getting a lump sum in her divorce settlement, she's decided to throw a quarter of a million behind Positive Water, a flavored, vitamin infused beverage. And she needs cash, because her American Express bill is 30k a month. Gulp! What the hell is she buying?! Gold bars? Tamra and Eddie Judge show up to offer support. 
EXCLUSIVE: Kelly Dodd's Raunchy Sex Train During A Coked Up Threesome Exposed!
Tamra Judge's feeling salty because Emily didn't invite her or Shannon to Vegas. But right now, she's looking for a business opportunity. Tamra's thinking about investing in a protein powder. Because the world needs more flavored water and protein drinks, am I right?
Emily and Braunwyn (and Shane's parents) arrive in Vegas to celebrate her ten-year anniversary. The hotel suite is stunning and comes with butlers. Plural. Emily tries to facetime her missing husband, but Shane isn't interested in her suite or her trip or, well, Emily herself. In fact, his lack of interest is painful to watch.
MUST READ: Shane Simpson's Dark Past of Sexual Abuse and Domestic Violence Plus Drug Use Exposed By His Ex-Wife!
Emily practices her sexy dance onstage. She's trying to prove that she's confident in her body. And speaking of bodies, Braunwyn has a rocking hard body. This woman has had six kids? Alone in the suite, she forces the butler to make her low sugar tequila drinks and take selfies of her atop the coffee table.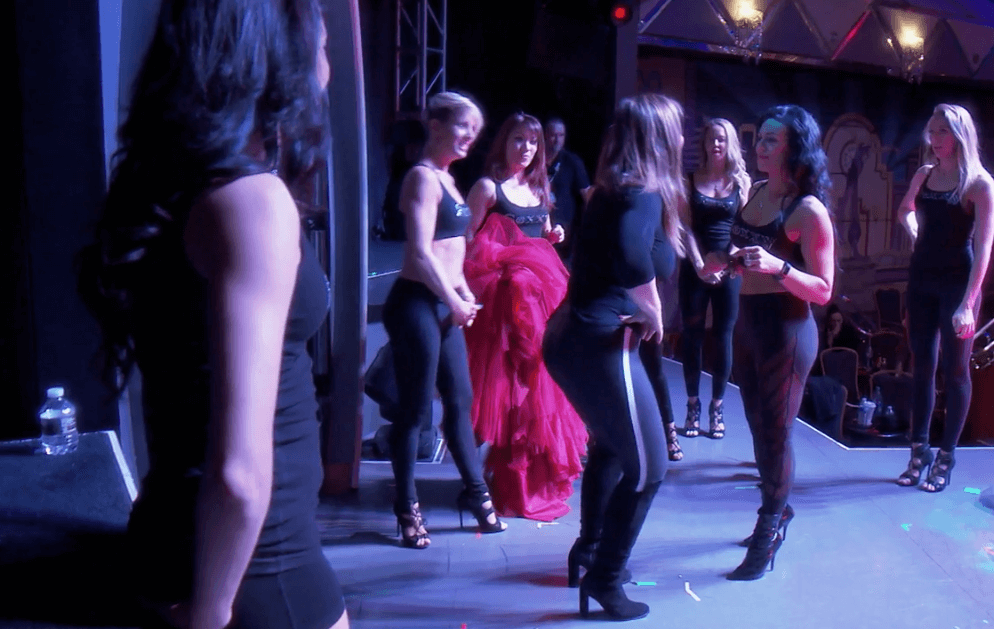 Kelly shows up and is met by the VP of marketing who holds an adorable white pup, Sir Winston the hotel mascot, in her arms and of course, Kelly quips, "Who's this bitch?" Kelly also gets the VIP treatment as she's escorted to the suite. Kelly bops into the room after having just met Barry Manilow. She's not a true fan, like Shannon, but hey, he's famous. So naturally, she had to get a pic with him.
EXCLUSIVE: Kelly Dodd and Dr. Brian Reagan Split Amid Her Cocaine Allegations & Fears For Daughter's Safety Around the Doctor!
Emily's nerves are getting the better of her as she gets her makeup done before the performance. In the suite, Braunwyn carries around a small chalkboard so she can write out hilarious comments like, "What happens in Vegas!" or "Let's get this party started." I don't know why she insists on doing this, but it's her thing.
Braunwyn is feeling better in a small group without the other women hounding her. And Kelly is worried about going to the spa with all the women because Vicki Gunvalson is coming along. Vicki has been perpetuating the train story. Kelly calls the rumor "absurd."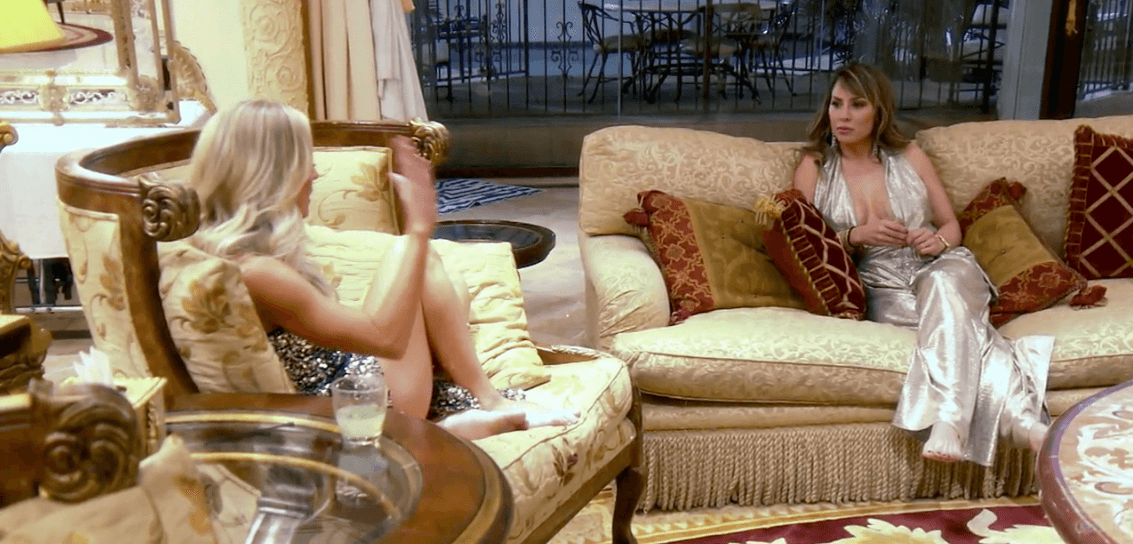 Backstage, Emily nervously waits for her turn to dance. The topless women come out and perform while her father-in-law, Larry, looks on with a horny grin. Braunwyn, a self-proclaimed dance mom, appreciates the choreography. And the breasts!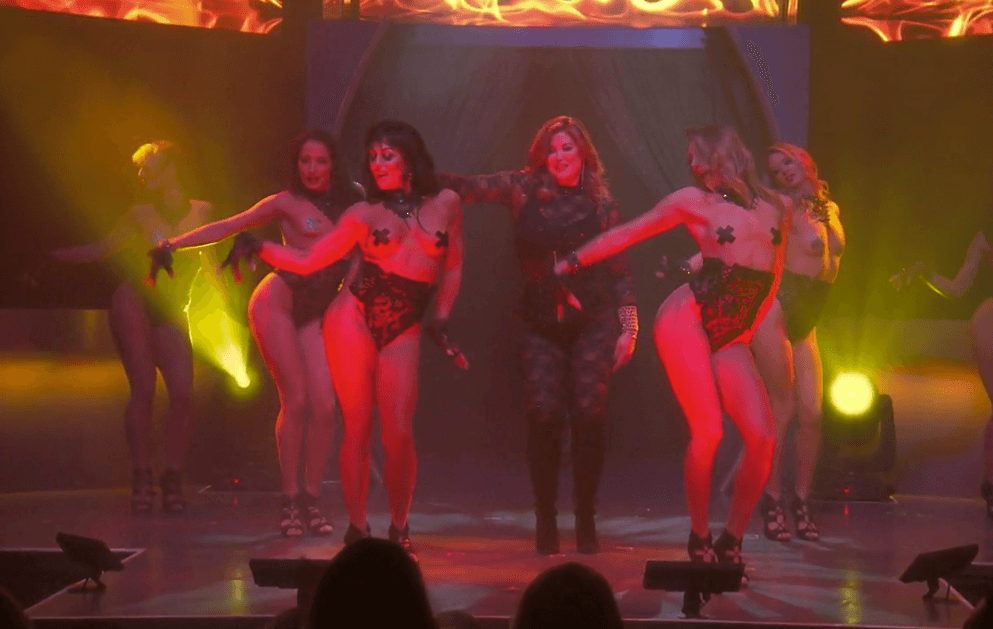 Once Emily hits the stage, she has a few missteps. And she's the only one not wearing duct tape on her nipples. It was fairly tame, with Emily posing behind the dancers and patting their bare asses.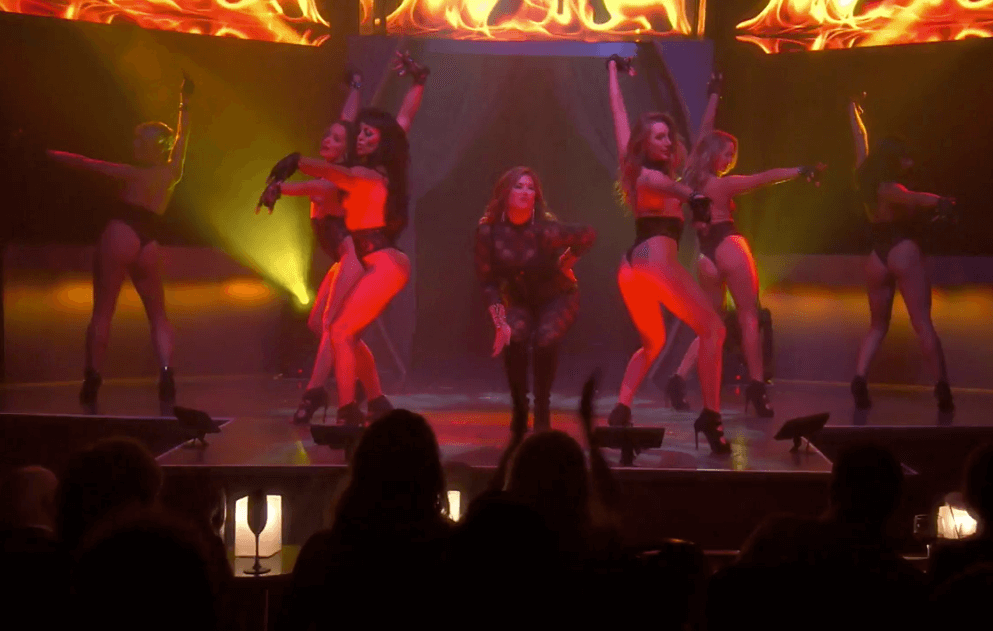 Meanwhile, Tamra and Eddie are working out in an empty gym. She tells us the gym is closed, not just devoid of customers. Gina is doing her own exercise with an electrode suit (just like the Dallas Housewives did last week). And Shannon brings home groceries. She may have lost forty lbs., but poor pup, Archie, is obese. Time to put that little furry nugget on a diet. Salmon and cream cheese kibble, perhaps?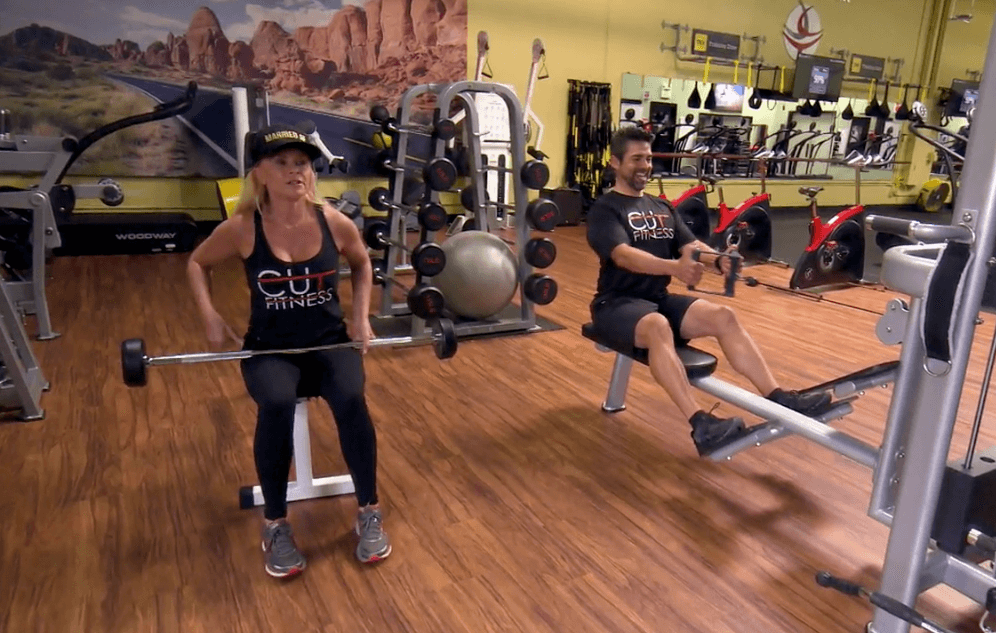 Back in Vegas, guess who shows up the next day to surprise Emily? Shane. And he's brought flowers. Kelly is shocked the little dork showed up. I think she speaks for all of us.
Shane and Emily share lunch. She says his arrival is a step in the right direction for their marriage. But Shane points out that Emily chose to do this Vegas show. For the record—it's not his fault she was alone on their anniversary. Get that, audience? (Sorry, Shane. You should have been there to support her in this silly venture.)
Emily Simpson tries to explain that she feels disconnected from him, and they're marriage is suffering for it. Shane, of course, blames Emily. If only she were more chill and rolled with the punches, things would be awesome. Shane admits that Emily is extreme and controlling. But she's still committed to their marriage. Shane doesn't take her seriously and keeps making jokes. 
At LaserAway, Tamra, her mom, and Gina are in need of Botox. Gina calls it Bobo. Or Orange County crack. Either way, she's partaking. Tamra wants to minimize her sun damage by getting those sunspots lasered off. The women talk about their upcoming trip to the spa in Arizona. Gina complains about her situation, and to be honest, she has been through a lot. Her ex has been hooking up with his mistress, and that has to sting. But the DUI is on her.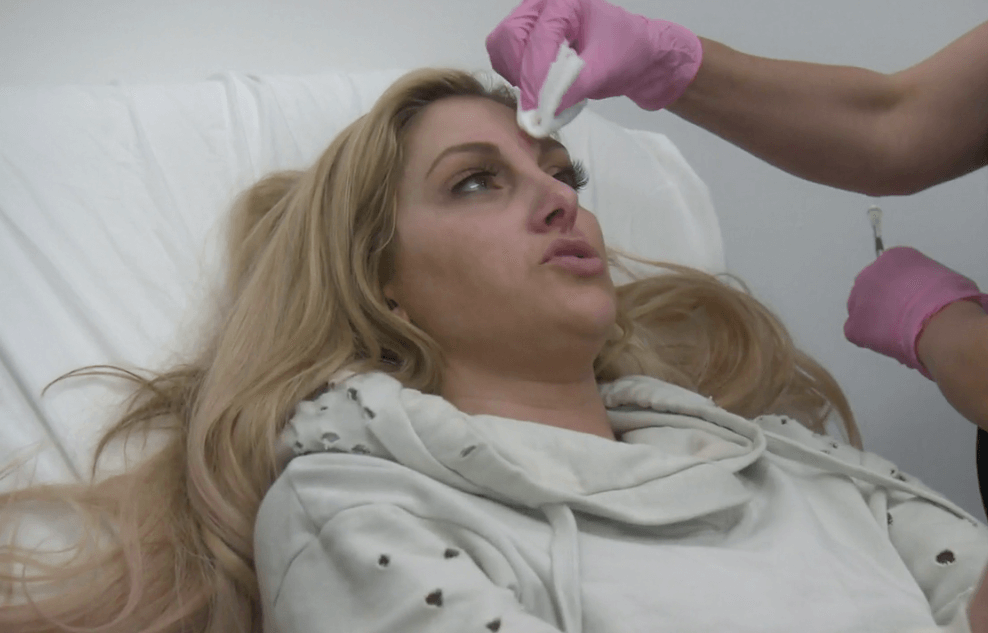 Fortunately, Shannon Beador has been Gina's lifeline. After having gone through her own painful divorce, Shannon has been an unexpected source of support. Gina is disappointed that her pal, Emily, has been MIA during this horrible time, but hey, Emily has important things to do. Like dance seductively in front of her father-in-law.
The ladies talk about Emily's performance, and they don't understand it. Up until the last minute, Emily was still begging Gina to join her. Even though Gina's kids were with their dad for the weekend, she was so depressed she can barely get out of bed, let alone hop a plane to Sin City. So back off, Emily! 
The women cackle over Emily's father-in-law being in the audience instead of her flaky husband. As Tamra tries to picture the awkwardness, we're treated to a slow-motion flashback of Emily patting the butts of nearly nude women around her. This one's for Mom and Pop!
Back in the OC, we see Shannon packing for her Arizona trip. She facetimes Tamra, whose face is red from her laser treatment. Braunwyn is packing, too, and her sweet baby climbs in the case to tag along. Sorry, kid. Not this time. Gina is still complaining about her circumstances. Honestly, I'm tired of hearing about it. Does that make me insensitive? Eh, I can live with that.
Gina Kirschenheiter's Estranged Husband Gets Supervised Visits With Kids & FIRED From His Job After Choking and Dragging His Wife!
On the airplane, Shannon asks what Kelly wants to heal at the spa. In typical Kelly fashion, she admits her vagina is sore from her new boyfriend's overly eager penis. Thanks, for that Kelly.
Landing in Arizona, the women climb aboard a bus. Shannon drops the bomb: the women are going to have to share rooms. Vicki is coming for only one day. Kelly jokingly offers to bunk with her, but I think the other women are afraid Kelly might smother the OG of the OC with a pillow in her sleep.
Upon arriving at the spa, the women partake a refreshing sugar-free, non-alcoholic beverage. This place is absolutely in Shannon's new age wheel house. But Kelly keeps making inappropriate dong jokes, because a thirteen-year-old boy is trapped in her body. 
When the hostess takes them to a huge gong, Kelly and Emily keep acting out. Shannon finally tells Kelly to shut her yapper. 
The women are shown to a yurt where they are surrounded by brass bowls for clearing their spirits or chakras or something. They're told to let go of things and think about what they want to bring into their lives.
Emily complains that she called and texted Gina when she got home from Vegas. Gina ignored her. Emily feels hurt, but Gina is nursing a grudge against her friend. She expected Emily to be more supportive. Now, Gina wants to let go of the life she won't have. Shannon wants to release bitterness and resentment. She chooses happiness instead. Braunwyn wants to stop being so dependent on her husband. And Kelly wants to let go of anger and needs her water to show up on the Costco and Walmart shelves. She's just not taking this process seriously, damn it!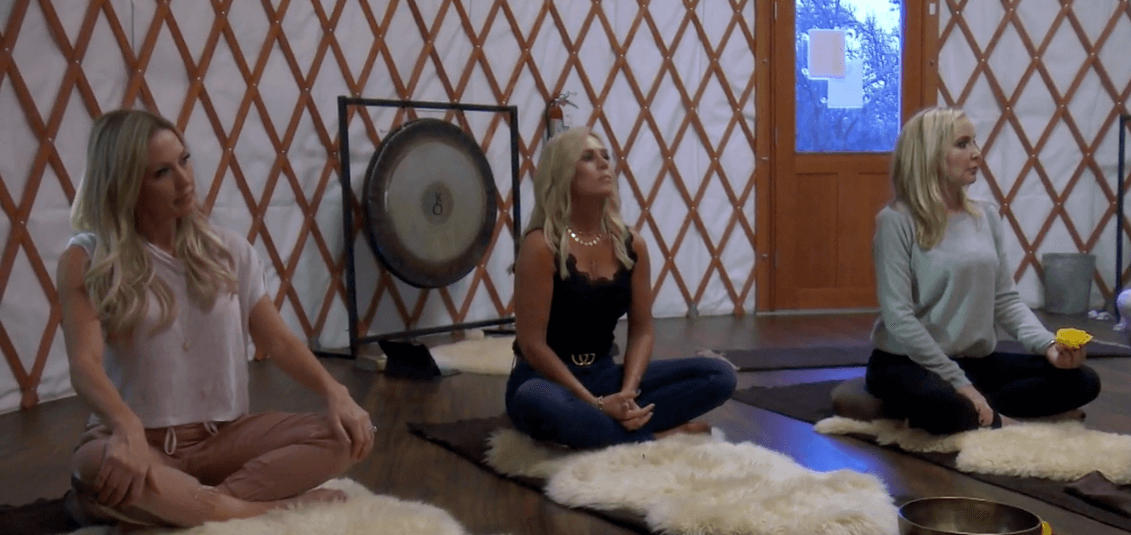 When Shannon places a bowl on her head to expand her aura, Kelly decides it would be hilarious to whack the hell out of the bowl with a padded mallet. Shannon complains about having a headache. Even Tamra is annoyed with Kelly's behavior.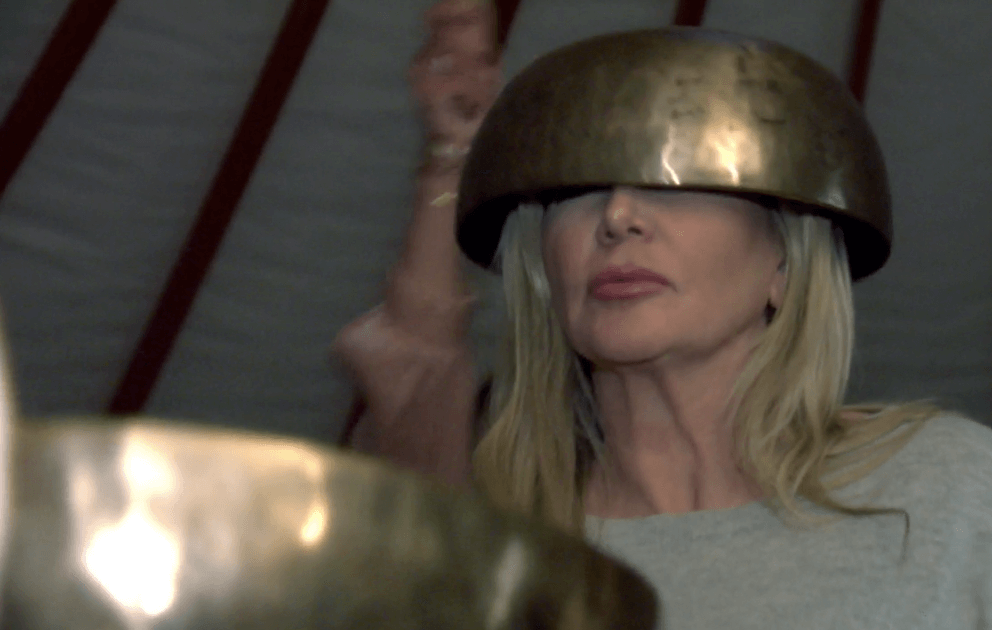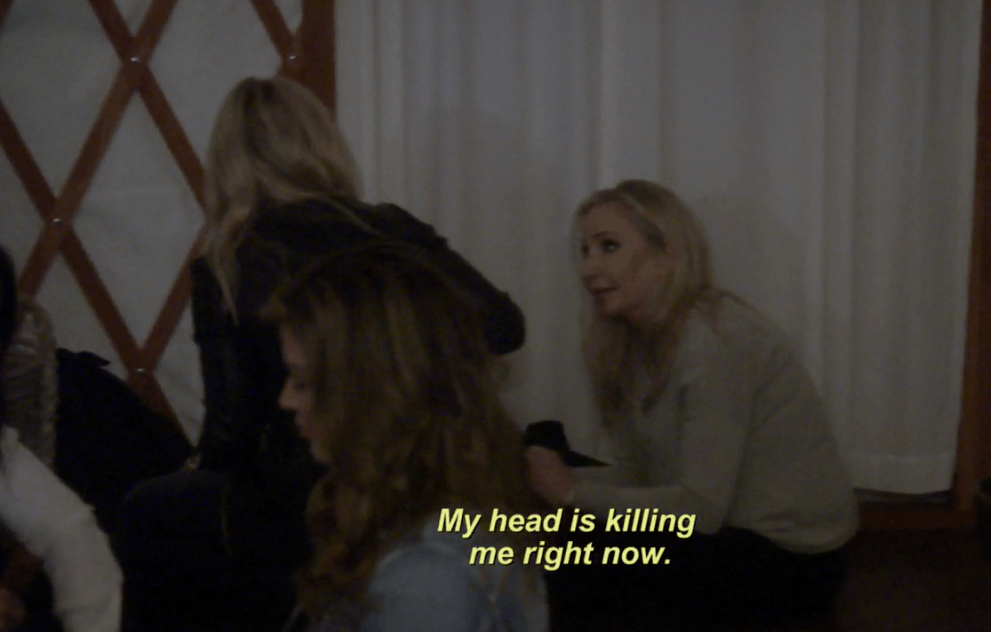 It's now time for dinner, and the electricity is out at the villas. But fortunately, they're in a new age space, so there are plenty of candles. Shannon's head still hurts. She's pissed at Kelly. So much for letting go of her resentment. But Tamra pours fuel on the fire when she states that when her ex got hit in the head, his spinal fluid started leaking. Um…no. That's not what's happening here, but now Shannon's freaking out. And that bump on her head seems more ominous and her left eye is suddenly blurry.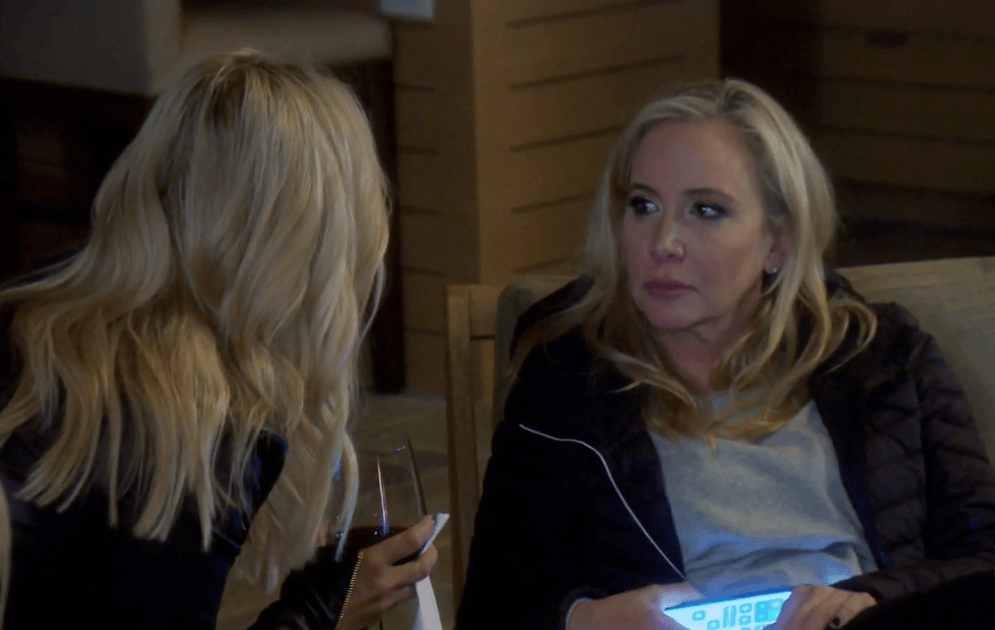 Kelly Dodd predicts that Shannon will harp on the bowl incident for the rest of the trip. Yeah. This is Shannon we're talking about, after all. She's not one to let shit slide. But she is in tears, letting her emotions get the better of her. This was supposed to be Shannon's dream vacay, but Kelly's ruining it all! Shannon's now worried about her blurry vision. Tamra says Shannon's working herself into a state. But it was Tamra who mentioned the spinal fluid in the first place.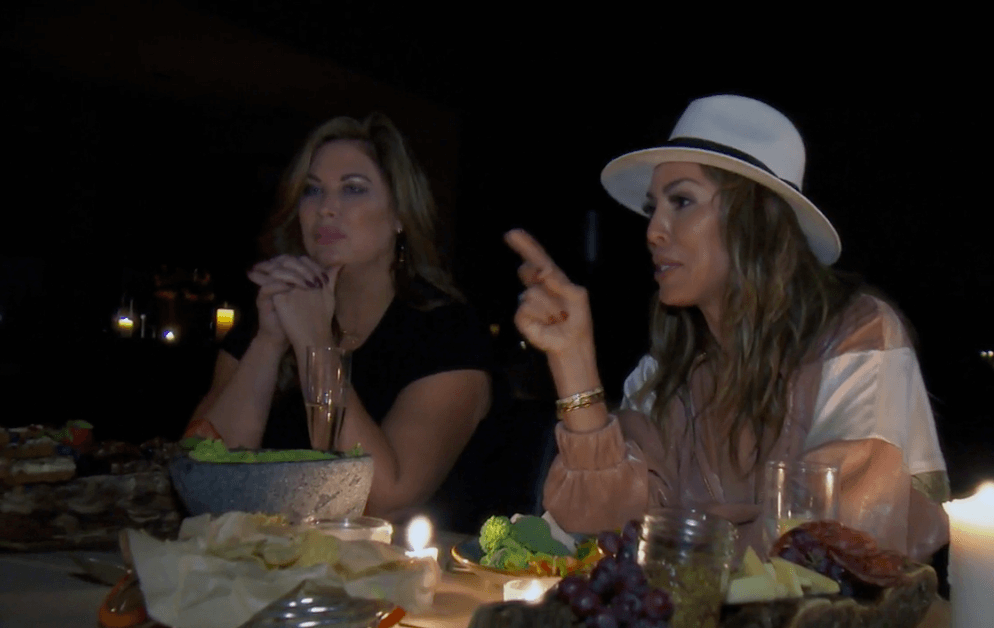 Shannon Beador and Tamra head out to the see the doctor. Kelly is surprised that Gina wants to hang with out with the other women, given that last season Shannon and Gina didn't like each other. Braunwyn sticks up for Shannon. They've gotten along like two peas in an Orange County pod. While they're talking about her, Gina facetimes, telling the other ladies that Shannon went to urgent care.
Braunwyn, Kelly, and Emily tromp over to Gina's villa, where the chefs are preparing dinner. Tamra calls Vicki and tells her the latest tea. Shannon's in tears (again), and Vicki commiserates with her friend's pain. Vicki immediately talks about bleeding brains, which makes Shannon even more worried. 
At urgent care, the nurse asks if Shannon Beador wants to call the cops and press charges against Kelly Dodd. And this ends our episode.
So, was Shannon Beador overreacting? Was Kelly Dodd in the wrong? And are you as annoyed as I am over Gina Kirschenheiter's whining?
"Like" us on Facebook  "Follow" us on Twitter and on Instagram