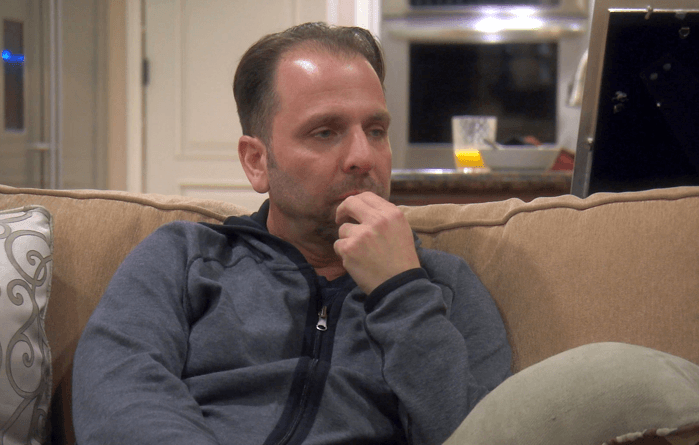 Emily Simpson and Shane Simpson's fragile relationship hit a breaking point on the current season of The Real Housewives of Orange County — and now her husband's dark past is coming back to haunt him!
RELATED: Twitter Drags 'Major Dumbass' Shane Simpson After He Fails The Bar Exam THREE Times!
Court documents reveal that Shane's ex-wife, Miriam accused him of sexually, physically and emotionally abusing her in their 2008 divorce, reports Radar Online.
"He was physically abusive to me," Miriam wrote in a declaration after filing divorce papers, which Radar first reported in July 2018, before the couple rose to fame on the Bravo show. "He was sexually abusive to me."
In addition to the abuse claims, another shocking accusation made by Shane's ex during their divorce is drug abuse. According to Miriam, he was "addicted to prescription medications" — and all the "stress" led her to such poor health she was "near death."
"He used and took prescription medications of others to quell his habit," Miriam alleged about Shane. "He made me feel trapped and hopeless as a result of excessive control and lack of liberties placed upon me…Because of all the aforementioned abuse, stress, and circumstances, I became physically ill after months of diagnostic tests, blood transfusions, and other medical procedures, not only was I diagnosed with blood disorders caused by stress, my body was what seems to be near death and I had no choice but to leave."
EXCLUSIVE VIDEO: Kelly Dodd's Mother Says 'RHOC' Daughter Pushed Her Down A Flight of Stairs!
On the flip side — Shane Simpson denied all the accusations, and claimed Miriam took their two children from Orange County to Utah without telling him.
"In November 2007, Mother [Miriam] went to Utah with our children for the Thanksgiving weekend and never returned to California," Shane said in his declaration obtained by Radar.
"She filed for a dissolution of our marriage. At that time, Mother refused to allow me visitation with our children. For approximately one month after she moved to Utah, I did not know where our children were and was not allowed to visit with them."
Their divorce was finalized on August 14, 2008 and Shane was ordered to pay $3,000 per month for child support.
He then tied the knot to Emily Simpson on Valentine's Day, February 14, 2009. They share three children, daughter, Annabelle, and twin boys, Luke and Keller.
As reported, Shane Simpson failed the California bar exam for the THIRD time after being away from home to study for the exam and his distance has created major problems in his marriage.
Emily and Shane Simpson's marriage has been a TMI cringeworthy experience for viewers to watch as their relationship implodes on screen.
"Like" us on Facebook "Follow" us on Twitter and on Instagram