Real Housewives of Potomac
Katie Rost Reveals Robyn Dixon's Credit Card Was Declined Several Times & Shares Why She Left the Cayman Islands Early!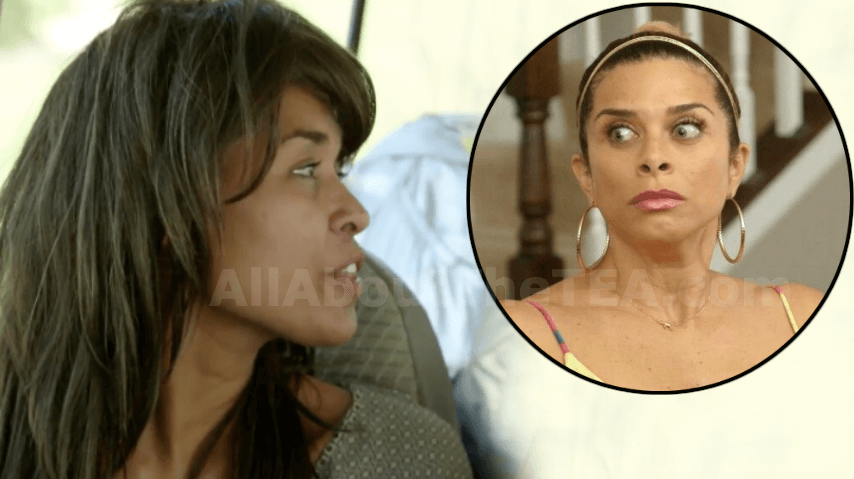 Katie Rost has revealed the reason for her illness and abrupt departure during The Real Housewives of Potomac Cayman Islands girls trip and shades Robyn Dixon.
RELATED: Robyn Dixon Reveals She's 59% White & Katie Rost Unleashes A Race War: 'It's A Colorism Issue'
Many fans assumed Katie left the Caribbean island after a heated confrontation with Ashley Darby about the gossip she had been spreading about Ashley's husband's sexuality. Ashley hit below the belt and her rage seemed too much for Katie to handle.
RELATED: Katie Rost Reveals Michael Darby Tried To Arrange A Hook Up With Her Boyfriend Amid His Sexual Assault Charges!
On Monday, the Real Housewives of Potomac personality revealed she disappeared in the Cayman Islands because she was pregnant but unaware at the time. She shared, "lord where was I, so I was on the island wearing my bad wig and all and then I felt like something wasn't right and called a doctor. He was an island/ house doctor… he came to my room and gave me antibiotics and told me to stay out of the sun. The next day we were on a boat all day and in the sun, I felt very sick. I left Grand Cayman after notifying production and the front desk that I was sick. I got home and found out I was pregnant. I told Robyn, Gizelle and all of production I was pregnant two days before Karen's La Dame party.I told Ashley the night of."
She continued her post, "I lost the baby a few months later."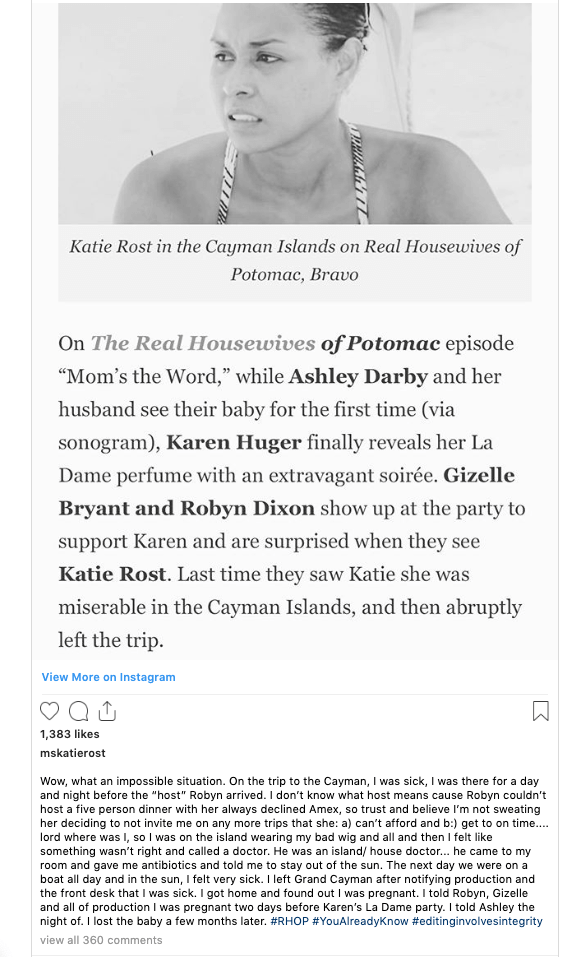 As reported, Katie suffered a miscarriage back in February after five months of pregnancy. She documented her tragic experience in now-deleted graphic photos on Instagram. 
EXCLUSIVE: Monique Samuels Speaks Out Amid Her Explosive Feud With Candiace Dillard — Monique Blocked Candiace and Warned Her 'Not To Become Ashley Jr!
Katie Rost also shaded Robyn Dixon for her poor hosting skills and revealed Robyn may have financial issues because her Amex card was declined several times throughout the trip. She wrote,
"Wow, what an impossible situation. On the trip to the Cayman, I was sick, I was there for a day and night before the "host" Robyn arrived. I don't know what host means cause Robyn couldn't host a five person dinner with her always declined Amex, so trust and believe I'm not sweating her deciding to not invite me on any more trips that she: a) can't afford and b:) get to on time…"
Katie was not invited to the Real Housewives of Potomac reunion that airs on September 14 and shared her disappointment on Instagram — "I have been told I will not be asked to the reunion, I want to be there. Obviously I have a place there. That's not right! You are going to have Michael Darby, aka Chester the Molester there and not me!!!! WTF Bravo! Not cool #rhop #somethingstinksindenmark." Katie posted on July 30.
Despite being a friend of the show, Katie has inserted herself generously in the show's drama and found herself at odds with Ashley Darby.
Share your thoughts on Robyn Dixon's alleged financial issues. Sound off below!
"Like" us on Facebook  "Follow" us on Twitter and on Instagram