EXCLUSIVE: Monique Samuels Speaks Out Amid Her Explosive Feud With Candiace Dillard — Monique Blocked Candiace and Warned Her 'Not To Become Ashley Jr!
Twitter drama erupted this week between Candiace Dillard and her Real Housewives of Potomac co-star, Monique Samuels.
The hoopla began after the two women got into a heated fight at Katie Rost's hoedown — and Monique was prepared to drag a bitch — pregnant and all.  
MUST READ: 'RHOP' Fans Drag Candiace Dillard For Calling Ashley Darby A Roach That 'Laid On Her Back' For Money & A Racial Slur On the Same Day She Gave Birth!
While last Sunday's episode aired, the ladies took their drama down to Twitter and unleashed on each other. Candiace, 32, kicked off the attack first by tweeting, "Wow. Disgusting. I'm "gunning" for her?? She was in my home. And was asked to leave. But I'm gunning for her?? WOW. @iammrssamuels"
Candiace continued to throw shade at Monique, she tweeted: "Says the fake mannequin poised for any opportunity to jump up and look like Mother Theresa. I have never claimed innocence, "hun." You keep on, though. She'll screw you again soon enough."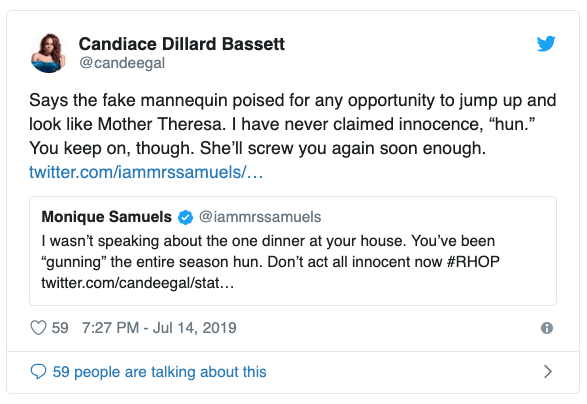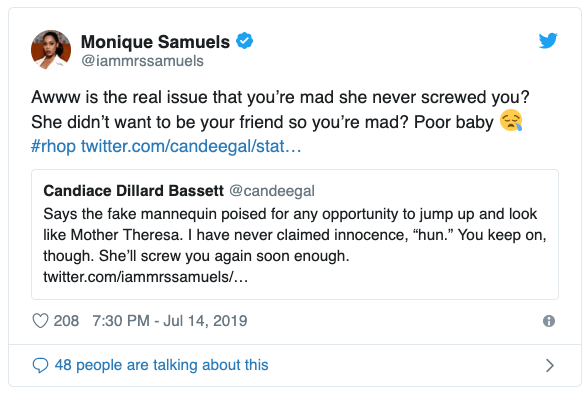 Monique summed up the fight by telling Candiace not to use her for a storyline.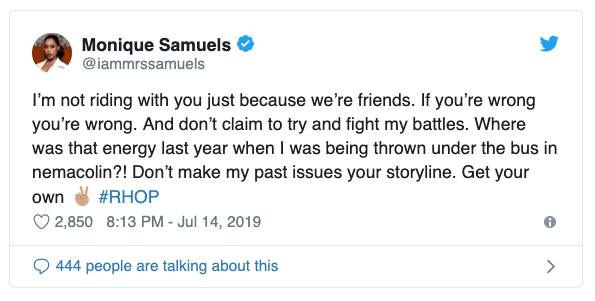 After their Twitter showdown, AllAboutTheTEA.com caught up with Monique Samuels about her beef with Candiace Dillard.
In an exclusive AllAboutTheTEA.com interview, Monique explains that she's no longer on speaking terms with Candiace and was forced to "block her on IG," amid their feud.
"I blocked her on IG because I don't want her stalking my page. She wants attention and I refuse to give it to her." Monique tells AllAboutTheTEA.com. "I don't give in to temper tantrums… I laugh at them! Ask my kids."
Monique, 35, noted, "She's mad at herself for looking so crazy on TV."
The former friends started feuding after Monique voiced concerns over Candiace's explosive outburst during a knife wielding incident with Ashley Darby — Candiace misconstrued Monique's advice and lashed out at her friend.
"I tried to warn her during filming not to become Ashley, Jr. Now she's projecting who she is on to me so that she doesn't have to be accountable for HER actions." Monique tells AllAboutTheTEA.com.
Fans have witnessed Candiace lash out on-screen at her co-stars and her husband during unhinged fits of rage. Monique feels Candiace's behavior may be deflection stemming from her toxic relationship with her mother, Dorothy Dillard.
"She can take this battle to the appropriate source- her mommy."
As reported, Dorothy Dillard and Candiace's relationship turned physical during an argument that led to her mother slapping her daughter upside the head.
The Real Housewives of Potomac airs Sunday nights, on Bravo, at 8:00 p.m. ET.
"Like" us on Facebook  "Follow" us on Twitter and on Instagram 
Nancy Zhāng is an Entertainment Blogger for All About The Tea. Nancy covers hot topics, recaps and celeb news. She loves to multi-task as a writer and a private chef. She received a B.S. in Mass Communications from LSU. Nancy's married and the proud mom of 2 German Shepherds.