Southern Charm
'Southern Charm' Fans Accuse Kathryn Dennis of Being High During Watch What Happens Live Appearance!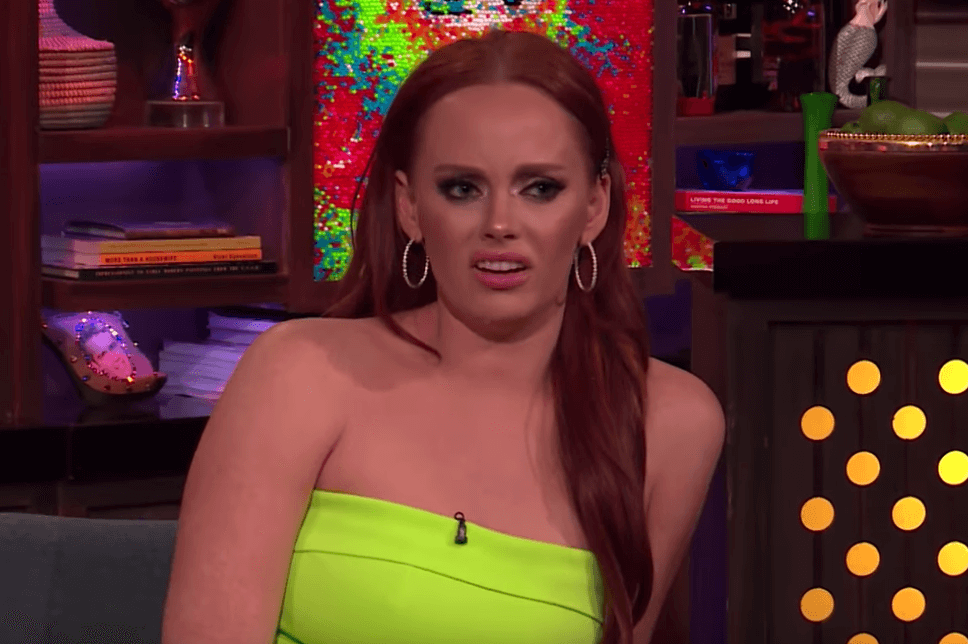 Kathryn Dennis, appeared on Watch What Happens Live Wednesday night after the season six premiere of Southern Charm. And the rehabbed charmer's questionable appearance set tongues wagging.
The Southern Charm star was noticeably fidgety, speaking in a lethargic pace, and seemingly unable to process the host and callers questions.
EXCLUSIVE: Kathryn Dennis Attacks Bravo Production Crew In A Fit Of Rage! "She Broke A $5,000 Camera"
Kathryn Dennis made strange faces throughout the program. Watch below. 
Kathryn and Thomas remain locked in a custody dispute, the legal discord further complicated by assault allegations levied against the South Carolina real estate developer.
Many Southern Charm fans were not digging Kathryn Dennis' Lindsay Lohan vibe and voiced their concerns on social media.
I have been right about her all along.#KathrynDennis is high as a kite on #WWHL right now and all you enablers on #SouthernCharm can kiss it! I NEVER bought her reformed good girl act. No, it's not nerves as she's been on this show many times before! ? @AllAboutDaTea cover this!

— Starling Mod (@StarlingMod) May 16, 2019
You Be The Judge, I was all about Kathryn Dennis last Season with her changes & sobriety- Butttt, after watching #WWHL I believe she is high on something! Watch her closely, she can't sit still, fidgety, watch Andy's expressions towards her! Something is up y'all #southercharm pic.twitter.com/3TLlTIsReW

— @Still_Fabulous_ At_46 (@46_still) May 16, 2019
Kathryn Dennis pupils are huge & she is slurring her words on #WWHL #southerncharm #Southerncharm #bravo #bravotv pic.twitter.com/1B2Z0ACRqg

— renee (@RENETRUTHCANON2) May 16, 2019
Why are you not watching WWHL? Kathryn Dennis is a train wreck rn

— Tabitha (@TabfordRN) May 16, 2019
Why does Kathryn Dennis look so uncomfortable on #wwhl?! #southerncharm

— Dani at ATXgossip.com (@ATXgossipDani) May 16, 2019
As fans know, Kathryn checked into a rehab in June 2016, after court ordered drug testing revealed cocaine, opiates and multiple other drugs in her system.
Kathryn lost custody of the two children she shares with Ravenel, and has since been presenting a cleaned up image to the public.
RELATED: Kathryn Dennis Forcibly Kicked Out Of Son's Christening For Alleged Drug Fueled Outburst!
Back in December 2018, fans also questioned Kathryn's sobriety after she appeared high as a kite during an Instagram Live.
Kathryn Dennis Appears Drunk & High In Bizarre Christmas Rant Amid Custody Battle — Watch Here!
You be the judge. Does Kathryn Dennis appear inebriated during her Watch What Happens Live appearance? Sound off below!
"Like" us on Facebook  "Follow" us on Twitter and on Instagram