Hottest
'RHOBH' Fans Claim Teddi Mellencamp's Husband Edwin Arroyave's Security Company Orchestrated Kyle Richards' Million Dollar Home Burglary!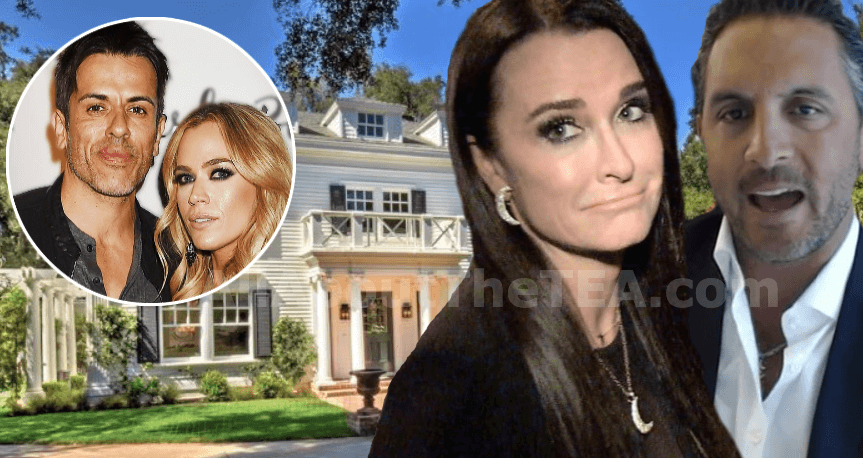 The cast RV trip featured on The Real Housewives of Beverly Hills might have been a bad promo move for Teddi Mellencamp.
The vehicle was wrapped in an ad for Teddi Mellencamp's husband, Edwin Arroyave's business — Skyline Security and Smart Home Management — but the shameless Bravo plug might have backfired.
As reported, several one star Yelp reviews thrash Skyline Security, accusing the company of unethical business practices and even fraud.
Beware! Teddi Mellencamp's Husband Edwin Arroyave's Company Accused of "Fraud" & Scamming Customers
Fans will remember that Arroyave's company was hired to install the security system in Kyle Richards and Mauricio Umansky's Encino home. Kyle revealed that the property had been burglarized during the Season 8 reunion series — and that more than $1 million in jewelry and handbags had been stolen.
RELATED: Mauricio Umansky Sued For Fraud In Shady $32 Million Mansion Sale!
Kyle explained what went down to People, in January 2018. The outlet reported that "a missing panel" was to blame, pointing to a faulty installation process. 
RELATED: Teddi Mellencamp's Brothers Violent & Criminal Past Exposed!
"It turns out, the alarms in the house were not armed at the time of the robbery due to a missing panel from the installation, rendering the app Richards and Umansky were using to activate the system from a distance ineffective. The alert they received was triggered by a motion sensor. A broken window was discovered on property, which police believe is likely how the culprit(s) entered the home."
"I said, 'It must be something faulty with the app," Kyle told PEOPLE mag. "We've got very tall gates on the house, a state-of-the-art home security system, and my housekeeper was sleeping there at the time. I thought. 'I don't believe that, that's not possible.'"
Kyle Richards tried to clear Skyline a few months later, tweeting in April 2018 that the system was put in place after the robbery. The reality star noted that the system was "up and running" after the scary incident.
BEFORE. Thankfully we have it all up and running now https://t.co/iG8znjpJYZ

— Kyle Richards (@KyleRichards) April 18, 2018
Viewers are now taking a second look — and sounding off about the cloudy connection between Arroyave's biz and the Umansky burglary.
RELATED: Kyle Richards & Mauricio Umansky's Home Burglarized For Millions!
Lmao Edwin took over security at kyles, kyles house then gets robbed and then suddenly teddi and Edwin upgrade to a bigger, better home ?

I'm just gonna leave that there #RHOBH

— before you respond… idc (@girljennnn) May 1, 2019
Kyle's #RHOBH Snoooooze fest. Oh, the handbags left to her by the mum. So tragic. Wonder what value was ascribed to said handbags to insurance co.! Wasn't Teddi's hubz company overseeing security at the time? or in transition? Sounds like an inside job.

— BeeDeedles (@BeeDeedles) April 3, 2019
& I'm just gonna say out loud what we've all been thinking…Teddi's husband is probably just as shady as her, & is responsible for the "break-in" at Kyle's new house! "Oh—you don't want to purchase all the security I'm recommending today ? Okay, we'll see how that goes…"#RHOBH pic.twitter.com/v1GeWLGD7K

— ن Rene ن (@fire4yahweh) April 3, 2019
Do you ever wonder if Teddi's husband's security company had anything to do with Kyle's house being robbed?! I mean they did know the whole layout on the house #RHOBH

— Brittany (@__BLOUD) March 21, 2019
#RHOBH @Andy
Isn't it odd that when Teddi and her husband came to the show, Not just Kyle and Mauricio but Dorit and PK we're robbed too???
I'm asking because doesn't Teddy's husband own a security business or something?

— QueenMrs (@TheQueenMrs) February 20, 2019
Being involved with frauds seems to be Teddi's thing.

Also didn't Kyle's house get robbed right after his security system team worked on her house? I smell a storyline. #GoodbyeKyle #RhOBH https://t.co/HNj3Bxzd2j

— LucyLucyAppleJuice (@LucyLucyAppleJ) May 4, 2019
No it wasn't. The thieves were caught. I do think Teddi's 🐍 husband was involved some how with Kyle's robbery. He was in the home prior checking it out to install "security". Reading his employee reviews are frightening and his partner's record. #RHOBH

— Reality TV Bliss (@RealityTVBliss) March 27, 2019
What do you think? Coincidence, negligence, or a perfectly timed hit? 
Sound off in the comments, and watch the Real Housewives of Beverly Hills, Tuesday nights at 9 pm, ET, on Bravo.
"Like" us on Facebook  "Follow" us on Twitter and on Instagram