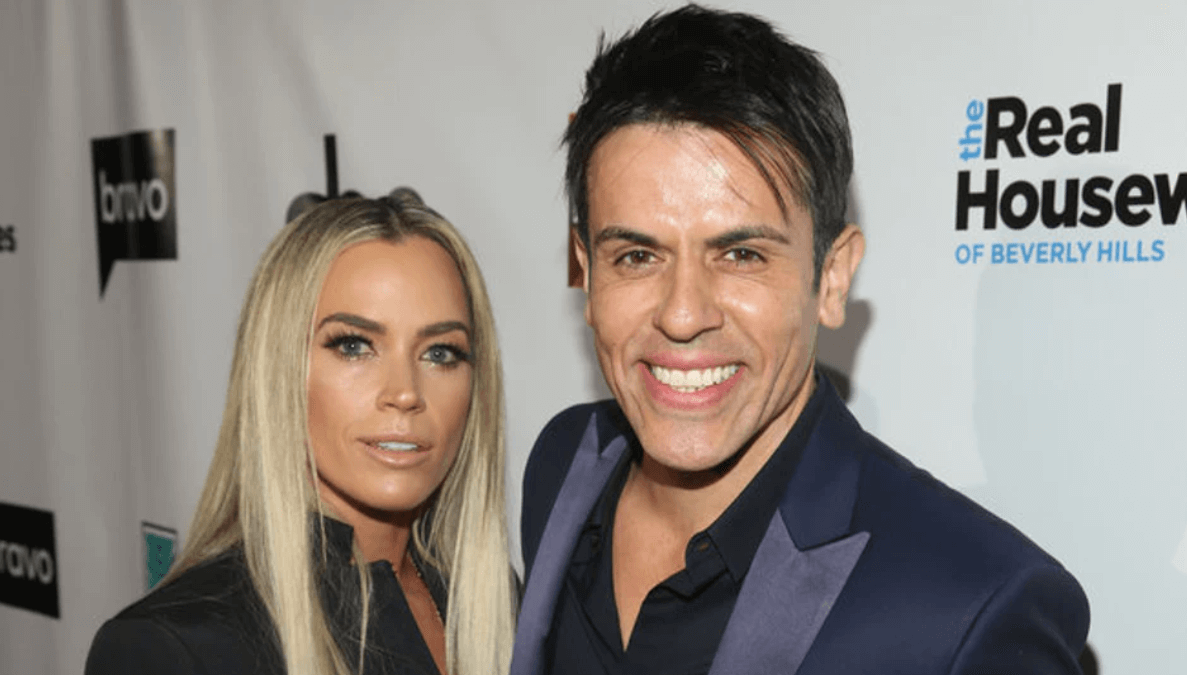 Real Housewives of Beverly Hills star, Teddi Mellencamp has done an abrupt 180 character change from her debut season that has left many viewers scratching their heads.
The sudden about-face triggered AllAboutTheTEA.com to do some digging into Mellencamp and her family — and we uncovered some shocking details about Mellencamp's husband, Edwin Arroyave's security company.  
Mauricio Umansky Sued For Fraud In Shady $32 Million Mansion Sale!
The dubious reality starlet's husband owns and operates Skyline Security and Smart Home Management — which appears "unethical" and "fraudulent" according to customers.
Lucy Lucy Apple Juice Suffered Extreme Trauma In the Care of Dorit Kemsley — Dog's New Owner Speaks Out Amid PuppyGate Scandal!
According to the company's website, Skyline Security and Smart Home Management is a premier and largest distribution channel for Brinks Home Security, one of the largest home security alarm monitoring companies in the continental US, Canada and Puerto Rico.
Teddi Mellencamp Started #PuppyGate After Brother Shot Down for Role On Vanderpump Rules!
The common theme with many of the following one-star Yelp reviews on the company is unethical business practices and fraud. Many warning 'Beware!'
"The reviews about deceptive sales practices are true.  I'm a college graduate from USC, a business owner, and come from a well educated family.  I consider myself fairly capable of negotiating a fair and honest transaction.
I was approached by two sales people, Alan Ramirez and Trinity Jensen at around 7:30pm/8pm today. They told me they wanted to give me free equipment in exchange for placing a Brinks Security sign on my lawn since I am located on a busy street (allegedly they would benefit from the advertising exposure).  The situation was framed in a way that made it seem like I was getting some home security hardware in exchange for placing a lawn sign on my property; and that I could activate the system later at any time if I chose to begin paying a monthly subscription fee.
They said there would be no obligation to pay anything and they would install the equipment free of charge (waiving any initiation fees and not obligating me to begin a contract/subscription payment with them).  After picking out equipment I wanted and filling out some customer information, they had me sign something saying "oh this is just to verify that we told you everything."  Trustingly, I signed the document.  
Afterwards, I decide to look at the email of the copy of the document they had me sign. Turns out it states that I've agreed to a $69.99 per month charge for 36 months (total $2519.64) , plus a $99 initiation fee. 
I will be requesting a cancellation of this immediately.
I don't go off on companies often, but really, F off guys. This is deceptive business and I will take your company to court in a heartbeat if my bank information is misused."
Lawsuit Claims Tom Girardi's 'Funneling Millions' to Fund Erika Jayne's Career But Can't Pay Back $15 Million Loan — Lien Placed On His Mansion & Assets!
The following disappointed customer warns the entire Coachella Valley area to stay away from the company.
"COACHELLA VALLEY BEWARE!!! Straight Garbage. Don't believe a word they say, they are scammers and will say anything to get your business. Juan has no integrity!!! I am still waiting on my 200 dollars, Juan said I would get reimbursed and this is the second year with them. Had a camera fail and they still haven't come out after 6 months. DO NOT SIGN UP WITH THIS COMPANY!  You will regret it!!!"
Another critic described how their elderly family member was preyed upon and taken advantage of by a sales rep for the company. The dissatisfied person wrote:
"DO NOT open the door to these fraudulent people. Everyone who works for them is practicing fraud on a daily basis and they all seem to be okay with it. An elderly family member of mine had a conversation with a salesperson who came to her door recently. Strike 1! Who really goes door-to-door anymore? He tried to talk her into installation of a new system with cameras and the works. She signed nothing. He asked who would be using the system, and she gave her son and daughter's names. THEY RAN THEIR CREDIT WITHOUT THEIR PERMISSION! My husband only knew because he got an alert that the company had run his credit. Please encourage your elderly family members, friends, neighbors, etc. to not open the door to solicitors. They are preying on these people without a second thought and committing fraud on a daily basis.  My husband now has to work to get this off his credit report which is totally unfair. 
DO NOT DO BUSINESS WITH THIS COMPANY!"
Several Yelpers provided valuable feedback and insight into the company's unethical business practices.
"BEWARE! Do NOT BUY this Security system!!! My mom passed away and SKYLINE SECURITY is threatening to put a lien against me for the balance owed of 38 months x 50.00 saying she signed an agreement for 60 months and there's 38 months left. How can they charge a dead person for a service that is NOT even being used anymore?!! Mom's landlord owned the house and he's passed on too! They said his daughter will have to pay but I may have to pay half! Really? What a horrible company, so so so sickening! The representative of Skyline had NO mercy! She was cruel – I don't know how she sleeps at night. She actually made me sick and I told her but she said she's just doing her job! Fair warning! Do NOT use this company for an alarm service – they will go after your kids if you die before your "agreement" ends!!!"
"My mom signed up with this company after my dad passed away. She passed away unexpectedly in August and when I cancelled the service they charged a 1600.00 termination fee which they were unwilling to waive due to the "contract" unless the new homeowners wanted to take it over. Never have had to deal with a more unethical and unprofessional company – please read your contract closely and make sure your elderly parents who may need it most don't sign anything. I will be notifying the BBB as well -"
"It seemed to good to be true when I got a doorbell camera, interior camera and two external cameras installed for no money down and only a few extra dollars a month than I was used to paying. If I knew the cameras would only work intermittently if at all then I would have thought twice. I'm resetting the cameras again since they keep disconnecting from the WiFi. Brinks wants to charge a fee to check on the system. Go with a reliable service if you can. I don't know who is a good company to go with but go somewhere else."
The customer write-ups above are a mere snapshot of numerous other negative Yelp reviews on Skyline Security and Smart Home Management. 
Are you surprised that Teddi Mellencamp's husband, Edwin Arroyave's company is being accused of scamming folks? Sound off below!  
"Like" us on Facebook "Follow" us on Twitter and on Instagram