Exclusive
EXCLUSIVE: Danielle Staub's Wedding Sham Exposed — Gina Curko Breaks Her Silence to All About the Tea!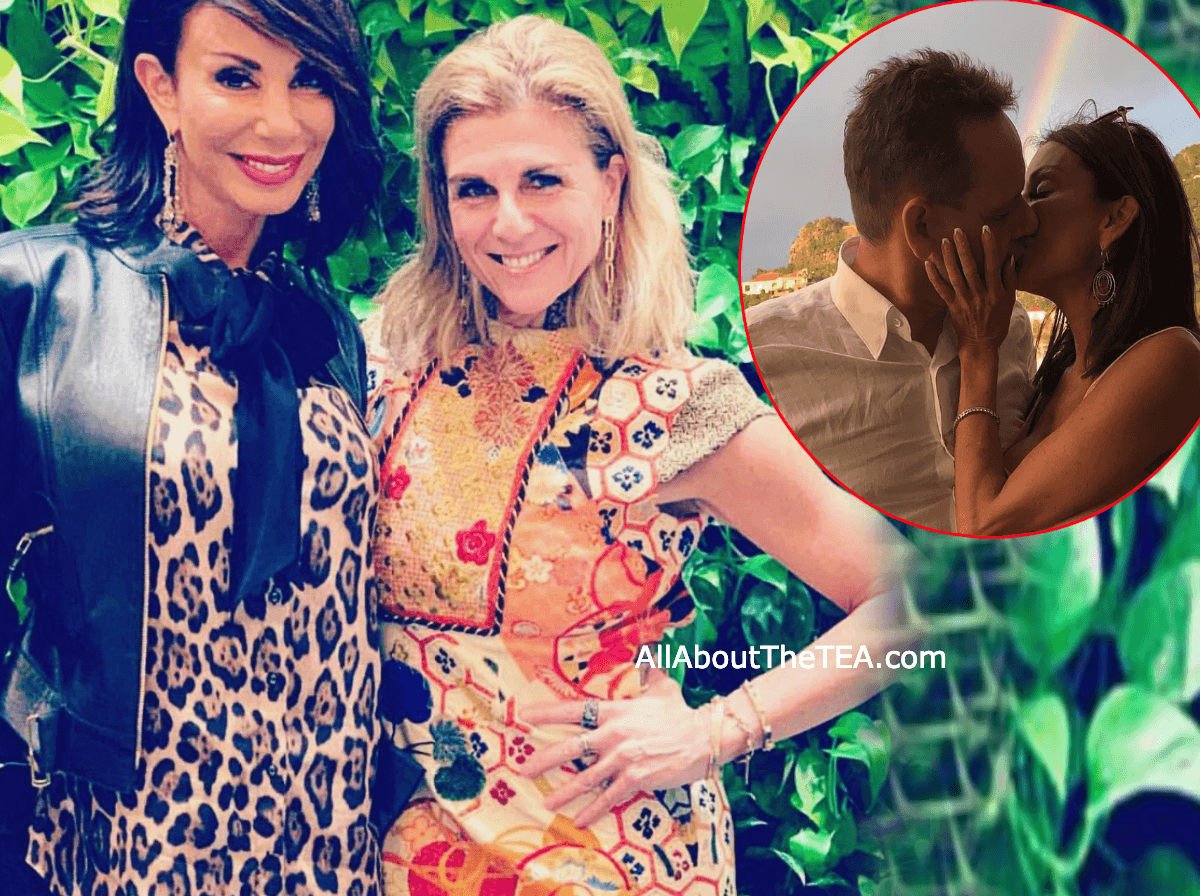 Danielle Staub claims that she's headed back to the altar, just days after finalizing her divorce from Marty Caffrey.
The Real Housewives of New Jersey star announced on Thursday that she had snagged fiance #21 — but Danielle might be pulling a fast one, according to exclusive info obtained by AllAboutTheTEA.com.
"I'm madly in love," Danielle told People magazine. "I'm feeling elated and excited for the next stage of my life. I'm going to marry the man of my possible dreams and hopefully I'll spend the rest of my life in bliss."
Danielle Staub's Violent Past Revisited — Prostitution, Cocaine Dealing, Kidnapping and Pistol-Whipping!
AllAboutTheTEA.com blew the lid off Danielle and Oliver Maier's new romance — exposing Maier was currently dating Danielle's best friend, Gina Curko, when Danielle Instagrammed a photo of herself and Maier kissing in St. Barts, on February 25.
As AllAboutTheTEA.com exclusively reported, Gina Curko, was in the dark about the double betrayal by her boyfriend and best friend. Maier initially denied the relationship with Danielle — claiming he was 'Photoshopped,' and tried to reconcile with his heartbroken ex.
"Gina found out after reading an article and immediately called Oliver in St. Barts — hysterically crying. She asked him why is he kissing Danielle and why is he in St. Barts with her when he's supposed to be on a business trip. Oliver denied everything and claimed Danielle Photoshopped him in the photo of the two kissing." A source confirms to AllAboutTheTEA.com.
EXCLUSIVE: Danielle Staub's Violent Outbursts Fueled By Oxycontin, Cocaine and Weed In 2015 EXPOSED! 
In an interview with PEOPLE, Maier seemingly admitted to the infidelity behind Curko's back.
 "I didn't intend for it to happen that way, it's my mistake. If you have to blame it on someone, blame it on me, not Danielle," Maier said about the crashed relationship with his ex. "I care about Danielle. She's phenomenal, comes from a good family and is beautiful beyond belief. I'm happy we're together."
He continued: "People don't like to take a risk, but I took a risk," Maier said. "Danielle's one of the smartest people I've met. People have preconceived notions about her from reality TV, but she's a smart women. And I was instantly attracted to that."
EXCLUSIVE: 'Fuck Your Kids!' Scary Audio of Drug Fueled Tirade That Sent Danielle Staub's Navy SEAL Running For His Life! 
Danielle's former bestie, Gina Curko, spoke exclusively to AllAboutTheTEA.com, and she claims that Maier has been trying to woo her back.
"You will all run the story of him begging me to come back and I have all of his texts to prove what I am saying." Curko tells AllAboutTheTEA.com.
Curko believes that Danielle's motives for seducing her wealthy investment banker boyfriend were driven by money. 
"I have known her [Danielle Staub] for 7 years. All she cares about is money. She needs money to buy Marty's house!" Gina shared with AllAboutTheTEA.com. 
In Danielle's divorce settlement from Marty Caffrey — she agreed to purchase the marital home valued at $2.1 million.
According to Curko, owner of SeeSaw boutique in New Jersey, she's done with Oliver Maier — and blasted her her ex-bestie, Danielle.
"I will never speak to him AGAIN — moving on! They are old news. Danielle is garbage. Danielle will crash and burn as she usually does. Look at her life — that speaks volumes." Curko dished to AllAboutTheTEA.com.
The businesswoman revealed that she was a good friend to Danielle — helping her through an alleged suicide attempt, not long ago.
"She was going to kill herself months ago. Guess who talked her off the ledge? That is the kind of friend I was to her. And she goes and does this to me for money." Curko reveals to AllAboutTheTEA.com.
https://www.instagram.com/p/Bt1WM18H6eb/
Danielle, 56, announced that she and Maier planned to exchange vows on Monday, in a civil ceremony — however, a source revealed to AllAboutTheTEA.com that the engagement is an alleged sham. 
"The Real Housewives of New Jersey starts filming Tuesday…Danielle is desperate to become a full-time Housewife and looking for a storyline. She forced this engagement on Oliver and now he's having major doubts and pushing back. And, he's still trying to get Gina back."
The source adds, "Oliver never agreed to marry Danielle on Monday or buy her a ring. He agreed to look at rings. They got into a spat at Van Cleef & Arpels jewelry store on Saturday because he would not purchase the ring she wanted." 
Is Danielle Staub pulling a fast one on Oliver Maier and Real Housewives of New Jersey fans? Sound off in the comments!
The Real Housewives of New Jersey airs Wednesday nights, on Bravo, at 9:00 p.m ET.
"Like" us on Facebook "Follow" us on Twitter and on Instagram