Exclusive
EXCLUSIVE: Mariah Huq Test Negative For Cocaine Proving Quad Webb-Lunceford LIED About Drug Allegations!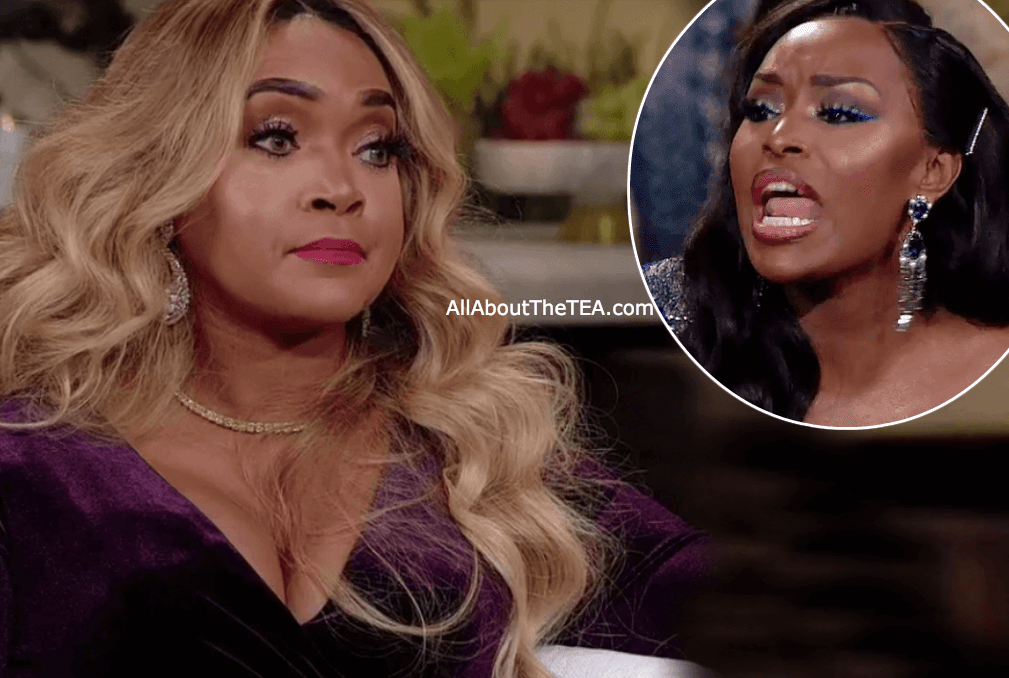 Married to Medicine creator/executive producer, Mariah Huq, is responding to reported drug use allegations — flattening Quad Webb-Lunceford's revenge press tour.
"I saw her utilize cocaine," Quad told US Weekly on Jan 7. "I know what I saw. I saw her actually using the drug herself … 2013, I saw her start using, and it just spiraled out of control. She's just picked up the habit, even … has it now."
RELATED: Dr. Gregory Lunceford Reveals Marriage to Quad Was Fake For TV — 'No Sex For Years!' 
Quad Webb-Lunceford pointed to "violent" mood swings and "erratic" behavior — referencing Mariah throwing a glass during a cast trip to Antigua.
"This wasn't a one time thing, that she did this. This is progressively getting worse," Quad said. "We're not friends. We're not. Let me just state that for the record. However, she was once a very special person to me. And because of that, I don't want to see her continue to go down this road, because she's a mother, she has children. She's a wife. I'm very concerned for her. I'm very concerned for her."
EXCLUSIVE: 'Married To Medicine' Season 6 Reunion Tea — Cocaine Accusations, Violent Domestic Abuse & Affairs Exposed!
Quad also claimed that the Married to Medicine cast is aware of Mariah's alleged drug problem.
"It's been a whisper," Quad said. "They know. They definitely know. Yeah, it's known. This is a known thing."
Fans witnessed Mariah slam Quad for sleeping with her brother-in-law during Part one of the Season 6 Married to Medicine reunion. Quad fired back — labeling Mariah a cocaine user.
EXCLUSIVE: Quad Webb-Lunceford Cheated on Husband with Mariah Huq's Brother-In-Law & Got Her Ass Kicked!
Mariah Huq is now speaking out — and setting the record straight with an exclusive statement and drug test results.
"In recent weeks, I have endured a series of malicious and deceitful  assaults to my personal character and integrity. As a wife and the  mother of young children, the impact on my family and me has been profound and incalculable." Mariah Huq tells AllAboutTheTEA.com.
She continues: "I do not, now nor have I ever, used illicit recreational drugs of any kind. Any and all statements to the contrary, especially by someone claiming to have witnessed such behavior, are patently false, defamatory and legally actionable."
Mariah ended her statement with: "As creator, executive producer and a cast member of Married to Medicine, I wanted to create a platform where women — and particularly women of  color — could be elevated and demonstrate the intrinsic power of sisterhood." 
On January 9, Mariah Huq was tested for cocaine, opiates, marijuana (cannabinoid), barbiturates etc. by LabCorp in Roswell, Georgia. Her drug screens all came back "Negative." See below.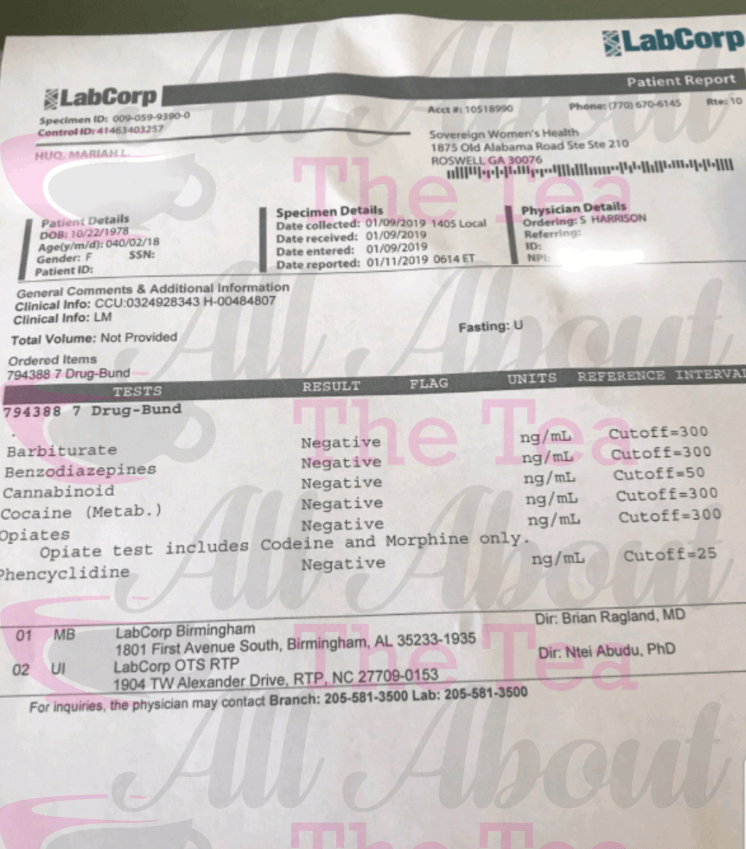 Part 3 of the Married to Medicine Reunion will air Sunday, Jan 13, at 9:00 p.m. EST on Bravo.
"Like" us on Facebook  "Follow" us on Twitter and on Instagram