EXCLUSIVE: 'Married To Medicine' Season 6 Reunion Tea — Cocaine Accusations, Violent Domestic Abuse & Affairs Exposed!
A mess!
The cast of Married to Medicine filmed their season 6 reunion Thursday, November 15, in New York City — and AllAboutTheTea.com has EXCLUSIVE details on the post-season showdown!
Dr. Jacqueline Walters, Mariah Huq, Dr. Simone Whitmore, Toya Bush-Harris, Quad Webb-Lunceford, Dr. Heavenly Kimes, and Dr. Contessa Metcalfe hashed out their differences and made outlandish accusations in the process.
Simone, Mariah and Toya were seated on the right side of the couch — while Jackie, Heavenly, Quad and Contessa sat on the left side. Simone and Jackie resided in the honorary spots next to host, Andy Cohen. Check out an exclusive reunion photo below.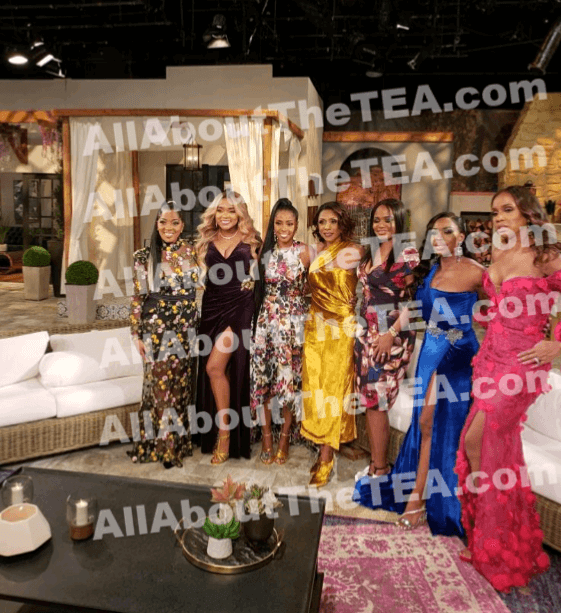 The reunion was so explosive that it will be aired in three parts and the ladies were divided based on alliances. 
One of the biggest shockers of the day was a dramatic confrontation between Quad Webb-Lunceford and her estranged husband, Dr. Gregory Lunceford. Their divorce drama exploded and scandalous details of their tumultuous marriage were exposed in a one-on-one sit-down between the couple. 
"Quad and Dr. G had a sit-down. They went back and forth over the demise of their marriage. Blaming each other for the divorce. They discussed not having sex in years. Quad denied that claim made by Dr. G. She accused Dr. G of cheating with multiple people before the Jackie Presley incident." A ROCK solid source shared with AllabouttheTEA.com. "Dr. G held his own until Quad accused him of beating her up throughout the marriage. Dr. G responded by saying 'she hit me first.' Quad said that Dr. G dragged her out of the car by her hair."
Meanwhile, Quad Webb-Lunceford and Heavenly Kimes attacked Mariah Huq viciously for hours. Reunions are filmed for 10 — 12 hours. Many low blows were thrown but the most outrageous development was — Quad accused Mariah of drug use, a source tells AllAboutTheTea.com exclusively.
"Quad accused Mariah of using cocaine, but she had no receipts to back up her claims. Mariah was livid and read Quad for FILTH. She was throwing everything at Mariah besides the kitchen sink." AllAboutTheTea.com can exclusively report.
Another HUGE bombshell is — Quad addressed an AllabouttheTEA.com exclusive report that exposed Quad cheated on her husband, Dr. Gregory Lunceford, with the brother-in-law of the show's creator and executive producer, Mariah Huq.  
"Quad brought up the affair with Mariah's brother-in-law…and denied EVERYTHING! But Mariah was not having it. She knows it's 100% true and called Quad a 'low down dirty skank hoe' for posing as a friend while sleeping with her brother-in-law."
As reported, when Mariah's sister, Lekeeda "Lake" Kelley, discovered Quad was sleeping with her husband, she pulled up at Quad's residence and proceeded to whoop her ass. Read the police report here. Ultimately, the affair led to the demise of Lake's marriage.
"Quad slept with Mariah's sister's husband while they were best friends," a source tells AllabouttheTEA.com. "Quad hates Mariah, because Mariah has her number. Mariah has inside knowledge of the affair, and that makes Quad uncomfortable. She knows that she betrayed not only her husband, but her best friend."
Heavenly Kimes' anger management therapy and her heated feud with Mariah was also a major topic of discussion. Toya and Simone checked the dentist for bullying Mariah.
"Toya and Simone both called Heavenly a bully and told her to leave Mariah alone. Toya said that Heavenly constantly attacks Mariah's family because they're Muslim. Their exchange with Heavenly was intense and very heated."
Also fans can expect, Toya and Contessa to get into a shouting match.
"Toya went in on Contessa. She called her fake and the two went back and forth on everything that happened over the season. From Contessa missing Eugene's party to the accidental elbow to the breast in Antigua."
Married to Medicine Season 6 has three episodes left to air before part one of the reunion airs — tune into the drama on Saturdays at 9:00 p.m. ET, on Bravo.
"Follow" us on Twitter and on Instagram 
Nancy Zhāng is an Entertainment Blogger for All About The Tea. Nancy covers hot topics, recaps and celeb news. She loves to multi-task as a writer and a private chef. She received a B.S. in Mass Communications from LSU. Nancy's married and the proud mom of 2 German Shepherds.