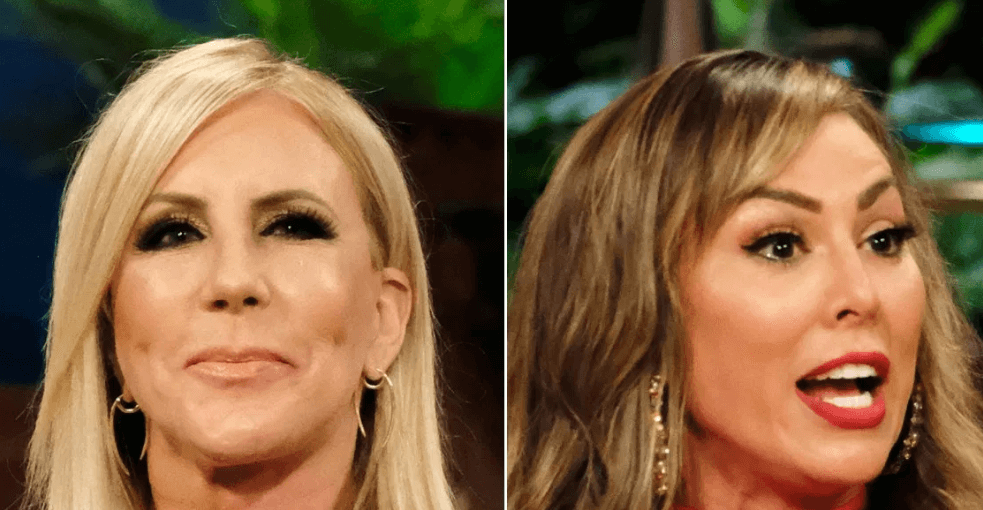 Kelly Dodd  andVicki Gunvalson have sparked a post season feud after their fiery Real Housewives of Orange County season 13 reunion showdown!
'RHOC' Reunion Tea: Kelly Dodd Lashes Out at Producers After Vicki Gunvalson Outs Her Cocaine Habit!
On Tuesday, Kelly Dodd clapped back after Vicki Gunvalson ,56, tweeted that her costar has "no job or career" — referencing Kelly's recent threat to quit The Real Housewives of Orange County. 
RELATED: 'RHOC' Vicki Gunvalson Reveals Who Told Her About Kelly Dodd's Cocaine Habit!
Kelly made the threats after Vicki Gunvalson outed her alleged cocaine habit at the Season 13 reunion! 
"This makes me very sad.. I am college educated you are not. I worked in advertising after I graduated from college for 10 yrs. Bought real estate by myself.. Married a smart successful man with whom, I had a child with which is a great father to his daughter," Kelly captioned a screenshot of Vicki's since-deleted tweet on Tuesday, December 11, via Instagram. "Where is your kids father?? I invested in stocks and real estate and start ups very early therefore, I don't have to work as an insurance broker selling insurance for minimal margins (your words)You also told me you make more money on the show than you do selling insurance."
She concluded: "I have made better choices in my life than you .. I'm sorry if you're jealous, I just work smarter.. I hope you find happiness, peace and ❤️ love Vicki#dontbejelly #donthate."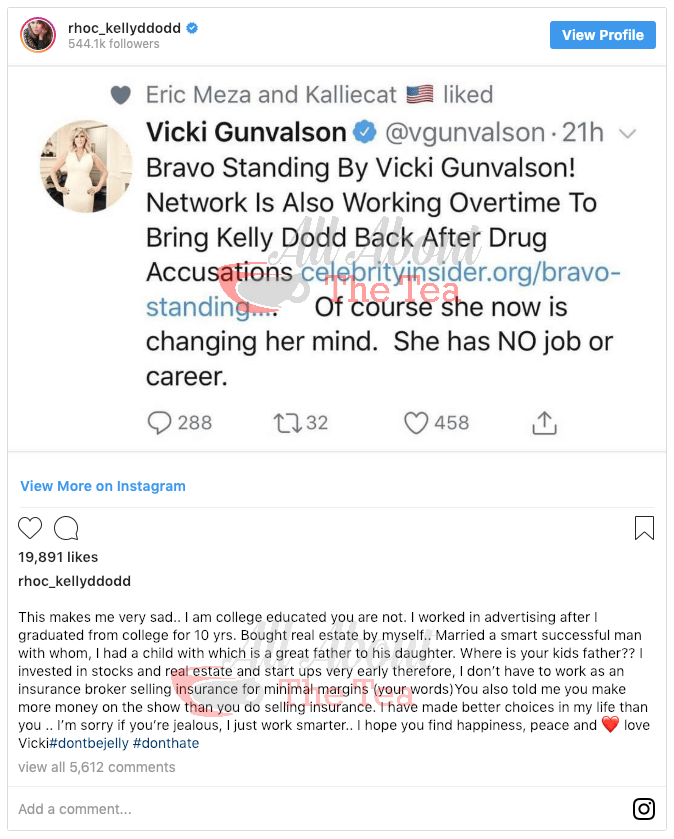 Although Vicki has since deleted her tweet shading Kelly Dodd — the Coto Insurance owner also replied to a fan about the situation via Instagram on Monday.
"She is all threat! She has NO job so what would she do?" the self-proclaimed O.G. of the OC wrote to a user about Kelly. In a second comment Vicki added, "She's been super mean this year. Guess she wanted to be relevant."
AllabouttheTEA.com exclusively reported in September on Kelly Dodd's alleged "out of control" cocaine habit. An Orange County snitch claims Kelly also struggles with alcohol dependency. 
The Real Housewives of Orange County is currently on hiatus.
"Like" us on Facebook  "Follow" us on Twitter and on Instagram