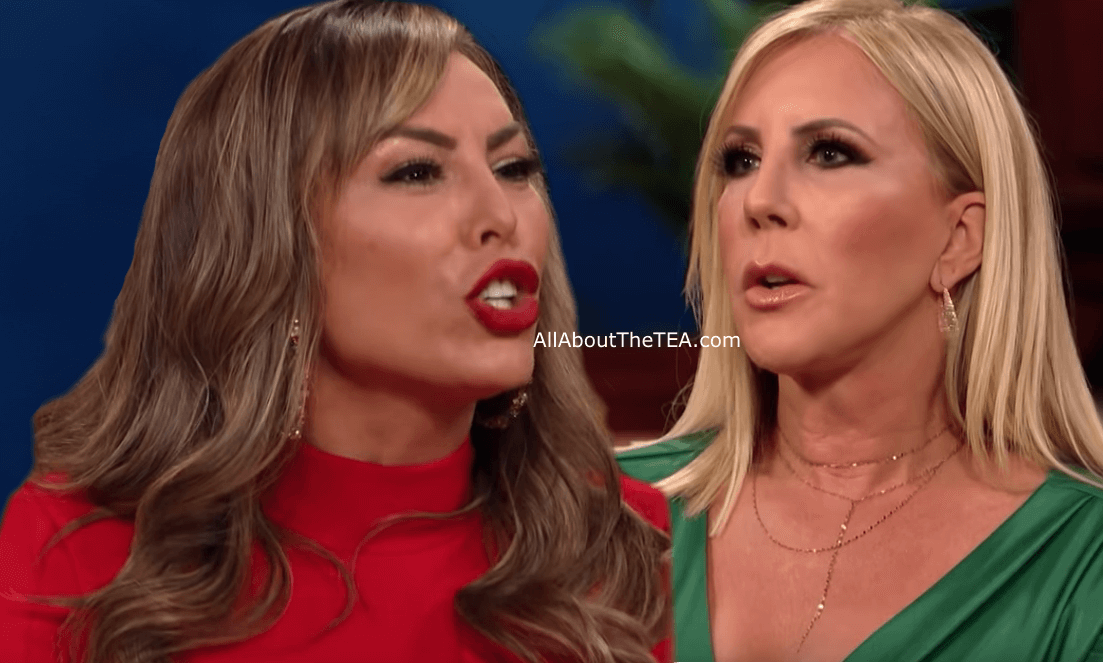 Real Housewives of Orange County Recap!
Welcome to Part 1 of The Real Housewives of Orange County. The ladies have returned from Jamaica and two of them will be undergoing cosmetic surgery this week. Won't that be (not) fun! First up, Vicki Gunvalson is explaining t reunion show. After watching it all I can say is, Wowza! The claws really came out. As the ladies take their seats on the couch, Gina Kirschenheiter, Kelly Dodd and Tamra Judge are to the left of Andy Cohen and Shannon Beador, Vicki and Emily Simpson are to his right. The only huge fashion gaffe is made by Gina wearing 1980's hair and purple disco ball.
Andy says hello to the ladies and welcomes Gina and Emily to their first execution reunion. He brings up Donn's insurance policy and Vicki explains it's not that she will profit when Donn dies, rather she will be reimbursed for all the alimony she's paid out. Andy asks Tamra if she has any nips or tucks planned, she says no, but asks if she needs any. Yes, please have permanent nip-covers sewn to your breasts.
Flashbacks are shown of the Tres Amigos on their Girls Gone Wild trip to Mexico. The ladies all agree their friendships clicked back into place almost instantly after lots and lots of Tequila. Shannon explains they made a pact to move on and Vicki says she just wants to have flipping fun. Gina calls out Vicki for making the comment that she never wants to be "that girl" about her at her birthday dinner party, and yet she was "that girl" at the bar in Mexico. Kelly tells Gina that Vicki is a hypocrite, so get used to it. And so it begins…
Andy asks the ladies if Steve is Vicki's soulmate. The reviews are mixed. Shannon says yes. Emily says she admires their relationship because Steve is kind. Makes sense Emily admires what Shane lacks. Tamra says at first she thought Vicki was changing too much to please Steve. Kelly calls Vicki a hypocrite again and Vicki tells Kelly to dial it down. Kelly tells her she's not the boss of her.
Next, flashbacks are shown of Vicki screaming from the back of Steve's motorcycle and her laser-focus effort to get Steve to marry her. As for when Steve will propose, Vicki says he most likely won't be getting down on one knee. It will be a mutual decision followed by an insurance policy, no doubt. About the premarital counseling that Vicki wants, Shannon and David also did it, just saying, don't waste your money. Andy asks the ladies who thinks Steve and Vicki will actually get married. Shannon says yes and Tamra says it will be season 14. No one else raises their hand. Kelly says that Steve, who's been married three times, personally told her marriage is for people who want kids. Andy asks if Vicki wants to marry Steve or just wants to get married. Vicki says there's no rush.
Next they discuss the new Bravo show, Dirty John. Andy asks Vicki is she sees the similarity to Brooks. Vicki says absolutely. When Andy points out that Brooks was not a murderer, Vicki says Brooks murdered her self-esteem and pocketbook. We learn that Vicki is going after Brooks for money he owes her. Kelly asks if Brooks even has any money and Tamra recommends closing that chapter. But Vicki insists on showing her Excel spreadsheet to a judge and jury. Vicki admits she should have never left Donn for Brooks – something everyone can agree with.
Next we see flashbacks of Gina and her M.I.A. husband, Matt. Gina swears she didn't start the show knowing her marriage was over (cough, bullshit) and she only knew it was on a "down." This is something Shannon can also relate to. As for Matt's absence, he's not allowed to be on the show or he'll lose his job. Gina says she and Matt are no longer having sex, have still not told the kids, and Matt has never told Gina she's beautiful. Wow. Quite the admission. Why would you have sex with a guy who never tells you you're beautiful?
The conversation moves to Vicki's Italian dinner and how everyone jumped Gina's shit and told her she had no moral compass. Gina says she's agnostic, but was married in a Catholic wedding for her mother's sake. Emily brings up that morality and religion don't go hand in hand. Gina points out that if she's going to hell, then Vicki might be going with her.
Onto the crumbling of Kelly and Vicki's friendship. Spoiler alert: it's about to get obliterated. Flashbacks are shown concerning the problems that arose when Vicki set Michael up with one of her friends. Today things are still not good between Vicki and Kelly or Steve and Michael, and Michael is no longer dating that friend. Kelly explains it wasn't the crime, but the cover-up. Andy asks if Vicki broke girl-code and everyone pretty much says yes. Kelly says that Michael has her back, and Vicki says, Oh, really? She tells Kelly that Michael said their marriage was 14 years of hell.
Andy asks Vicki how she would feel if one of the ladies went out with Donn on a double date. Vicki says, go for it, but Tamra doesn't believe her. Then Kelly calls Vicki a silent, but deadly fart. Really? Third grade humor? Vicki says Kelly is unkind. Kelly calls Vicki Lies-A-Minelli, which is funny, but it's about to get really real. Vicki says at least she doesn't do cocaine. Boom!
Kelly says she doesn't either, and calls Vicki a hypocrite because she does edibles, which is totally legal in California. Kelly tears up. She can't believe this is happening. Vicki then tells Kelly she's never with Jolie, according to Michael. However, Kelly did film with Jolie at the soup kitchen, so there's that. Kelly starts gasp-crying. Vicki explains that if you hit her, she'll hit you back, the credo of all Real Housewives.
The cast takes a break for lunch. Thank goodness because Andy was useless during that part. Tamra, Shannon and Vicki stay behind while everyone leaves. Tamra tells Vicki she can't say things like that. Vicki's response is, "That's what we heard," meaning she and Shannon heard Kelly was doing cocaine. Shannon remains quiet. The cameras follow Kelly to her dressing room and she kicks them out, choking back tears. Kelly eventually lets them back in and calls Michael, tears pouring down, asking if he said she did coke – while sipping champagne. Michael says he didn't.
Over at Vicki's dressing room, Shannon is explaining to Vicki she can't go around saying someone does coke all the time. Vicki's response is she never said "all the time."
And that's it for part one. Again, Wowza! What are your thoughts about Kelly and Vicki? Tune in for more fun on part two of the RHOC reunion show when Tamra lets Shannon have it for her constant self-victimization.
"Like" us on Facebook  "Follow" us on Twitter and on Instagram