Erica Mena Twerks On Estranged Husband Safaree And Makes Out With Love & Hip Hop's Amina Buddafly In Wild Video!
Erica Mena and Safaree Samuels share a contentious relationship—but that didn't stop Erica from twerking the night away on her ex while filming Season 2 of "Family Reunion: Love & Hip Hop Edition." Erica was also spotted making out with her "Love & Hip Hop" co-star, Amina Buddafly, in footage shared on Instagram by entertainment site, realityentertainmenttv. 
https://www.instagram.com/p/CTuxdpdF-lV/
The ex-couple last made headlines in July, when Safaree accused the mother of his two children of destroying his personal property to the tune of $50k. The rapper filed court documents asking a judge to hold Erica in contempt for violating their domestic relations standing order, which forbids the destruction of property or harassment during their divorce process.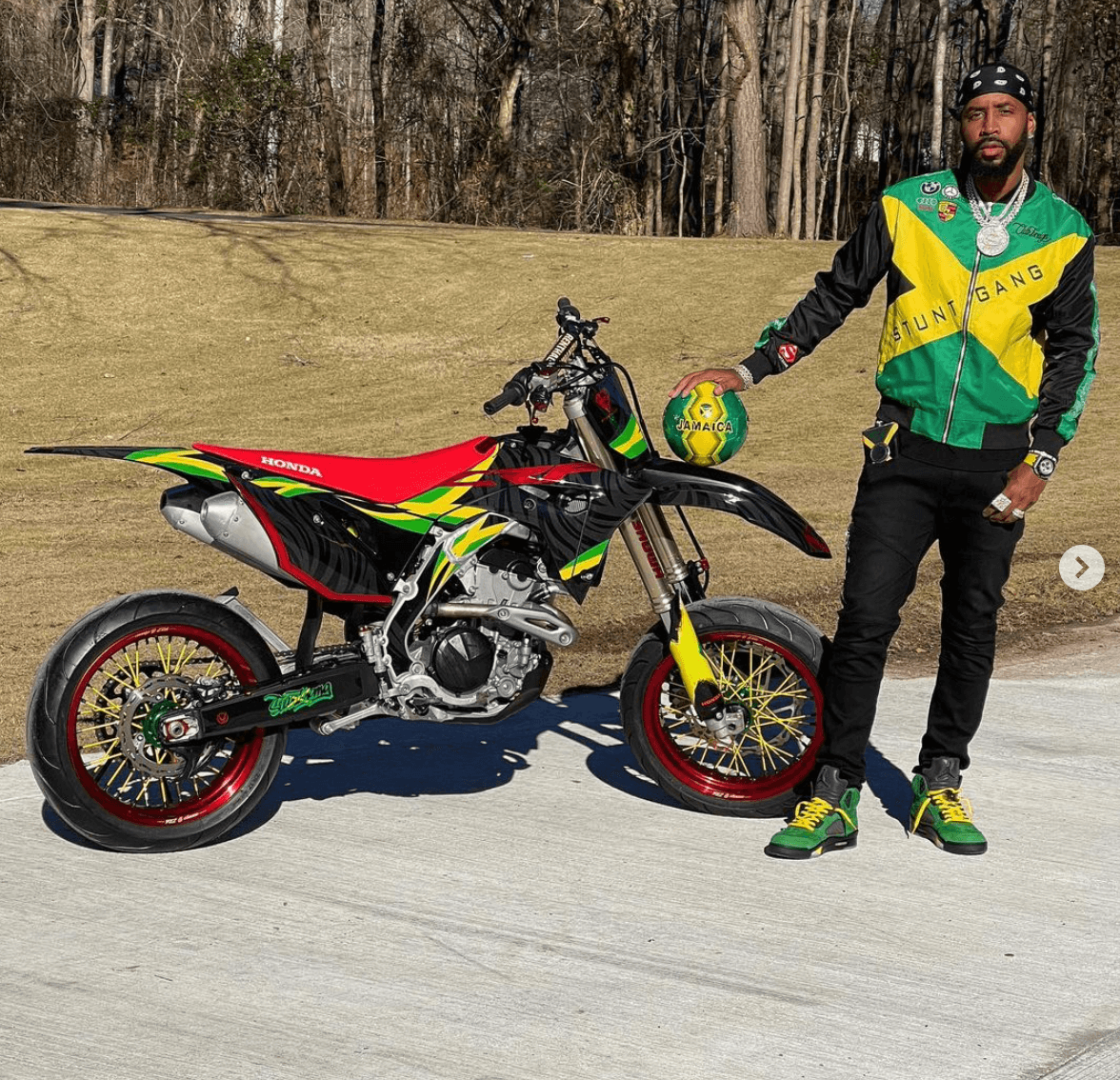 TMZ obtained documents that revealed that Safaree accused the mother of his children of destroying his property on May 23, two days after she filed for divorce. He alleged that the VH1 star wrecked a collection of custom sneakers, valued at $30k, by cutting the laces and dousing them with bleach. He also claimed that his estranged wife destroyed two motorcycles and a motorbike with paint, some of which was poured directly into the exhaust pipes and gas tanks.
The songwriter added that home security cameras captured the rampage—and that he was prepared to hand the footage over to the court.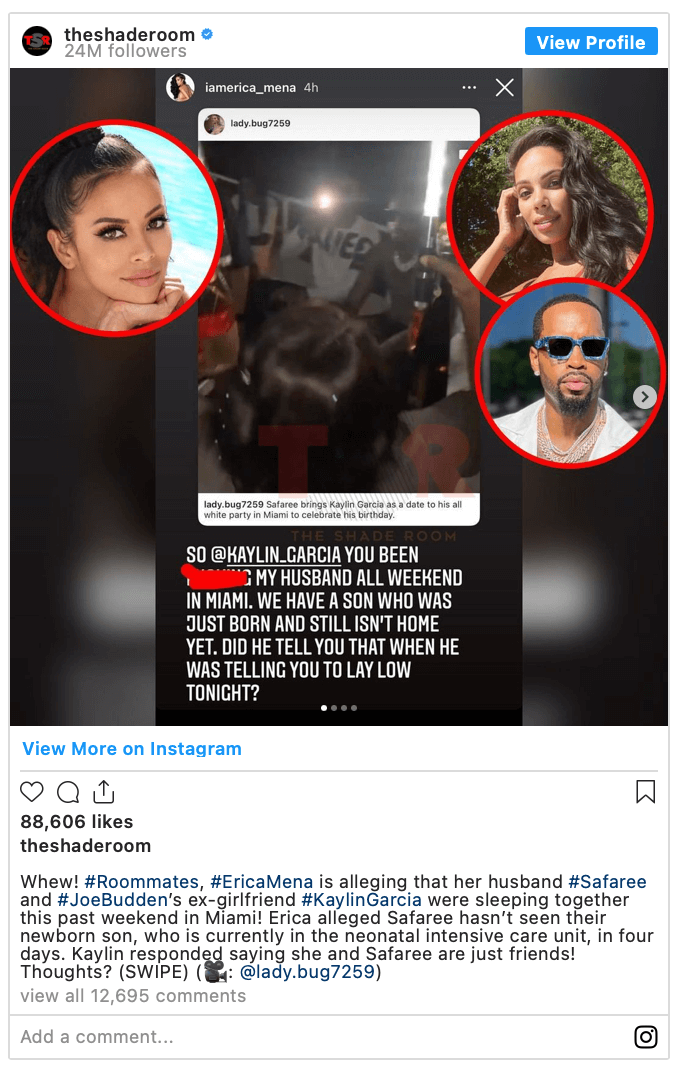 Erica put her estranged husband on blast in July, after he was spotted celebrating his birthday at a bash in Miami alongside Kaylin Garcia, the ex-girlfriend of Joe Budden. The duo was spotted getting cozy at the party and word seemingly got back to Erica, who had recently given birth to the pair's second child.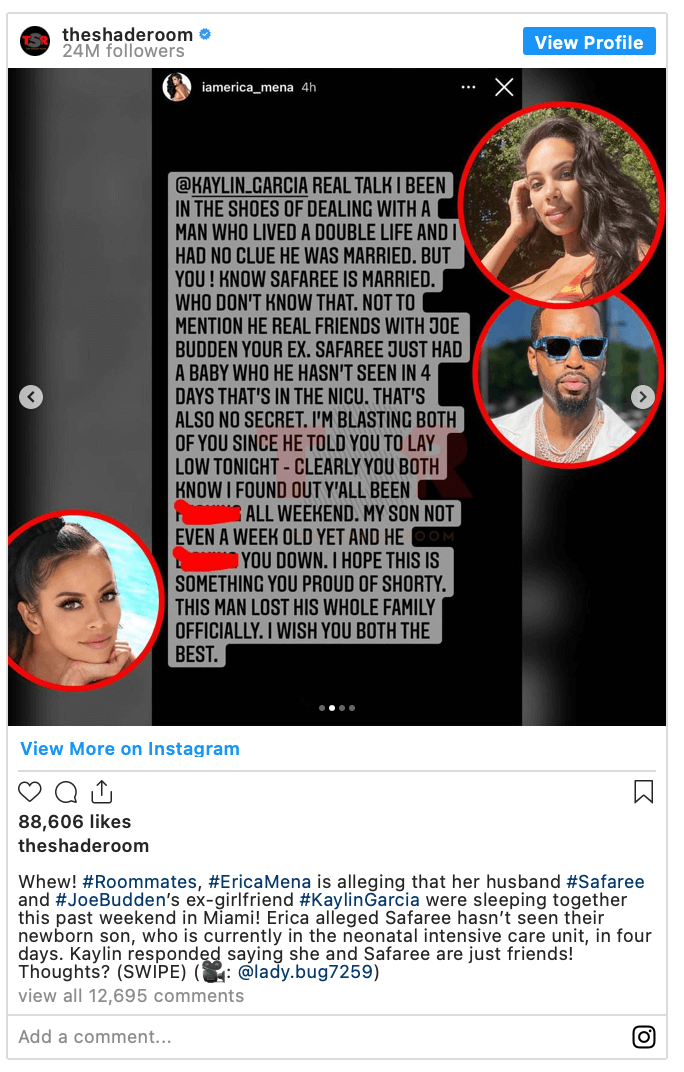 "@Kaylin_Garcia real talk I been in the shoes of dealing with a man who lived a double life and I had no clue he was married," Erica wrote on Instagram, reacting to the news. "But you ! Know Safaree is married. Who don't know that. Not to mention he real friends with Joe Budden your ex. Safaree just had a baby who he hasn't seen in 4 days that's in the NICU. That's also no secret. I'm blasting both of you since he told you to lay low tonight–clearly you both know I found out y'all been f***ing all weekend. My son not even a week old yet and he d***ing you down. I hope this is something you proud of shorty. This man lost his whole family officially. I wish you both the best."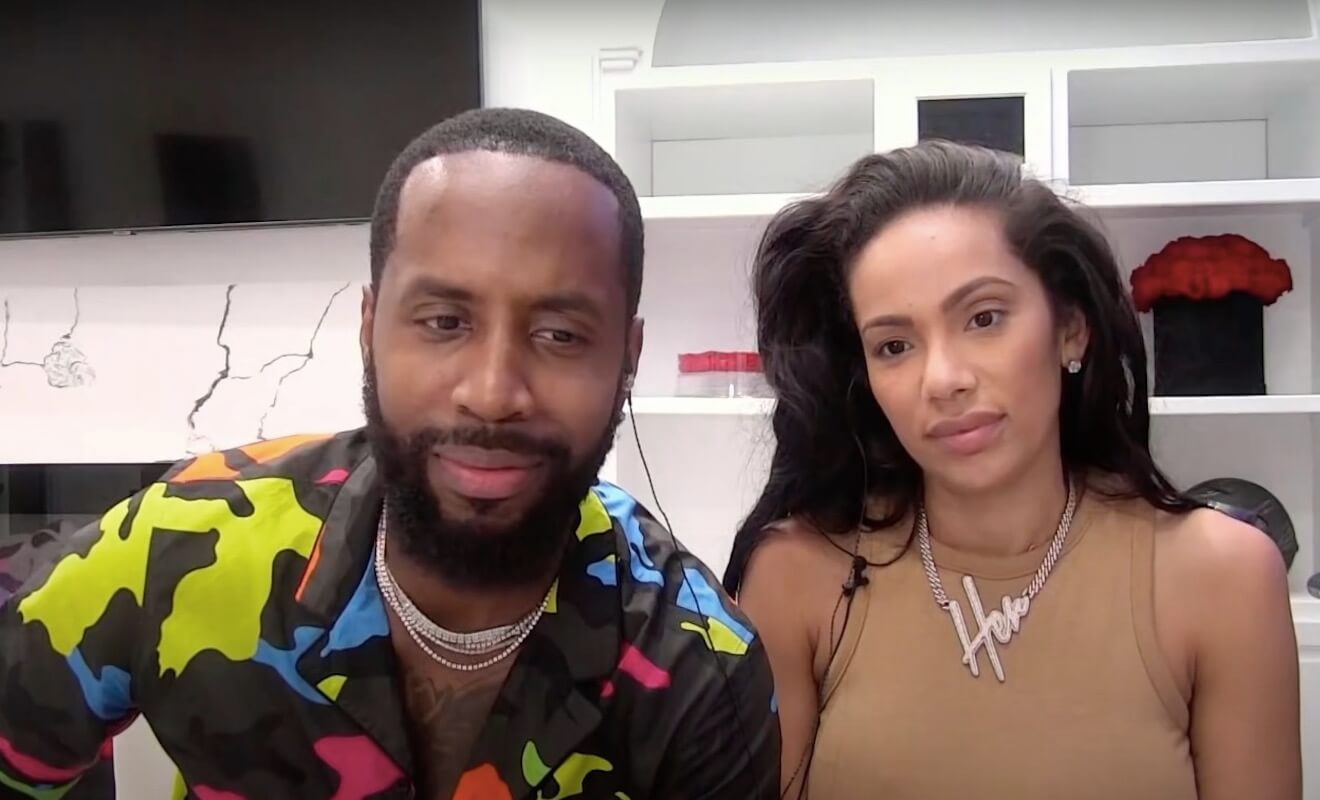 In August, Erica admitted that she had trashed Safaree Samuels' property but claimed that it was her ex's cheating ways that set her off. TMZ obtained documents that confirmed the reality star's confession— that she had damaged her then-husband's property in the third trimester of her pregnancy. She blamed her rampage on "numerous acts of infidelity."
The couple wed in a secret ceremony on October 7, 2019. The pair first connected on the VH1 series, "Scared Famous," in 2017, and began dating at the end of 2018. Safaree proposed after the couple had been dating one month. Erica gave birth to their daughter, Safire, in February 2020. 
The ex-couple welcomed their second child about a month after Erica filed for divorce.
https://www.instagram.com/p/CTdzdCLnNnk/
The Shade Room shared a video of Erica celebrating her divorce from Safaree, in footage captured several days ago. 
"I'm officially f*cking single!" Erica happily yelled, in the video. 
The newly single reality star wasted no time getting back into twerk mode with her ex, less than a week later. 
Raissa Asunbo is a Content Editor at All About The Tea. She lives in Toronto, Canada and enjoys reading, watching movies, traveling and spending time with her family.