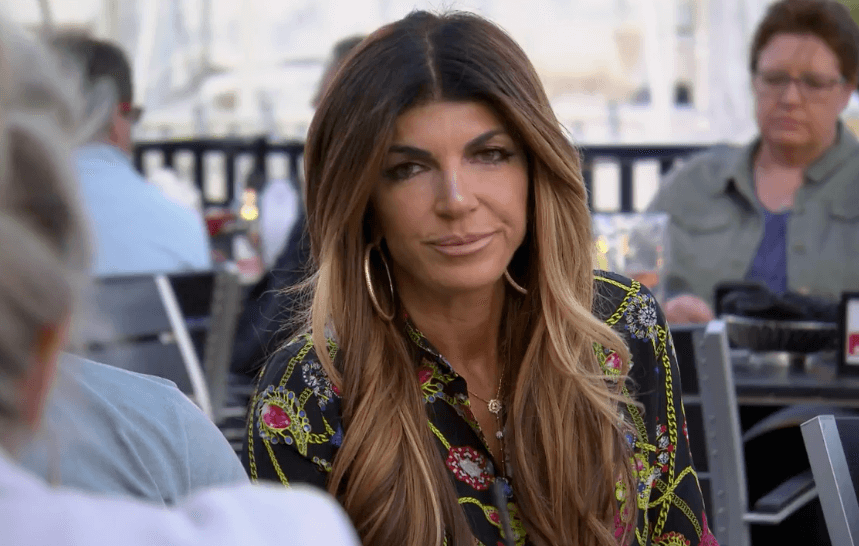 Welcome back to the Real Housewives of New Jersey. We open with Margaret Josephs. She wants coffee and her husband, Joe B., wants a pastry. Marleny, Marge's house manager, deems Joe fat. No pastry for you, Joe B.! Over at Jackie Goldschneider's house, her boys want chicken parm for lunch. Um, who doesn't? And Teresa Giudice is running around like a crazy person trying to get ready for Gia's prom. 
Joe Giudice calls while Gia's getting her hair styled. Teresa Giudice reminds us that she missed Gia's eighth grade prom. Juicy says he's choked up and sad that he's missing this milestone. When Joe and Melissa Gorga come and bring roses, Gia starts crying. 
Over at Dolores Catania's house, Frankie Jr. is strutting around in his tux. Frank Sr. will meet them at the Giudice house, because he's working. Working on what? Wasn't he disbarred? Is he flipping houses full-time now? Frankie's grandma comes over. Everyone is impressed with Frankie in a tux. (And out of a tux, let's be honest.) Dolores wants Frankie Jr. and Gia to be a couple for real. They're perfect for each other!
Frank Sr. stops over at the Giudice house. While Gia is getting dressed, Melissa and Frank Sr. talk about the upcoming couples' trip to the Jersey Shore. Melissa is unsure how Jennifer Aydin is going to act on the trip. Well, if the past is anything to go by, she'll probably throw something.
In Paramus, Bill Aydin finds Jennifer in her closet. Her brother has planned a fundraiser. She's taking her daughter, Gabby, along with her. Bill brings up Joe's digs from last week at Margaret's party. You'll remember that Joe G. and Joe B. cornered Bill and said he should fuck his wife a little more often. Then she wouldn't be so uptight. They were just helping a guy out, right? Well, Bill doesn't see it that way. He's offended that they brought up his sex life at all. He expects an apology.
Back in the Giudice residence, Dolores and Frankie Jr. arrive. Upstairs, Gia is getting strapped into her gown. We see a flashback of a younger Gia — including that song she sang to Uncle Joe and her tears over her parents' incarceration. But now, she's grown up, tanned, and ready to prom!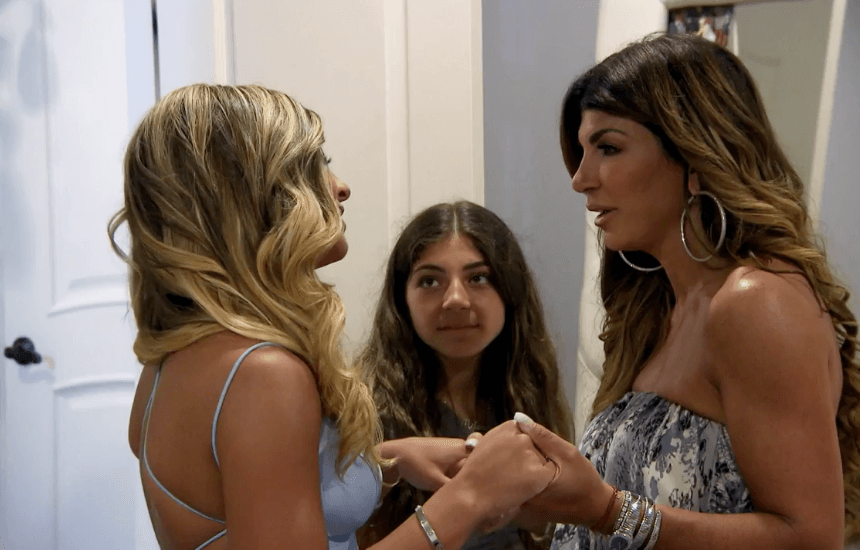 Gia Giudice descends the stairs like Cinderella going to the ball. Frankie Jr. is equally tan. They hug, and then Gia turns to Nono, who starts crying, as well.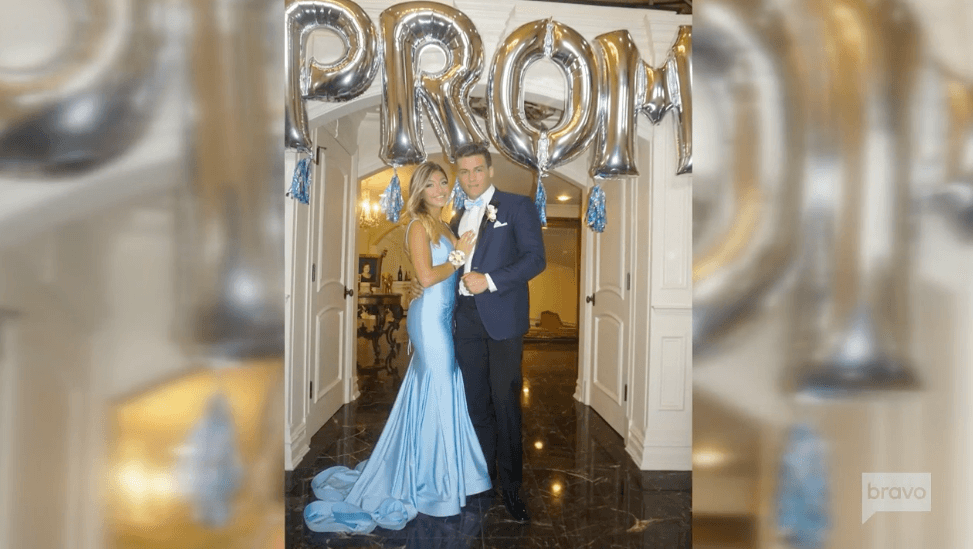 We catch up with Jennifer and Gabby in New York. They enter the venue and find Jen's brother, Steven. He's encouraging young kids in the arts. When Jen orders a tequila, her brother tells her she must behave this evening. But as we all know, Jen and tequila are a toxic mix. Jen's mom, brother, and sister arrive. They're here for support, but it wasn't always that way. Jen's mom got married when she was sixteen. She moved to America, and since Jen's dad was always working, she was stuck at home with a bunch of kids and didn't understand English on top of it. 
Steven plays the piano for Caroline Bowman, the Broadway star. Jen talks about Steven's courage in the light of his parents' disapproval. Jen hopes that Gabby will take comfort and courage in Steven's story. Josephine, Jen's mom, has tears streaming down her cheeks as the students perform. I must admit, it was kind of a heartwarming story. Jen has been encouraging her mom to accept Steven. Her presence this night is a way of accepting him and his orientation.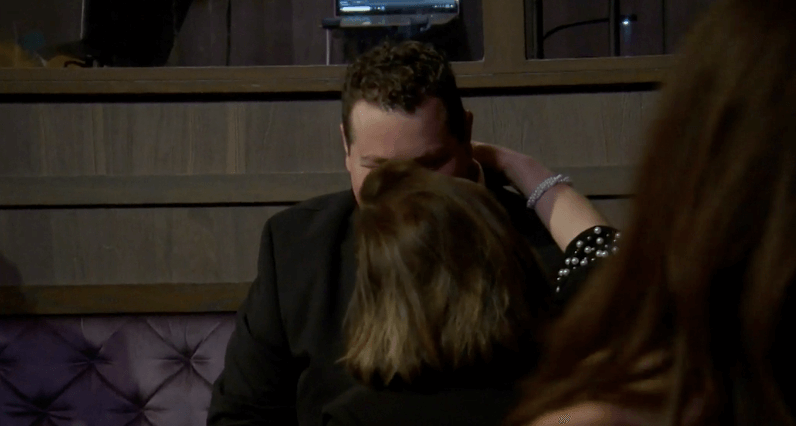 Next, we meet up with Teresa. She heads into a dirty coffee shop to meet Danielle Staub. They order avocado toast and talk about how long it's been since they've gotten together. Teresa claims she's been super busy. Too busy for Danielle. Especially because the other women don't like Ms. Staub.
Danielle Staub says she and Marty Caffrey have been getting along lately. She wonders what Teresa has been up to. So, Teresa tells her about going to the Hamptons with the other women. Teresa says that she and Margaret have let bygones be bygones. 
Teresa Giudice also mentions the upcoming weekend at the shore. Danielle is pissed that she's not been invited to any of these events. Teresa flatly tells Danielle that the girls don't want to be around her. Danielle is confused. She knows that her friendship with Marge is in the past, but why doesn't Melissa stand up for her?
EXCLUSIVE: Danielle Staub & Teresa Giudice's Friendship Fallout EXPOSED — Danielle Betrayed Teresa & Melissa Gorga Is Involved! 
Dolores drives out to the house she's building for her boyfriend, Dr. David. Dolores has hired a decorator to keep her on budget. She hopes David will give up his fugly bachelor furniture. He arrives, for once, finally finding time to come and look at the house. Dolores and the decorator try and talk David out of bringing his dark table. Dolores also nixes his dark brown leather couches. She doesn't like his bed, either.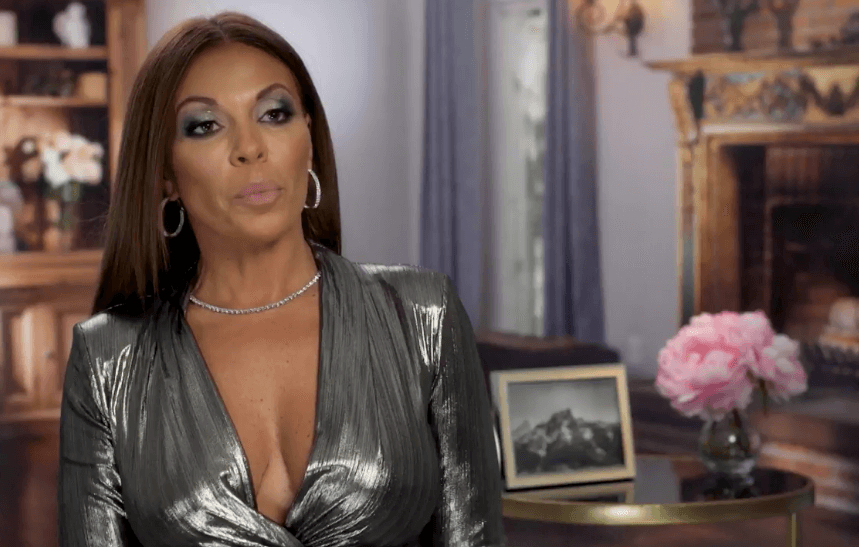 Once the decorator leaves, Dolores says it's weird to pick out all the furniture and not live there. And as we know, she's not moving in unless there's a ring on her finger. But David says one mess at a time. He'll think about their relationship once the house is complete. Oh, and he's not going to the shore, either. He's on call that weekend. Dolores complains that they never go anywhere together. What's up with that?
READ ALSO: 'RHONJ' Star Nabbed By FBI In Million-Dollar Luxury Car Scam!
Dolores Catania admits her family is worried she'll get hurt. She's been in too many relationships that ended badly. David says Dolores has no faith in him. Why would he allow her to build and decorate his house if he's not in it for the long haul? She points out that he's never lied or cheated on her. And when he agrees to get rid of his furniture, that's good enough for her.
We get a montage of everyone packing for the shore. Jackie's husband, Evan, isn't coming until later. She's worried about how Jen will react during the course of the weekend. And over at Jen's, she's packing with husband, Bill. She refuses to apologize to Melissa for throwing silverware a few weeks ago. In fact, she bought a shirt that says: Sorry Not Sorry. Bill pleads for civility. Good luck with that, Bill.
Dolores is going with her ex, Frank. Marge and Joe B. are taking Jackie. Marleny dances in the driveway with the dog as they leave. The Gorgas pick up Teresa. As usual, there are jokes about the women overpacking. How much room do they need for bikinis?
Joe G. brings up Jennifer, wondering if she and Bill will be coming. Yep! And Teresa warns him to stay out of lady business. Melissa declares Jen an animal. But Teresa likes Jen. Jen makes her laugh.
Melissa says that Danielle will also be at the shore. Teresa wonders what happened to Mel's and Danielle's friendship. Melissa thinks Danielle is a lightning rod for trouble. Nothing good happens when Danielle pops onto the scene.
Dolores and Frank arrive at the house first. There's a pool out back, and Dolores declares it will be perfect for her party. She's bought cupcakes decorated with everyone's face and will place them on various beds, in an effort to end all fights over choosing rooms.
Jen ignores Jackie as she enters the house. But Joe B. gives Jen a hug. Jen starts downing tequila like it's water and she's been in the desert for six months. Jen and Bill give the Gorgas a side eye as they walk into the house. 
EXCLUSIVE: Marty Caffrey Blasts Melissa Gorga Over 'Taking Credit' For Ruining Danielle & Teresa's Friendship!
At first, everyone sticks to neutral topics, like prenups. Jackie defends her prenup with Evan. Teresa is still pissed that she signed hers one week before marrying Juicy. She claims she was the perfect wife and didn't deserve Juicy's harsh treatment. Joe B. asks if Juicy ever cheated. Oh, yes, Joe B. He did. And Teresa finally, finally, comes clean and says Juicy had a secret phone and talked to a girl on the down low. She found that phone, and now she knows the truth. Okay, Teresa. Like we all believe it took you this long to figure it out. But she claims that Gia was only three-years-old at the time. I'm rolling my eyes so hard, I may lose consciousness.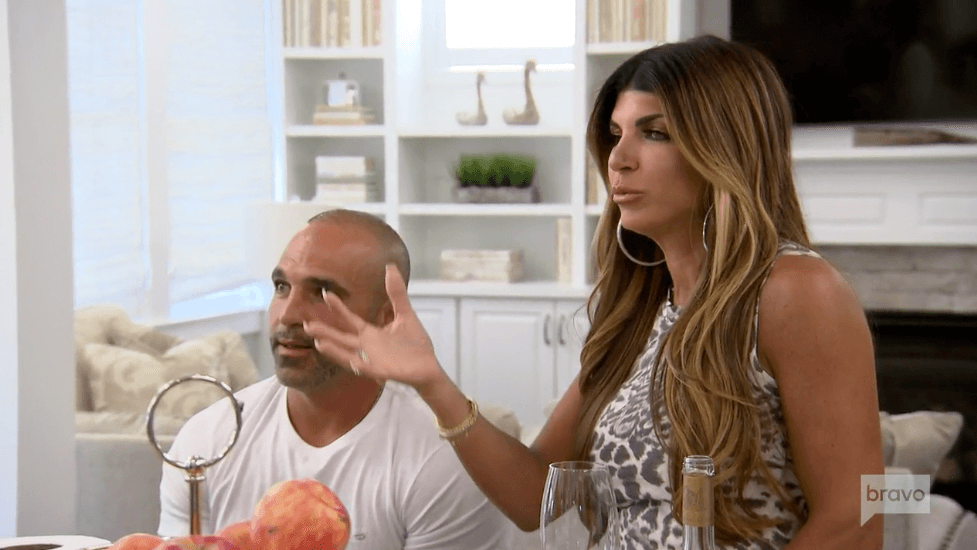 We see the flashbacks of all the times Juicy disrespected his wife. Joe G. defends Teresa, saying Juicy didn't treat her well. Marge and Dolores agree that Teresa did her best, and now it's time to cut ties.
Everyone gets ready to go out for dinner. The women hog the bathroom, and Frank needs to pee! In the kitchen, Joe G. confronts Bill. Joe says he was just busting Bill's balls, but Bill claims Joe was disrespectful. Joe apologizes. In his diary confession, Joe says Bill can't help that Jen is crazy and nuts and a loose cannon. Nevertheless, the men hug it out.
Jackie calls her kids. Her son, Hudson, just lost his sports ball championship. When he said losing sucks, Jackie chides him for using bad language. 
They divide the cars up by girls and boys. Jen asks if they're ready to party. Marge says Jen started early. 
At a restaurant by the water, they eat out on the deck. Bill wonders if Jen needs to keep drinking. Hello, Bill. Have you met your wife?
They plan to spend the next day on the beach. Joe talks about where he met Melissa and how he pursued her on the Jersey Shore. They talk about a bar that used to be the cool place to hang back in the day, and Teresa beat up two guys and a girl one time. Apparently, her boyfriend at the time was holding hands with another girl.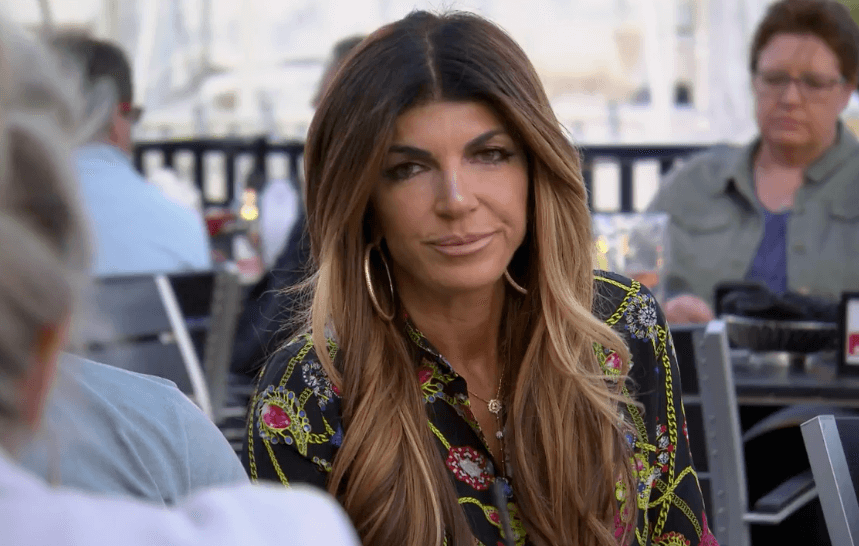 Joe makes jokes about Juicy cheating, and though Teresa is laughing, she doesn't really think it's funny. Dolores says she once hired a private investigator to trail Frank Sr. Once he got a load of Frank's muscles, he quit on the spot.
Then talk turns to Danielle. Marge isn't pleased that Danielle plans to be on the shore that weekend. Melissa will end things officially with Danielle. Melissa thinks Danielle is crazy, and Jen is thin ice, too, because she keeps throwing shit at Melissa during mealtimes. But Dolores thinks Melissa is the one who started the fight in the Hamptons. Joe G. makes a toast, and everyone chills out.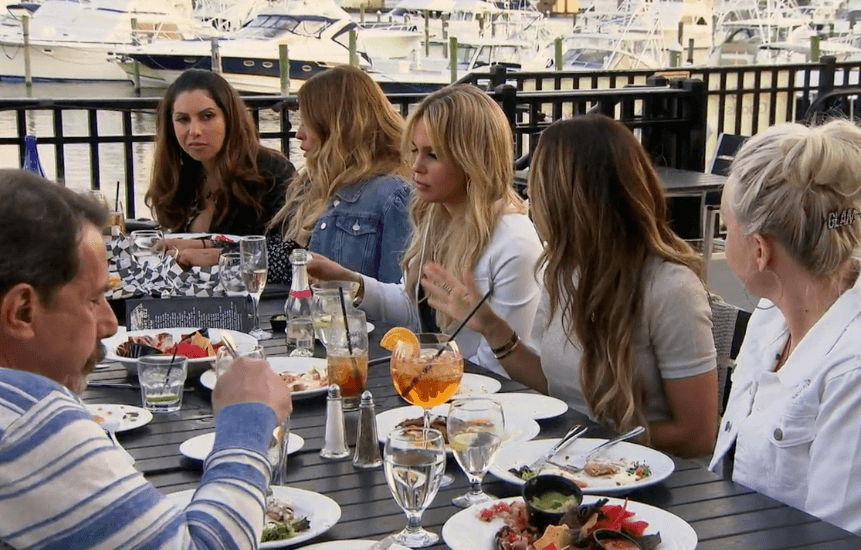 The sun rises the next morning on Point Pleasant. Dolores yells at Frank for having eaten all the cupcakes. Jackie calls Evan, who's at the gym. Joe G. complains that Melissa didn't sexually service him the night before. Marge and Joe B. talk about Jen being socially awkward.
In the kitchen, Marge is trying to use the toaster oven and not having much luck. Frank is cooking eggs for everyone. Jen and Bill come down last. 
Dolores Catania says she's reserved cabanas for later that afternoon. Melissa thinks Teresa should look for cute boys at the beach. Teresa feels bad for speaking poorly of Juicy the day before. Her daughters love that loser, so she shouldn't be badmouthing him on TV. Dolores says that the girls' relationship with their father is a testament to what a good mother Teresa has been. She's been so supportive of Juicy over the years, holding everything down for her family.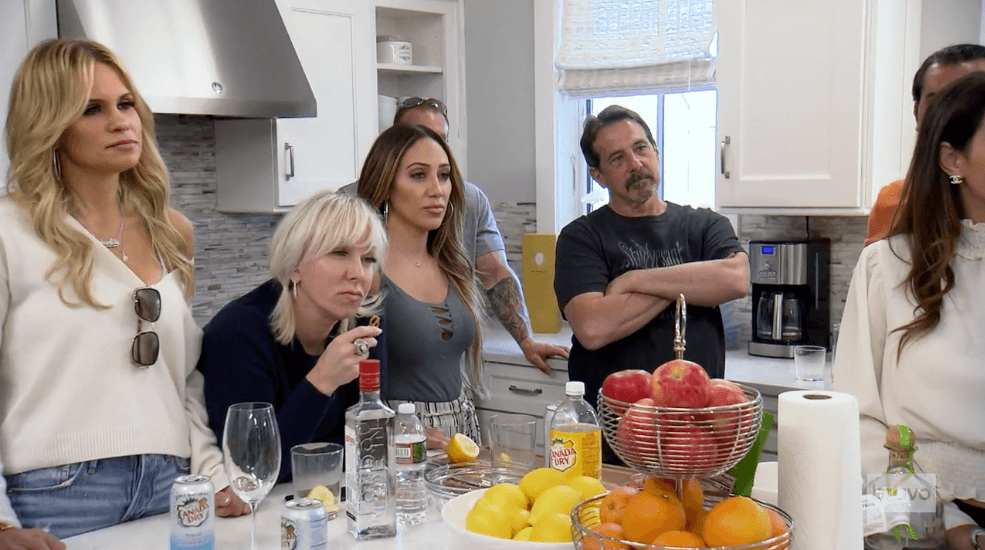 Teresa Giudice says she worries everyday about money. Melania declared she didn't care about money, but Teresa still has to pay the mortgage. Marge tries to be supportive, saying she's gone through a tough year, too, what with all the lawsuits. She understands that if she doesn't make money, they'll lose everything.
Jen jumps in and says Teresa doesn't have a partner, and Marge has Joe B. It's not the same. In fact, Marge has no idea what Teresa is going through. Bill says that children are selfish and don't understand why their parents have to work. Marge snarks back that Jen isn't really working. But Jen declares that raising five children is work. Marge declares it's game on between her and Jen.
And that ends our time in Jersey. So, do you think Marge was right for calling Jen out? How will Danielle take the news that Melissa no longer wants to be her friend? And will Frankie Jr. and Gia end up together?
Stay Connected With All About The Tea: Twitter Ι Instagram Ι YouTube