Married To Medicine
RECAP: 'Married To Medicine' Contessa Explodes On Buffie & Mariah Goes Toe-To-Toe With Contessa!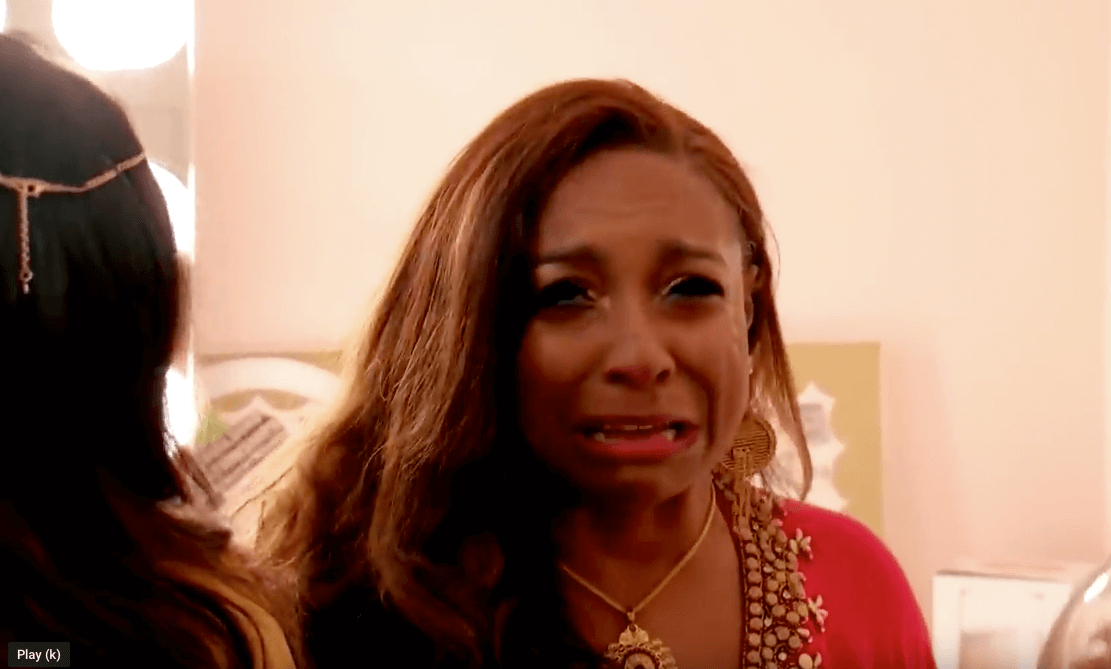 Welcome to the season finale of Married To Medicine. Rest assured, the ladies definitely came to play.
The finale episode opens with Toya Bush-Harris meeting with her event planner to discuss her ten thousand dollar Arabian Nights themed housewarming party, complete with sword swallowers, fire breathers and snake charmers. Oh, and a camel if the budget will allow.
Meanwhile, at the Metcalfe residence, Contessa Metcalfe and Scott discuss her move back to Nashville to finish her program while their children blissfully swim in the family pool. Luckily, this time, the conversation seems much more civil. The two come to the solution to utilize a nanny to take some of the pressure off of Scott while Contessa is away. Maybe they really are turning a new leaf.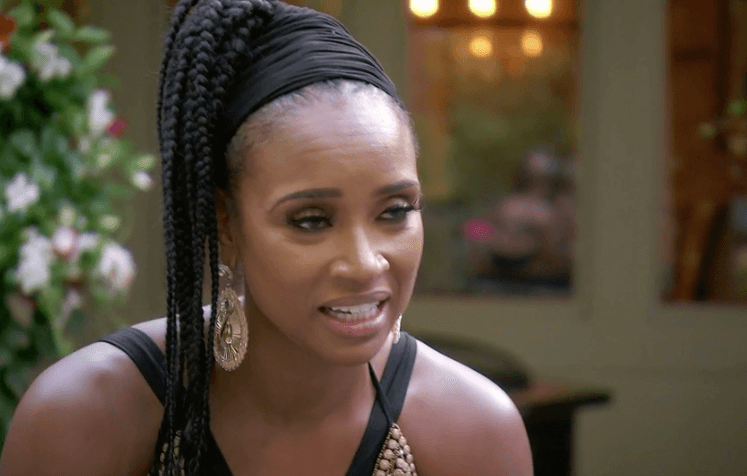 Across town, Dr. Jackie Walters and Curtis break ground not only on their home renovation but also on new beginnings for them as a couple. Jackie vows to take ten consecutive business days off from work so that the two of them can spend quality time together in the south of France. Curtis better get that in writing…
Later on Dr. Simone Whitmore and Buffie Purselle carpool with their husbands to Toya's housewarming party. Simone takes the moment to ask Buffie what's going on with her and Jackie and the drama that ensued after Jackie's book cover party. Buffie confesses that they haven't talked about it and admits when something really hurts her she shuts down. Dave agrees that the drama has taken a serious toll on Buffie's well being.
EXCLUSIVE: 'Married To Medicine' Season 7 Reunion Tea — Dr. Simone Explodes On Dr. Jackie & They're No Longer Friends + More!
Simone reveals in her talking head that she doesn't think Jackie truly understands how much hurt she has caused and admits the situation between the two is much worse than she could've ever imagined.
In true Toya fashion, she enters her own party being carried in with a camel following closely behind. Dr. Eugene takes a moment to thank the guests for coming. He also publicly thanks Toya for planning the party, but something tells me that he's not going to be full of gratitude once he gets the bill for said party. I'm going to go out on a limb here and say that the camel was not within the ten thousand dollar budget.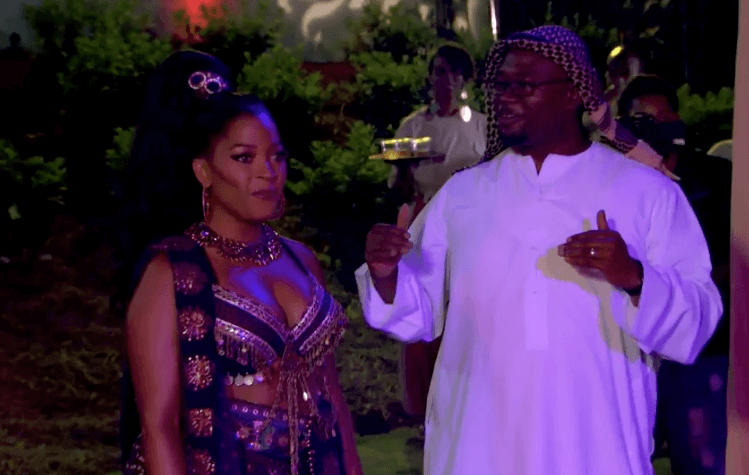 Mariah Huq arrives to the party with her sister, Lake, by her side and they both look beautiful. Contessa is definitely feeling some type of way about it, referring to it as manipulative and cowardly. 
Dr. Heavenly Kimes and Quad Webb sit down at the party for moment and the conversation gets messy fast as it turns to Quad's issues with Mariah. Quad alledges that Mariah forged the documents regarding her drug testing and that she never had any hair cut out of her head but video footage is played back proving that Mariah did in fact visit a lab for the testing and they did indeed cut hair out of her head in order to test it. Now who's manipulating what???
Read Also: Heavenly Kimes Confesses Mariah Huq Does NOT Use Drugs & Admits 'Anger' Made Her Cosign Quad's Cocaine Allegations!
While the party is in full swing, Simone pulls Jackie aside and points out that there seems to be some unfinished business between Jackie and Buffie. Jackie is annoyed that her best friend is asking her to apologize yet again for something that happened back in Mexico. Hello #Apology Tour. According to Jackie, the subject of her infertility hurts her too but she refuses to hide behind it. Simone is quick to point out to Jackie that just because she's at that place in her life doesn't mean Buffie is. Jackie eventually caves to Simone's request and Simone runs off like an eager little school girl to grab Buffie.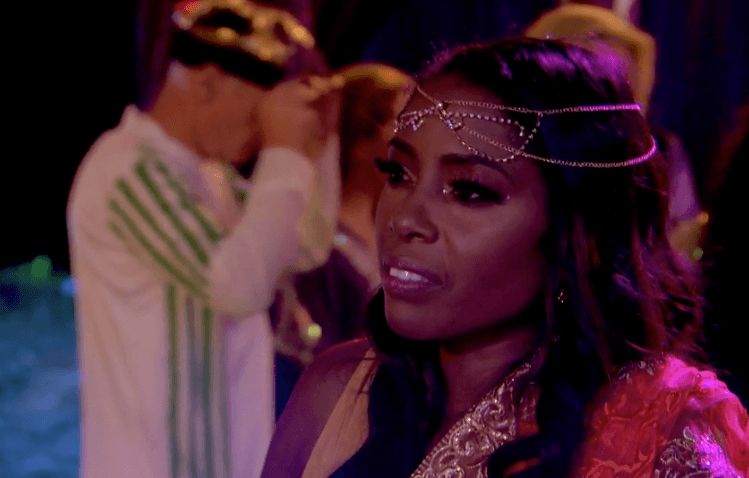 Simone brings the two ladies to together and Jackie begins the second apology. Jackie explains to Buffie that she would never take something that was robbed of and hurt anyone else with it. Buffie Purselle confesses that she never thought Jackie was a malicious person but that when Jackie referred to her as infertile it forced her to relive deep rooted feelings of inadequacy.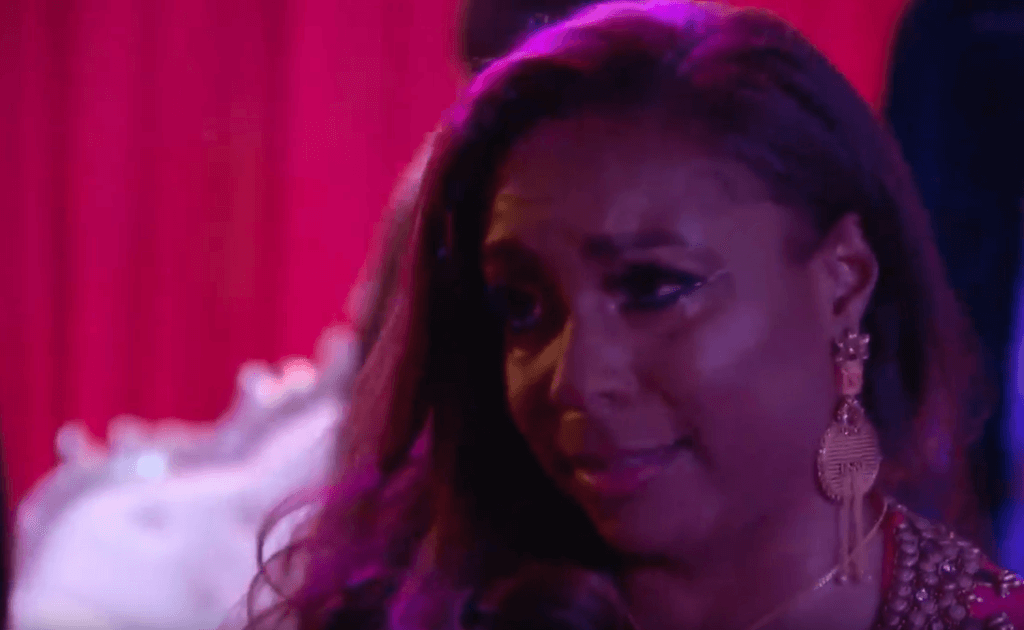 The two seem to come to somewhat of an understanding but Buffie is visibly emotional from the conversation and Simone and her head straight to the bathroom where Buffie has a full on meltdown, screaming that she wants to go home.
On the way out, however, she and Dave are intercepted by Toya who just won't take no for an answer and instead entices Buffie to come with her to her two story closet, stating that will surely make her feel better. Buffie eventually complies.
EXCLUSIVE: Quad Webb-Lunceford Cheated on Husband with Mariah Huq's Brother-In-Law & Got Her Ass Kicked!
Tensions come to ahead, however, when Contessa, Mariah and Simone also convene in the closet. Contessa becomes extremely aggressive and goes all GI JANE on Buffie demanding that she quit wallowing in her pain. Dave eventually makes his way back to his wife pulling her out of the volatile situation and the two leave in a blaze of glory.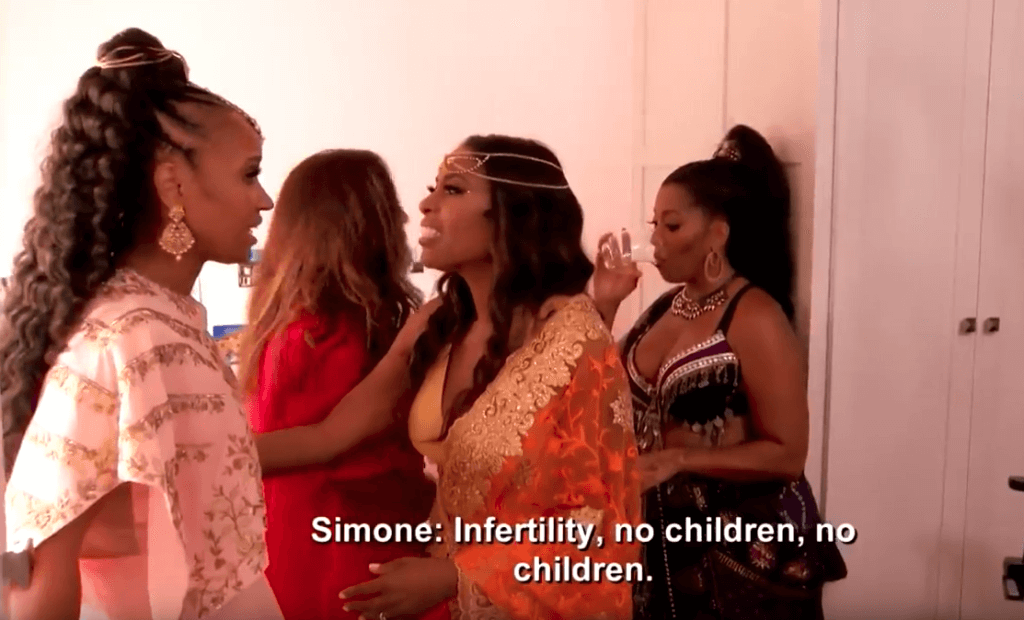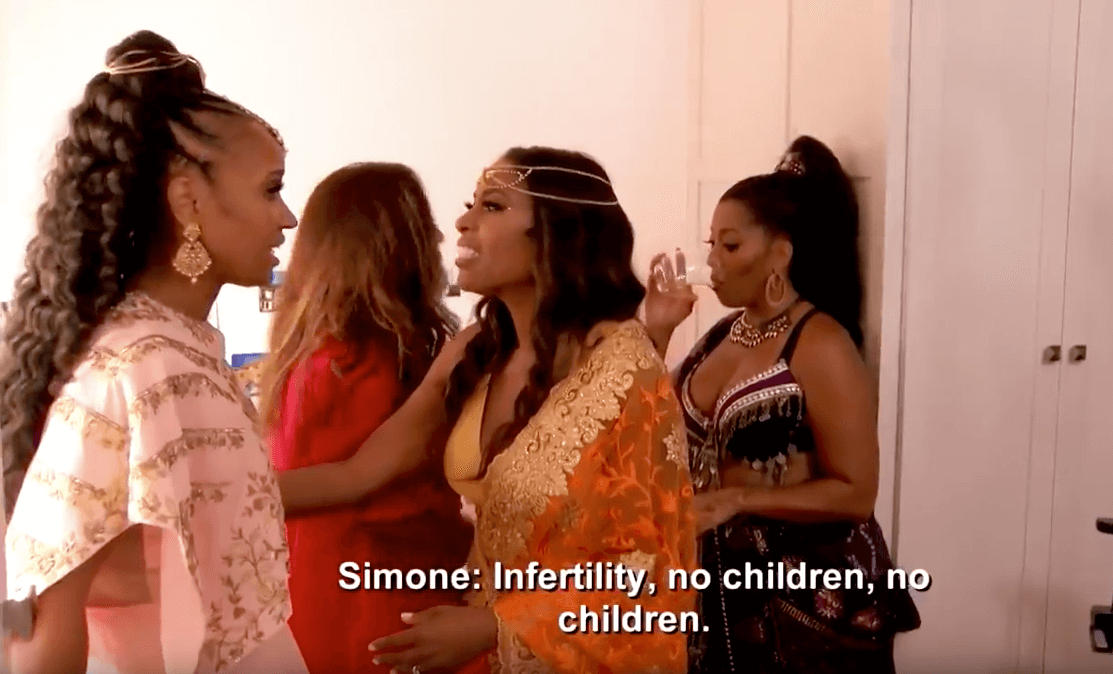 But if you thought the drama was over, you're sadly mistaken. Things go from bad to worse when Mariah confronts Contessa about her behavior with Buffie. The altercation quickly turns physical before Simone intervenes and diffuses the situation.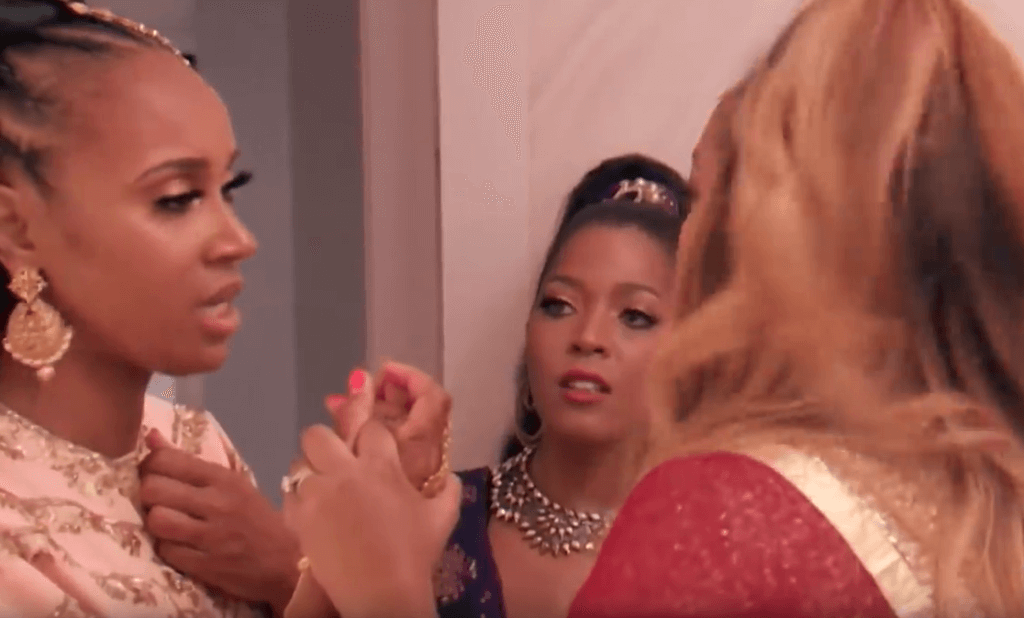 Later, Contessa discusses the confrontation with Simone, Quad and Dr. Heavenly Kimes. She asks Simone if she owes both Buffie and Mariah an apology. Simone admits that she does and Contessa vows that she will because the group is valuable enough to do so. The party eventually wraps up, but not before all of the ladies (minus Buffie) come together for one last group photo. At least we know a photo op can bring the ladies together, even if just temporarily.
Will Jackie and Buffie be forced to hash out the infertility drama YET AGAIN? Will Simone's meddling become a point of contention for her and Jackie? Will Mariah and Quad duke it out over the drug rumors? Does Contessa FINALLY finish her program in Nashville? Tune into the reunion to find out.
Stay Connected With All About The Tea: Twitter Ι Instagram Ι YouTube