EXCLUSIVE: 'Married To Medicine' Season 7 Reunion Tea — Dr. Simone Explodes On Dr. Jackie & They're No Longer Friends + More!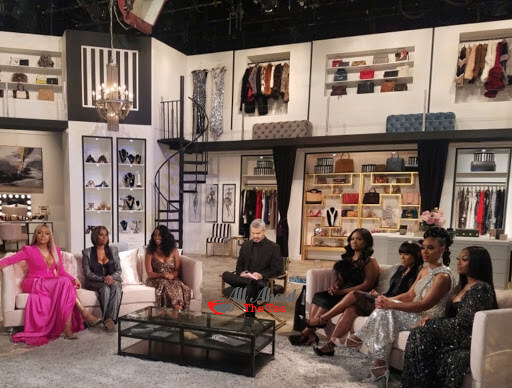 The cast of Married To Medicine filmed their season 7 reunion on November 22 — and AllAboutTheTEA.com has EXCLUSIVE details of the post-season showdown!
Dr. Simone Whitmore, Toya Bush-Harris, Mariah Huq, Dr. Jackie Walters, Quad Webb-Lunceford, Dr. Heavenly Kimes, Dr. Contessa Metcalfe and, newcomer Buffie Purselle all met in New York City to address unsettled rivalries and look back at some of the most dramatic moments from season 7.
The explosive reunion was filmed for 10 to 12 grueling hours — and AllAboutTheTEA.com has exclusive tea of a dramatic confrontation between Dr. Simone Whitmore and her former friend, Dr. Jackie Walters. The once close doctor besties are on the outs over Heavenly.
"Jackie and Simone had a huge fight. It was really bad. Simone went off on Jackie because she's really hurt by her so-called friend [Jackie]." A rock solid source shared with AllAboutTheTEA.com. "Simone feels Jackie allowed Heavenly to come between their friendship. Simone accused Jackie of taking Heavenly's side in their beef over Heavenly dogging Cecil [Simone's husband] on social media. Simone feels Jackie does not have her back and is not a solid friend."
Things really heated up when, Simone and Heavenly went toe-to-toe over Heavenly dragging Simone's husband, Cecil Whitmore, on social media last year when he was unemployed (Note: Cecil now has a thriving career in real estate). Their argument turned ugly and spilled over backstage and the doctors almost came to blows. 
"Simone exposed that Damon [Heavenly's husband] has a drinking problem and is drunk a lot." A source tells AllAboutTheTEA.com. "This contradicts Heavenly's claims in Mexico that Damon hardly ever drinks."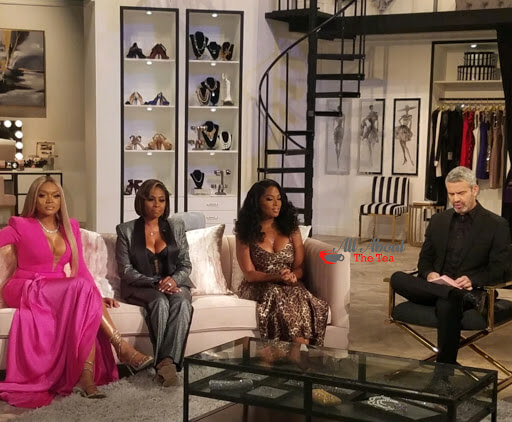 Host Andy Cohen addressed Dr. Jackie Walters' insensitive comments about Buffie Purselle's infertility. During season 7, Dr. Jackie, who is an OBGYN doctor, announced that Buffie is infertile to a crowded room of people. The matter is very personal to Buffie and caused her much embarrassment but when confronted about it, Jackie was unapologetic. 
"Heavenly attacked Buffie on the infertility issue and acted as Jackie's mouthpiece…not allowing her to speak. Andy had to step in but Buffie held her own and put Heavenly in her place. Buffie did really well. "A source tells AllAboutTheTEA.com. "After Andy stepped in to hush Heavenly up, Jackie gave Buffie a sincere apology."
Apparently the reunion drama was too much for Dr. Jackie this year and she announced "plans to leave" the Bravo reality series, AllAboutTheTEA.com can confirm.
EXCLUSIVE: Quad Webb-Lunceford Cheated on Husband with Mariah Huq's Brother-In-Law & Got Her Ass Kicked – Read The Police Report Here!
Fans can also expect, Quad Webb to address her sexual tryst with rapper/actor Common. "When Andy asked Quad about messing with Common, she laughed about it and dismissed it as a rumor but you can tell she relishes in it."
Mariah Huq, Simone and Toya Bush-Harris were seated on the right side of the couch — while Jackie, Heavenly, Quad and Contessa sat on the left side. 
Married To Medicine Season 7 finale airs Sunday, Dec 22 and part one of the Married To Medicine reunion airs December 29, at 9:00 p.m. ET, on Bravo.
Stay Connected With All About The Tea: Twitter Ι Instagram Ι YouTube
Avigail is an Entertainment blogger at All About The Tea, who specializes in The Real Housewives of Atlanta and The Real Housewives of Potomac. Avigail has a background in marketing. She's a Brooklynite living in the Bahamas, with a passion for travel, writing, reality TV watching, pop culture and spoken word.