Exclusive
EXCLUSIVE: Kathryn Dennis Used Dying Mother Throughout Cancer Battle As 'Primary Care Taker' of Her Kids While Mom Underwent Chemo!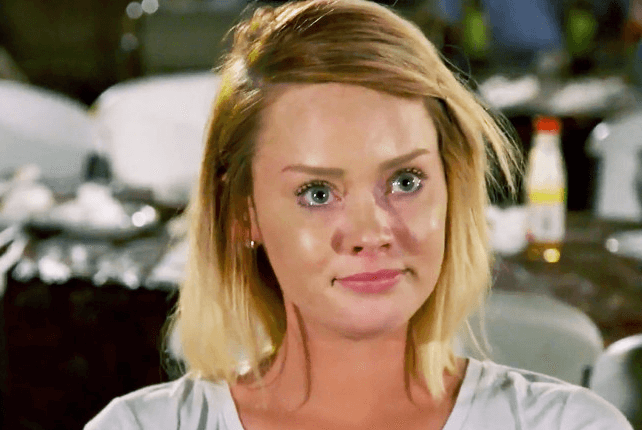 Kathryn Dennis' mother was used as the primary care taker of her two young grandchildren while she battled breast and ovarian cancer and underwent chemotherapy treatments, AllAboutTheTEA.com can confirm.
In October 2018, Kathryn Dennis' mother Allison Dennis, was in the final stage of a terminal illness but instead of focusing on comfort and quality of life, before she passed away 10 months later, her only daughter ran her ragged, according to court documents.
EXCLUSIVE DETAILS: Kathryn Dennis' Mother Dies of Breast & Ovarian Cancer!
Kathryn Dennis' ex, senator Joe Abruzzo, sat for a 9-hour deposition on October 14, 2019, and gave compelling testimony in the custody case between Kathryn Dennis and Thomas Ravenel, as exclusively reported by AllAboutTheTEA.com.
In the deposition, Joe Abruzzo testified under oath that while discussing accommodations for an upcoming Charleston visit, Kathryn Dennis revealed that her mother, who was undergoing chemotherapy at the time, would baby sit her children (for over 24 hours) while she filmed scenes for Southern Charm.
EXCLUSIVE: Kathryn Dennis' Ex Joe Abruzzo Blows The Lid Off Her Negligent Parenting — Mentally Unstable, Reckless, and Frequently Drunk!
Thomas Ravenel's attorney, Kelley Andrews-Edwards, asked Joe Abruzzo, "You're coming down here to Charleston, and then there's a discussion about whether she's — you're staying with her or whether there's a hotel. And you knew, according to this on page 139, that she had the children with her, but you're — you see that?"
Then a short exchange between Thomas Ravenel's lawyer, Kelley Andrews-Edwards, and Abruzzo ensues about his knowledge of Kathryn's custody agreement that stipulates boyfriends are not permitted to spend the night during Kathryn's time with her children. 
Joe Abruzzo responded that he wasn't aware of the order and goes on to testify that Kathryn's mother would watch the kids on the same day she received chemotherapy treatment.
"She didn't tell me to get a hotel. Oh, wait. Hold on. Oh, I think a hotel. Right. Just for tonight, because I will be home." Joe Abruzzo responded. "My mom had chemo today, so the kids are with her while I was filming. And then the rest of the week, we can just chill at my house."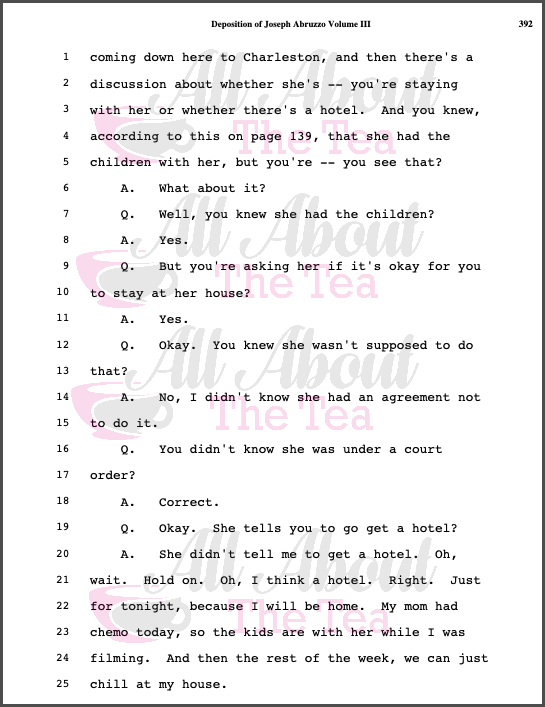 As reported, Joe Abruzzo visited the Southern Charm star at her home in Charleston during Halloween 2018 and they all went trick-or-treating and Kathryn left Saint ALONE with Joe Abruzzo for hours, while she partied with friends, despite only knowing him for two weeks.
"So she went ahead with her daughter and her friends, and Saint started to lag back. So I was watching Saint, and they got a good full block or more ahead, and he — you know, Saint — I don't know if he understood what was going on with trick-or-treating or not, but he — you know, they were way up there. They just kind of left us behind. So I picked him up and carried him up to her, and I said — and I am like, Kathryn, — I don't want to say it was stern with her, but concerned. I was Saint, you're leaving him. I made the point. And she said, you know what, could you just bring him back to the house? And I will be there — I will be right there. I am, yeah. I felt it was the right thing to do." Joe Abruzzo testified on October 14.
He continued, "I just met him — this was only the, fifth or sixth time — that she ever met me."
"He wasn't crying because he was with me, but he was whining, didn't want any part of it, and she just left him with me. So she asked me to take him back to the house, and she would be right there, and I did. So we went back to the house, and I went in and got a cartoon on for him. So I'm in her home alone with her son."
According to court documents, Grandma Allison played a pivotal role in her grandchildren, Kensie, 5, and Saint, 3 lives — acting as the kids primary caretaker, despite being terminally ill.
Joe Abruzzo testified that Kathryn's kids were primarily cared for by her ailing mother — who was in a deteriorated medical state before passing away on August 7, 2019.
Thomas Ravenel's attorney, Kelley Andrews-Edwards asked Abruzzo, "Okay. Did you form the mental impression that her mother was probably not going to make it?" 
"Because she was always watching her kids, Kathryn would often drop her children off with the mom or the mom would pick them up." Joe Abruzzo testified under oath. "The mom was a — seemed to me to be the primary care taker a lot of the time."
Kathryn Dennis neglected to inform Abruzzo of the severe medical condition her mother was in. 
Abruzzo continued, "So in that instance, I didn't — I didn't — wouldn't have recognized that as, you know, if you're — especially her children, which I knew even over the phone were active, you know, I didn't understand the scope unless, you know, you're going to show me something that she did tell me."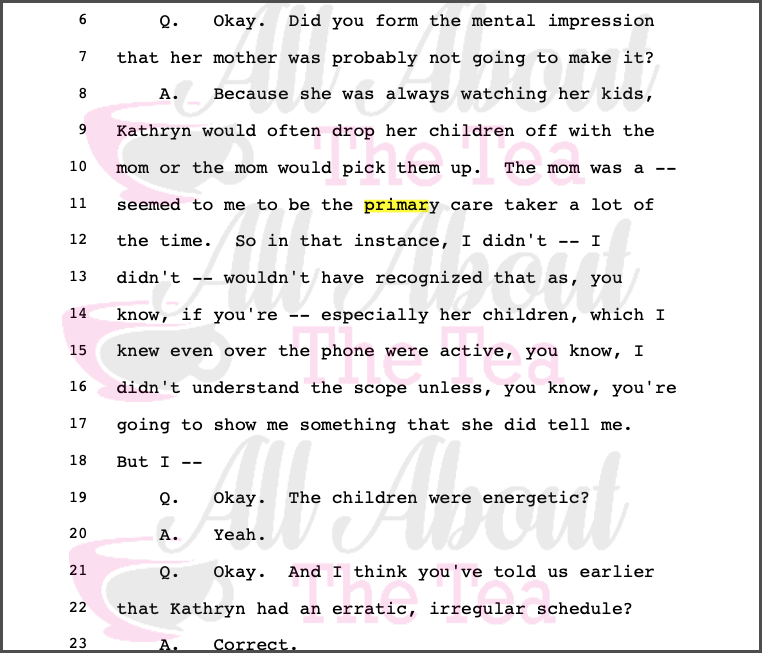 The side effects of chemotherapy are physically and emotionally debilitating. Suffers typically experience severe vomiting, dizzy spells, nausea, head pain and body aches, fatigue which weakens one to the point that they are unable to care for themselves, much less "energetic" toddlers. In deposition excerpt above, Joe Abruzzo described Kathryn's two kids as "energetic."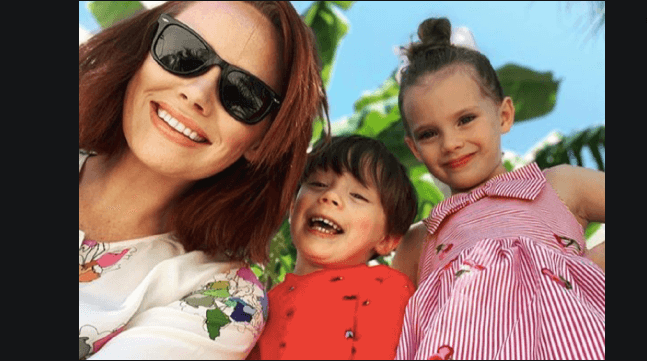 Kathryn Dennis' mother, Allison Dennis, lost her brutal battle with breast and ovarian cancer on August 7, 2019. She underwent grueling rounds of chemo during her fight. Allison Dennis is survived by her husband, Luke Dennis, and her two children, Kathryn and Luke, Jr. 
As exclusively reported, Thomas Ravenel won full custody of his two children on  November 1 — ending his bitter custody war with Kathryn Dennis. 
R.I.P Allison Dennis.
Stay Connected With All About The Tea: Twitter Ι Instagram Ι YouTube