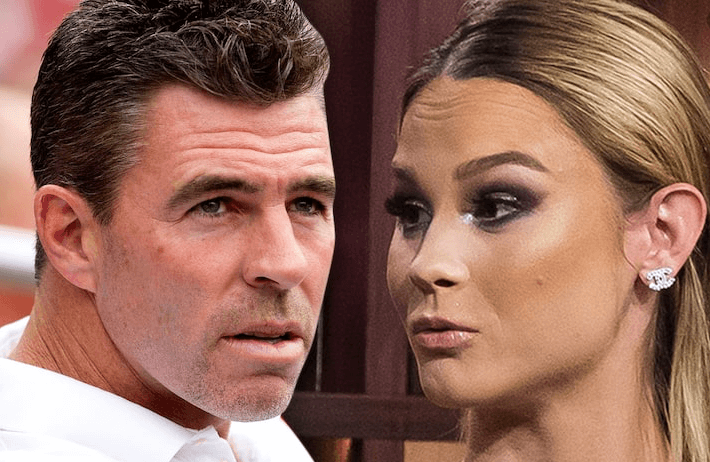 Jim Edmonds called the cops on Meghan Edmonds the evening of November 6 — after he suspected she was drunk and incapable of caring for her three children. 
The police arrived to Meghan Edmonds' home after she returned from a night of drinking with friends. The cops caught her completely off guard while she washed her face in the bathroom, Us Weekly reports.
"Meghan came home from being out with friends and she had a couple glasses of wine. It was the first time Jim stayed at her house and put the kids to sleep since he filed for divorce, so she met up with friends. She didn't drive."
"She was washing her face when she heard someone knock around 10:30 p.m. An officer was there with Jim and told her Jim said he was worried she couldn't care for [their] kids." The source tells the outlet. 
Read Also: Bitch Stole My Life! Did Meghan Edmonds Rip Off Her Husband's Second Wife's Dreams?
The officer asked Meghan a series of questions about her well-being, "comfortable and capable of taking care" of Aspen, 2, and 17-month-old twins Hayes and Hart, whom her estranged husband, Jim Edmonds, had been watching that evening.
"Of course, yes!" Meghan replied to the officer. "In your personal opinion, do you think that I am in any way, incapable, of taking care of my three little baby children who are totally desperate for a parent?"
EXCLUSIVE: Jim Edmonds' Ex-Wife Allison Jayne Raski Breaks Her Silence In Blistering Statement Dragging Meghan Edmonds!
After the policeman repeatedly told the Bravo alum that he doesn't "know" her, he concluded that she was OK.
"Right now, my opinion is that you are fit enough to take care of your children tonight and that's all that I'm concerned with," the officer said.
Per Meghan, Jim, 49, was outside while his estranged wife was talking to the police. The former baseball player accused Meghan of cheating on him with the man who dropped her off at their home.
EXCLUSIVE: Jim Edmonds' Steamy Affair While Meghan Was Pregnant With Twins EXPOSED — D*ck Pics, Threats, Hush Money & More!
According to the report Jim Edmonds, "offered to sleep on the couch for the night and Meghan rejected that offer."
"Meghan was appalled," an insider told Us. "She has never been anything short of a fantastic mother." She thinks her estranged husband was attempting to get back at her, the insider added, but ultimately realized he made a bad decision.
Jim Edmonds tells the gossip tabloid that he contacted the police out of concern, "I did not call the police on my wife," he said. "I called the police to protect the situation and make sure there were no further issues."
Read Also: Meghan Edmonds' Nanny Denies Affair With Jim Edmonds Following Divorce Filing!
As reported, Meghan Edmonds accused Jim Edmonds of "having an affair" with their former 22-year-old nanny before he filed for divorce on October 25. 
Both Jim Edmonds and the nanny have denied having an extramarital relationship. Jim posted a lengthy message to his Instagram account, calling the allegations "disgusting and irresponsible." Jim said he looked at Carly as one of his children.
Since the split, Meghan Edmonds has slammed her estranged husband, his family and friends and pull her former stepkids into the mix. In a blog post titled "Broken", Meghan, 35, revealed after Jim Edmonds' admitted to an affair with the "Baseball madame," the couple received marriage  counseling. AllAboutTheTEA.com broke the cheating scandal back in June — that involved the former MLB player sending naked penis photos and masturbation videos to Jennifer Villegas. 
Stay Connected With All About The Tea: Twitter Ι Instagram Ι YouTube