Kathy Hilton Backpedals On Family Feud Acknowledgement After Kyle Richards Franticly Declared 'We Are In A Very Good Place'
Kathy Hilton is backpedaling after she was caught confirming a family rift still exists with sister, Kyle Richards and brother-in-law, Mauricio Umansky. 
Kathy Hilton made the shocking acknowledgement in All About The Tea's Instagram comment section on October 13. Kathy Hilton "liked" a scathing comment that contradicts Mauricio Umansky's previous assertion that the Umansky-Richards-Hilton family feud was over.

The Instagram comment that Kathy Hilton cosigned above, "Now the truth why @kimrichards11 and @kathyhilton are not so chummy with @kylerichards18," — alluding that she and younger sister, Kim Richards, are not currently  'chummy' with sister Kyle. Press play below to view the evidence.
READ ALSO: Kathy Hilton Confirms Tension Still Exists With Kyle Richards & Mauricio Umansky Despite Him Saying 'The Families Have Made Up'
On Monday, Kathy Hilton responded to AllAboutTheTEA.com's report about the family drama, she wrote on Instagram "I certainly did not mean to like that comment." Kathy's response was triggered by her sister Kyle Richards chiming in to declare Kathy had made a mistake and announce 'We are in a very good place.' Kyle wrote, "That was clearly a mistake. We are in a very good place and very happy about it. Wouldn't be the first time someone hit "like" by mistake."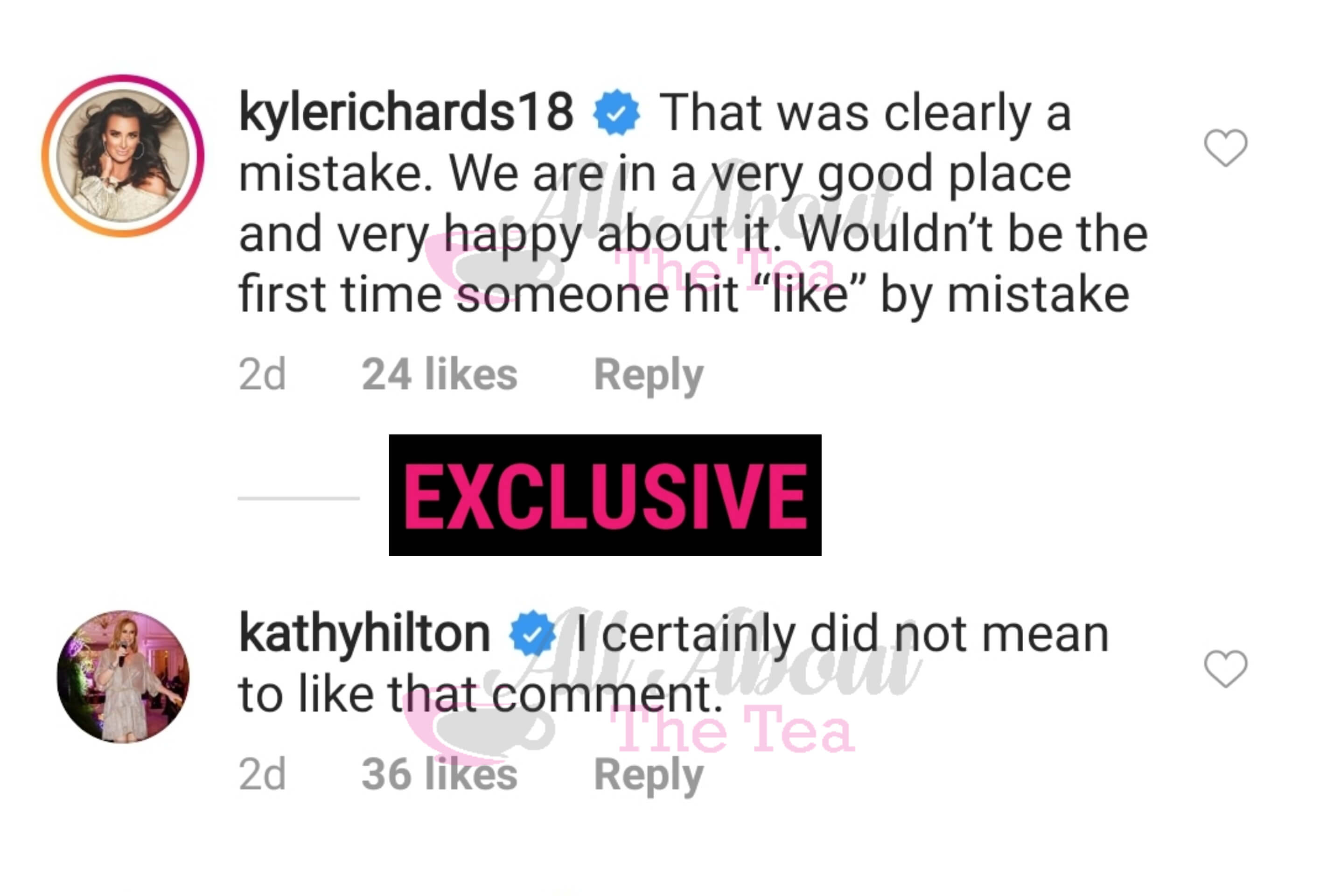 As reported, Mauricio Umansky addressed the long-standing family drama with his brother-in-law Rick Hilton, and the bumpy road between sisters, Kyle Richards and Kathy Hilton during an interview with Inman magazine. The real estate mogul claimed things are currently in a good place and the feud is over within the family. 
"We're good. We've made up, we're family. The families have made up. We've been good for over a year. We were definitely in a fight for a while. And it was real. But the families have made up and it was fantastic." Mauricio Umansky told Inman magazine. 
READ ALSO: Top-Ranking Employees Quit Mauricio Umansky's Real Estate Firm To Work With Competitor Kathy Hilton Husband's Company 
Mauricio Umansky claimed that the families have been in a good place for over a year during his interview with Inman.
"We've been good for solidly over a year." Mauricio tells the reporter. "At the end of the day, time heals everything. Eventually when you put family together for different events — Christmas, Thanksgiving, a birthday party — time eventually heals it. And I think that's what happened with us. And thank God."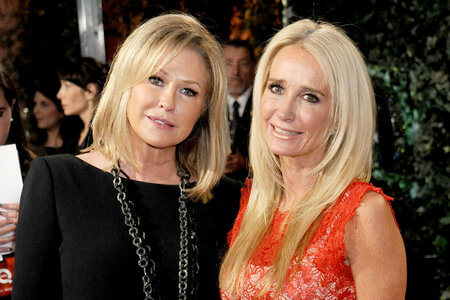 Kyle Richards and sisters, Kim Richards and Kathy Hilton have fought for years but the matriarch of the Richards sisters, Kathy Hilton, distanced herself further after Kyle produced television series, American Woman — based on the family's dysfunctional childhood. Paramount Networks announced that the series, American Woman, was canceled after one season. 
Additionally, Kyle's niece Nicky Hilton's wedding to James Rothschild in July 2015 was the source of major family drama. Kyle was invited but not her husband Mauricio Umansky, who was beefing with Kathy's husband, Rick Hilton. Mauricio use to work for Rick's real estate company and when Rick's team would not make Mauricio a partner — he left to start a rival real estate firm, called 'The Agency.' As a result, Mauricio was not welcome at any Hilton events, which placed Kyle in the middle.
Despite Kyle Richards' contention that all is good within the family — as of the publication date of this blog — Kathy Hilton has NOT 'unliked' the original comment that contradicts Mauricio Umansky's assertion that the bad blood within the family is resolved.
Do you believe the Umansky-Richards-Hilton family war is over? Sound off in the comments below!
Stay Connected With All About The Tea: Twitter Ι Instagram Ι YouTube Ι Facebook Ι Send Us Tips
Avigail is an Entertainment blogger at All About The Tea, who specializes in The Real Housewives of Atlanta and The Real Housewives of Potomac. Avigail has a background in marketing. She's a Brooklynite living in the Bahamas, with a passion for travel, writing, reality TV watching, pop culture and spoken word.