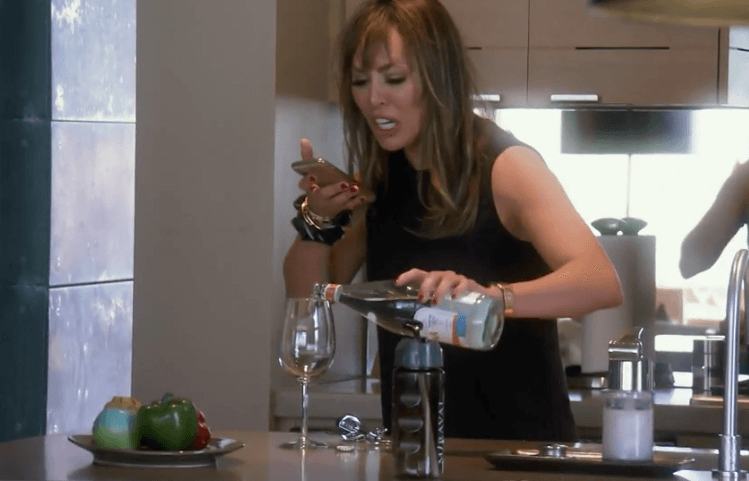 The Miraval trip continues on Tuesday's all-new episode of Real Housewives of Orange County, and Kelly Dodd's meanstreak spirals out of control.
During the episode, Vicki Gunvalson exposes that Kelly Dodd has been banned  from the campus of her daughter, Jolie Dodd's private school and the revelation sends Kelly into ballistic rage. 
EXCLUSIVE: Michael Dodd Beaten & Tortured By Ex-Wife Kelly Dodd During Their Marriage — He Got A Restraining Order!
 "Can you believe Vicki?" Kelly asks Emily Simpson and Braunwyn Windham-Burke in clip below, referring to a prior incident. However, Emily cuts her off and asks, "Do you want me to tell you what else she said?" And when Kelly says yes, Emily continues, "She said you're not allowed to step foot on your daughter's school."
"I am too! What is she talking about?!" Kelly screams.
EXCLUSIVE: New Shocking Details of Kelly Dodd's Violent Bar Fight Exposed — Threatening Voicemails, Photos and Assault Victim Pressing Charges!
Kelly Dodd then becomes frantic and suggests calling the school but Emily Simpson and Braunwyn Windham-Burke assure Kelly that they believe her.
"Is she insane?!" Kelly Dodd asks.
Read Also: Kelly Dodd's Mother Says 'RHOC' Daughter Pushed Her Down A Flight of Stairs! (EXCLUSIVE VIDEO)
Kelly Dodd gets her ex-husband, Michael on the phone to back her up, "Hey, Michael — am I allowed on Jolie's school? Vicki said I'm not allowed on Jolie's school." He says, "of course [you are], of course. It's bulls***", before Kelly slams Vicki as a "f***ing psychopath" who's "insane".
"Yes, you have no issue being around Jolie. Anytime, anywhere," Michael adds. "I know. Where does she get this information from? F***ing bitch," Kelly says before hanging up the phone.
Press play to watch a preview below.
New episodes of The Real Housewives of Orange County air Tuesdays at 9pm on Bravo!
"Like" us on Facebook  "Follow" us on Twitter and on Instagram