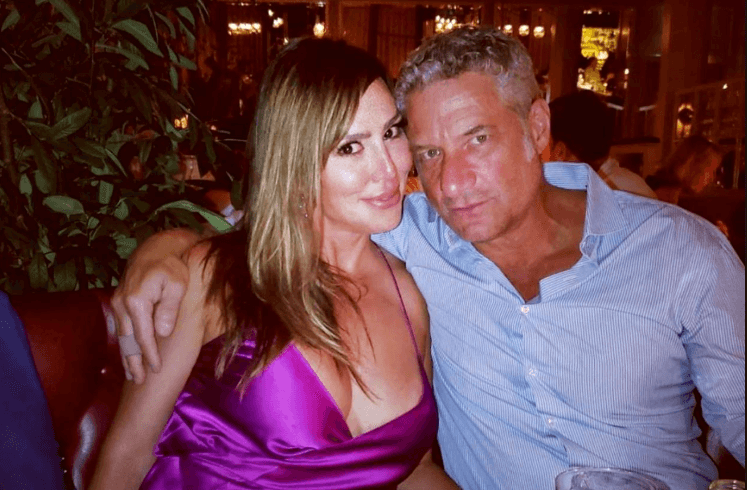 While parents are busy posting emotional back-to-school photos of their kids, Kelly Dodd is partying with new boyfriend, Rick Leventhal, in London, as her daughter enters 8th grade.
Just days after breaking up with Dr. Brian Reagan, The Real Housewives of Orange County star moved on quickly with Rick Leventhal and has been gallivanting abroad. She was in Greece for two weeks and now currently in London with her new man by her side. 
EXCLUSIVE: New Shocking Details of Kelly Dodd's Violent Bar Fight Exposed — Threatening Voicemails, Photos and Assault Victim Pressing Charges!
The 43-year-old shared videos and snaps on social media cuddling with Fox Newscaster, Rick Leventhal overseas — meanwhile, her 13-year-old daughter attends the first day of school mother-less. Press play below to watch.
Jolie's dad, Michael Dodd, is her primary caretaker while Kelly runs the streets. During the former couple's divorce, Michael accused Kelly of having a "tendency to leave our daughter with Petitioner's mother or with babysitters in order to allow her plenty of opportunities to go out on dates, to bars, or have girls nights with her friends." He stated in court documents obtained by AllAboutTheTEA.com.
EXCLUSIVE: Kelly Dodd's Raunchy Sex Train During A Coked Up Threesome Exposed!
On August 15, Kelly posted a photo of her daughter informing her followers that she has a 'good daddy' for her kid because Michael got glasses and braces for Jolie. 
Kelly Dodd's rollercoaster relationship with Dr. Reagan was doomed from the start with Kelly's explosive temper, alleged drug use, coupled with rumors of a sex train.
Share your thoughts below on Kelly Dodd missing her daughter's first day of school to party with her new boyfriend. Sound off below!
"Like" us on Facebook  "Follow" us on Twitter and on Instagram