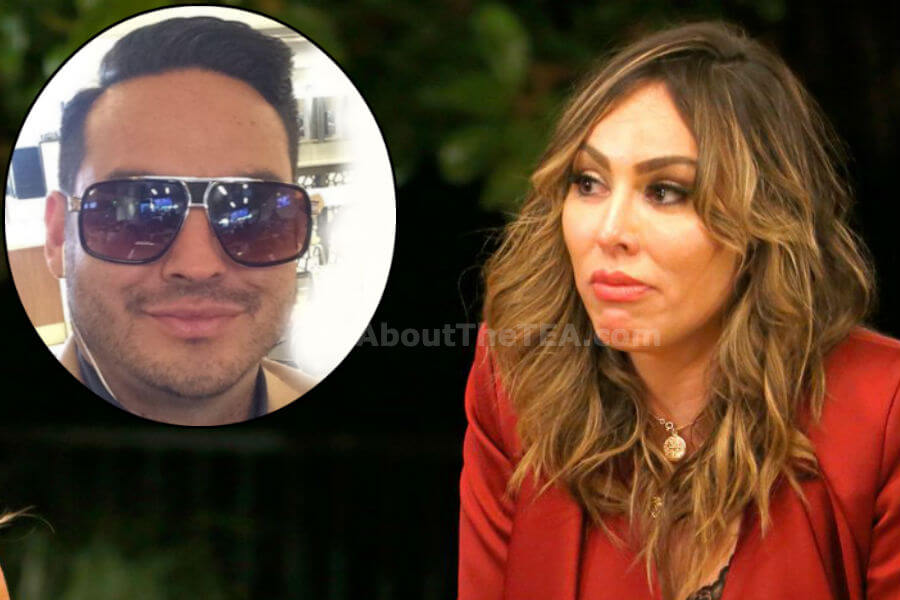 Kelly Dodd's family reconciliation between herself, her younger brother, Eric Meza, and her mother, Bobbi Meza is supposed to be a bright spot in Real Housewives of Orange County  star's season 14 storyline. But before the family kissed and made up, Eric Meza worked hard behind the scenes to take his sister down! 
RELATED: KELLY DODD'S BROTHER ERIC MEZA SPEAKS OUT AMID NIECE'S VULGAR ATTACK ON VICKI GUNVALSON!
Private messages reveal that Eric Meza reached out to Cory Larrabee, a well-connected reality TV personality, to sell an AllAboutTheTEA.com story titled, "Kelly Dodd Parties While Her Mother Undergoes Heart Surgery," about his sister ignoring their sick mother.
On September 18, Cory blasted Eric Meza on Twitter for his dubious actions, "Hey #KellyDodd I don't know why you trust your brother again. He's just as disgusting as YOU trying to get me to sell stories about you. @BravoTV why do you allow this family to be on your show?" Cory tweeted and attached the following screenshot of his private convo with Eric.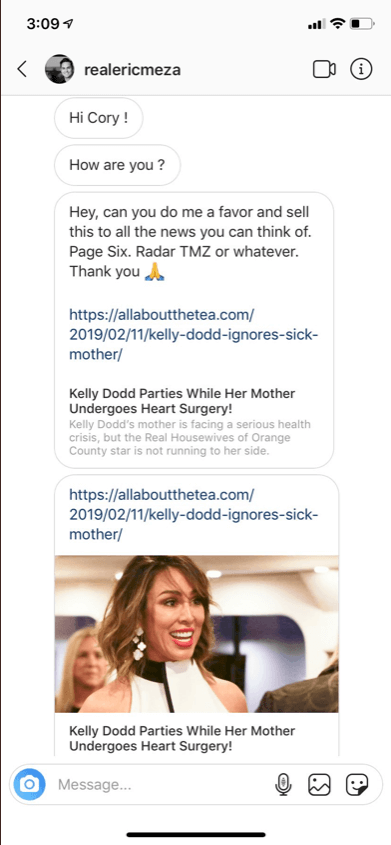 In April 2019, Kelly Dodd, 43, announced a family reconciliation between herself, her younger brother, Eric Meza, and her mother, Bobbi Meza. But a production insider dished to AllAboutTheTea.com — and confirmed that Kelly's family reconciliation is nothing more than a frantic damage control campaign. "Kelly's storyline this season revolves around her chaotic relationship with her family," reveals the source.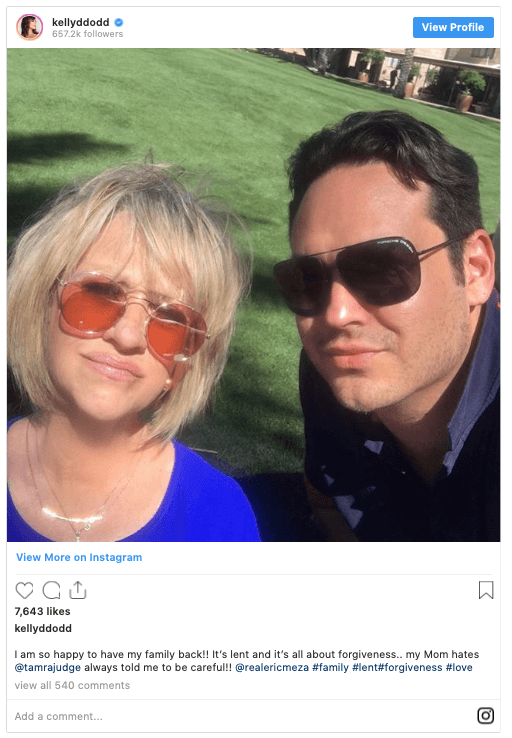 Kelly Dodd's shattered family tree was exposed by her brother, Eric Meza, who told AllAboutTheTEA.com about his broken relationship with his sister, and the chaos that once gripped their family. 
"Kelly is Kelly's own biggest fan. She has a strange sense of self-importance, and requires constant attention and admiration," Eric shared with AllAboutTheTea.com. "She's jealous of others, but at the same time, believes that people are jealous of her. She lacks empathy skills, which is why she doesn't really regret her unhinged outbursts. She's arrogant and always on defense…always ready to fight."
During last week's RHOC episode, Kelly said that her mother and brother asked to stay at her home for a few months, but they ended up staying for a year-and-a-half. However, according to Eric, he did not need to live with his sister, nor did their mother.
EXCLUSIVE: KELLY DODD'S MOTHER SAYS 'RHOC' DAUGHTER PUSHED HER DOWN A FLIGHT OF STAIRS!
"Kelly begged me and my mom to move into her house when Bravo hired her, because our family was part of a package deal," Eric told AllAboutTheTea.com in September 2018. "The only reason she got on the show was because Bravo interviewed me and my mom for five hours, and they were sold on our unique family dynamic. That's the only reason we lived with her, not because we needed a place to stay."
Eric explained that Kelly was abusing their mother, Bobbi Meza, and that is the reason he moved his mother away from his sister.
"I had to move my mother out of Kelly's home because Kelly was mentally, emotionally and physically abusing her," Eric told AllAboutTheTEA.com. "Jolie also witnessed the abuse."
In January 2018, Eric Meza openly accused his sister, Kelly, of verbally abusing and pushing their mother down a flight of stairs in a scathing Instagram post that has since been amended (as of April 15, 2019). Read the original post from January 22, 2018 below.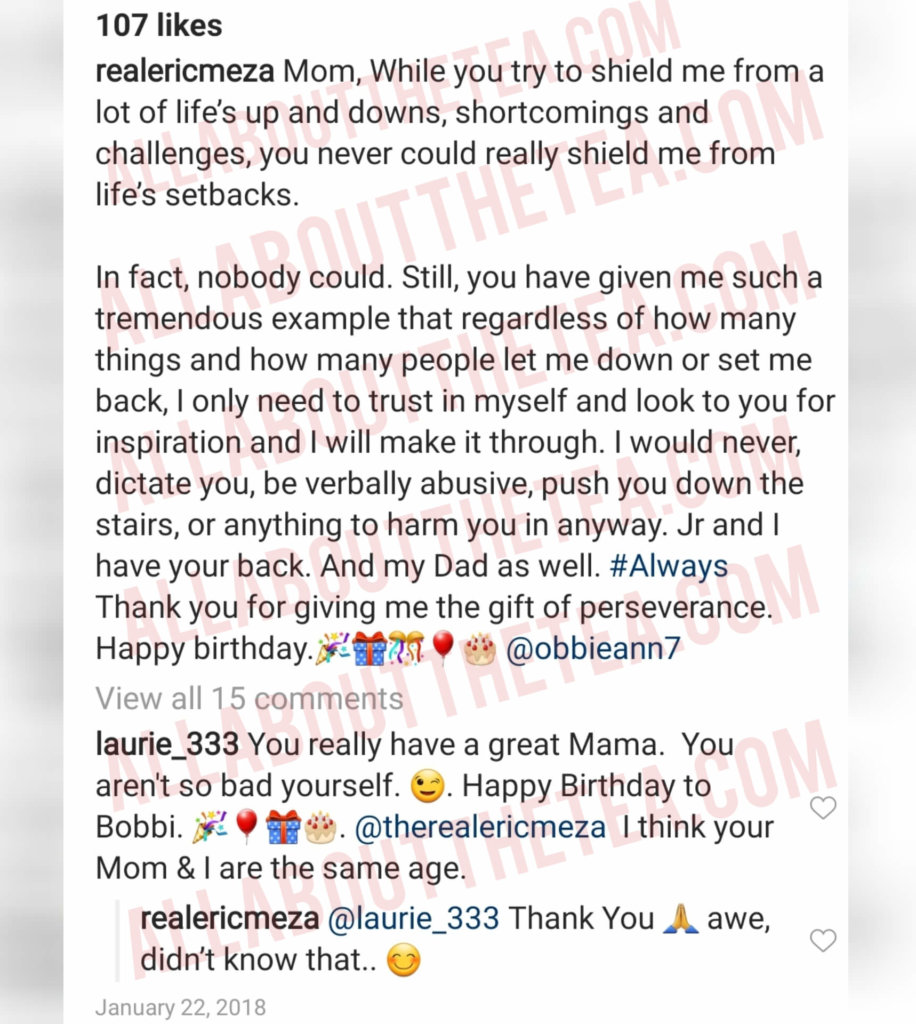 Share your thoughts on Kelly Dodd's brother, Eric Meza, selling negative stories about his sister to the press. Sound off below!
"Like" us on Facebook "Follow" us on Twitter and on Instagram