Exclusive
EXCLUSIVE: Kathryn Dennis Lied About Having Joint Custody and Judge Makes New Ruling In Case!
Kathryn Dennis plays a single mother facing the possibility of full-time parenthood on Southern Charm — but a very different reality is unfolding behind the scenes.
Viewers know that Kathryn shares two children, Kensie 5, and Saint, 3, with former leading man,Thomas Ravenel, and that the duo has been embroiled in an ongoing custody dispute.
As reported, Kathryn failed a court ordered drug test on June 14th — testing positive for marijuana, as well as for permissible prescription drugs. Thomas passed an identical test, securing a solid victory in court. 
RELATED: Patricia Altschul Ordered To Be Grilled Under Oath By Thomas Ravenel In Custody Battle!
According to court documents obtained by AllAboutTheTEA.com, Kathryn violated their original custody agreement instituted in June 2018. As a result, Thomas was legally permitted to restrict the mom from seeing their kids under their binding custody agreement.
RELATED: Kathryn Dennis Caused Daughter's Hearing Loss & Dressed Child In 'Sexy' Lingerie Panties — Court Docs Reveal!
As fans may recall, Kathryn Dennis claimed that she won back joint custody of her children, Kensie and Saint after overcoming a battle with substance abuse. However, that could not be further from the truth. Kathryn did not sign the offer presented at the June 2018 hearing — therefore Thomas remains the custodial parent maintaining full custody of the children.
Kathryn's failed June 2019 drug test puts her back to Phase 1 of the agreement. Read the excerpt below from the custody agreement. Phase 1 of the agreement states that Kathryn's visits with the children will take place on alternating weekends, and must be supervised.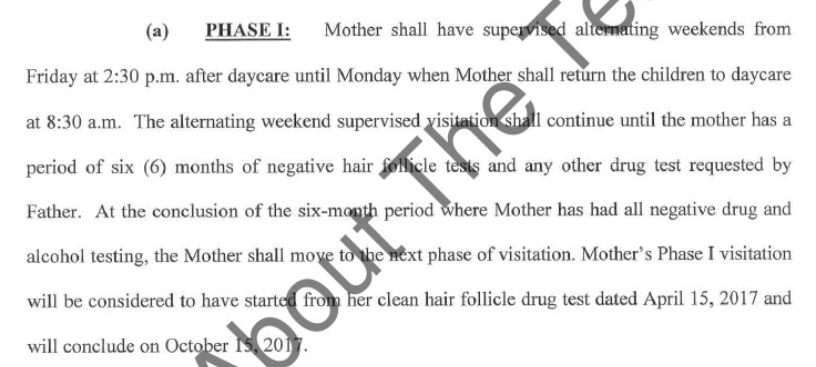 The following excerpt from the agreement lays out actions that will be taken if Kathryn fails a drug test.

Kathryn, 27, and her attorney immediately petitioned the court requesting her visitation rights be reinstated and Thomas' side entered a request for full custody. In Kathryn's filing, she levied a multitude of nasty allegations against Thomas (with no supporting evidence to back her claims).
On June 26, the judge handling the custody case made a temporary ruling – granting Kathryn 50/50 custody. The stipulations are as follows:
Kathryn will be allowed unsupervised visitation. She'll get the kids 5 out of 14 days — Thursday through Monday.

Thomas remains the custodial parent. He'll get the 9 out of 14 days.
Again this order is temporary until the judge issues a final ruling in the case.
RELATED: 'Southern Charm' Fans Accuse Kathryn Dennis of Being High During Watch What Happens Live Appearance!
In 2016, Kathryn completed a stint in a California rehab facility after she tested positive for marijuana, cocaine and opiates and lost custody of her children. Kathryn eventually completed the five phases in the custody  outline, and returned to court with Thomas in June 2018, where a 50/50 custody deal was put on the table.
Thomas Ravenel is set to stand trial after the ex-couple's former nanny levied accusations of assault against the Charleston developer, in May 2018.
In January 2019, Thomas was back in court, alleging that Kathryn  "condoned and/or encouraged Ms. Ledwell to make false allegations of sexual assault and to file a criminal complaint against him, on the heels of the 'Me Too' movement, for purposes of helping Mother gain custody of the parties' minor children in a subsequent modification action." 
Southern Charm airs Wednesday nights at 9 pm, ET, on Bravo.
"Like" us on Facebook  "Follow" us on Twitter and on Instagram