Southern Charm
RECAP: Danni Baird & Chelsea Meissner Call Out Kathryn Dennis For Being Fake AF On 'Southern Charm'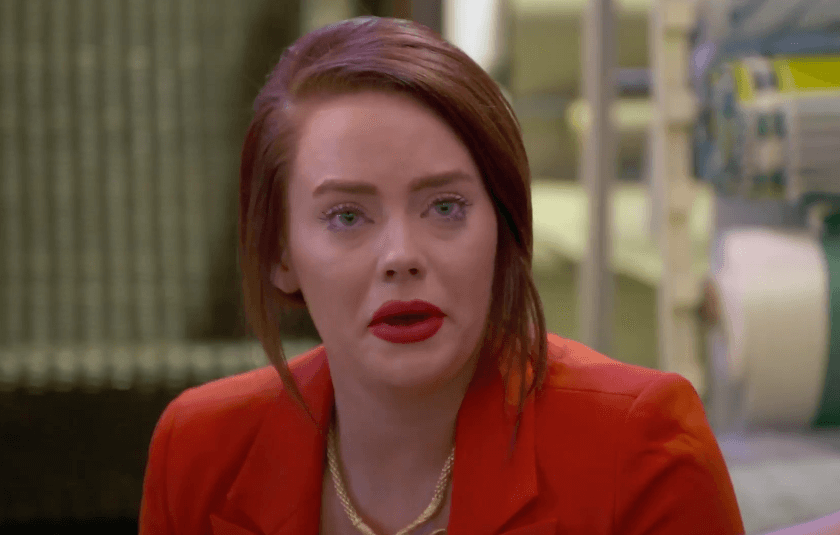 We begin this week's Southern Charm at dinner with the ladies. Kathryn Dennis, Danni Baird, Chelsea Meisner, Cameran Eubanks, and Naomie Olindo are gathered round the table at the Bolt Farm tree house. The women have been questioning Kathryn over her recent choices, including her expensive rental house, her Rolls, and her new man, a disgraced Florida senator in the middle of a nasty divorce.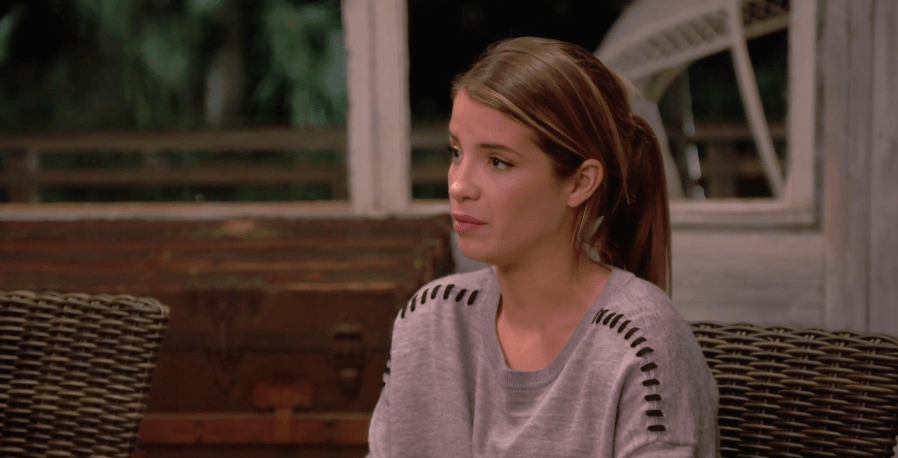 Danni and Kathryn head to the bonfire for a one on one chat. Before Danni can speak about her feelings, she needs to eat them — and makes a s'more to do so. Danni acknowledges Kathryn's strides in the past few years, but she slaps at Kathryn's constant defensiveness. Danni can't always be truthful because Kathryn turns cold and punitive. Kathryn says it's been hard, being a single mom, staying sober, and having to prove herself to everyone. Danni has little sympathy because everyone has their own burden to bear, and they didn't really settle anything.
Kathryn Dennis Asks Judge to Bar Ashley Jacobs From Her Children!
Meanwhile, the rest of the women are talking about the disastrous intervention over a dinner of quail. Naomie believes Kathryn needs a dose of the truth. Cameran thinks Kathryn needs a champion in her life, someone who's on her side no matter what.
The next morning, while Cameran tries to figure out how to ground coffee using an old-fashioned hand crank, Kathryn admits she and Danni haven't come to terms about their differences. In fact, Kathryn feels betrayed. Danni embarrassed her in front of the others, and Kathryn isn't pleased.
Cameran complains about motherhood again. She can't wait until her husband gets home every night, so she can thrust Palmer off. She resents Jason going to work every day, and she wants to do the same. But I guess someone has to watch that kid.
Over at Craig Conover's house, his assistant, Anna-Heyward, is raring to go. She's unfolding fabric and getting ready to make some pillows. But Craig, well, he's still asleep. She has to yell at him to get out of bed like a mom with a teenager on the last day of school. Craig admits he's not a good waker-upper. And he's not that great of a lawyer. Or a scotch maker. So the question is: is there anything Craig is good at besides stirring the shit? Talk amongst yourselves. When Anna-Heyward shows him the new material (gray velvet!) he's not impressed. He hasn't followed through on the latest pillow order. Anna advises him to stop having hangovers every morning and get to work.
We find Austen Kroll and his dad playing a round of golf. He discusses his failed beer business with Dad (who's also his main investor). Austen's found a cheaper brewer, but saving a few pennies cost Austen big time. The brewer had a mechanical failure, which put his beer on hold. Dad chides him for not being on top of things. And by the way, how's that nice girl Austen's been dating? Sure, his parents liked Madison, but they didn't know what kind of girl she really is. A girl who cheated for revenge!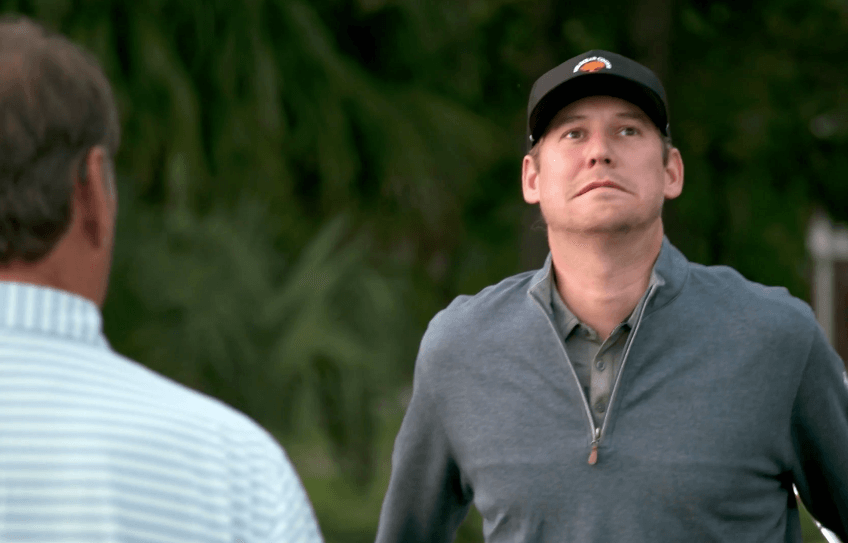 Austen's dad accuses him of sabotaging relationships. And yes, his parents saw the threesome video, where Austen yanks at his junk while yelling at Madison. (I literally can't get enough of that video, you guys.) Austen's parents can overlook his lack of a job or his dropping the ball on his beer brand, but a viral ménage? That was going one step too far, mister!
Over at Patricia Altschul's house, Michael the Butler is getting ready for Madame's daily cocktail. Madison arrives for a visit and they decide on a bourbon sour. Patty has known Madison for ten years and became her mentor. Patricia has called this meeting to find out the details of Madison's life outside the salon, because you know what a hotbed of gossip those places are. Much better to talk in private — with the cameras rolling.
Madison admits she and Austen have split. She thinks Austen is trying to paint her as a cheater, when he's the one who was caught with two other women while prancing around in his man panties.
Craig stops to have a drink and a chat with Shep Rose. Craig complains about having more than 100 unfilled orders for pillows and suggests a pillow party, where his friends come over and sew. But they quickly dismiss Craig's professional worries and get down to gossip about the group. Shep spills the tea about Austen talking smack behind Chelsea's back. Madison has the receipts in the form of texts. Of course, Shep thinks Madison is the real villain in this scenario. How dare she share a private text with Chelsea? Craig agrees. Madison is evil!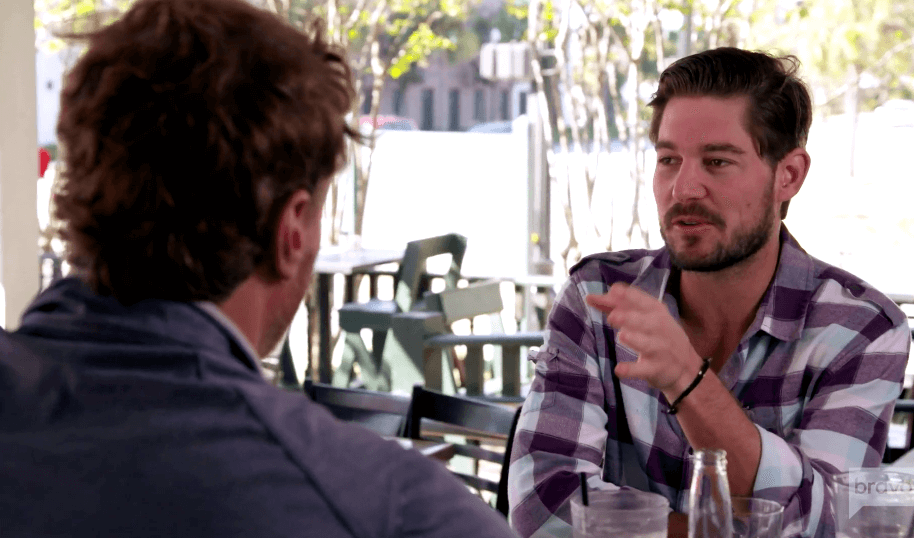 Shep, who doesn't do relationships, can't understand why Austen can't just cut Madison loose. Craig compares Austen to a middle-school boy in the middle of his first breakup. The only thing to do? Take a boys' trip in an RV. That way, they can confront Austen and he can't run away. Mwahahaha!
Chelsea stops over to see Naomie. As they sit on the front porch, Naomie says she won't attend Craig's party. Their cool, but not that cool, with each other. Chelsea doesn't understand what the hell a pillow party is in the first place. But Austen is going to be there, and Chelsea is ready to confront her ex. And you know who else she's not afraid to confront? The little 12-year-old neighborhood punk who shouts obscenities during filming. Naomie pleads with Chelsea to stop calling him a little fucker. He's egged her house before, and he'll do it again. Do the boys in Charleston every grow up? (See Shep Rose for answer.)
Kathryn Dennis and Thomas Ravenel Reunite For A Party Amid Bitter Custody Battle!
We get to meet Danni's mom for the first time. As they sip on iced tea, Danni is celebrating. She finally sold a painting to someone other than her mom! Danni opens up about her former fiancé. She and Todd were disagreeing on a lot of life issues, and when he wanted to postpone the wedding, Danni called it off for good. But let's face it, she isn't getting any younger. Mom thinks Danni should freeze her eggs. She's almost 35 and her parents will help her foot the bill.
RELATED: Thomas Ravenel Accuses Patricia Altschul of Conspiring With Kathryn Dennis To Lose Custody of His Kids
At the fabric store, Craig and Kathryn meet up. She's in the middle of a massive panic attack. Sinking to the floor, she cries and talks about Thomas Ravenel's court case. If he goes to jail, she'll be a single mom. Craig shoves her concerns aside. Her kids are too little to understand the concept of sexual assault. Get over it, Kathryn! She dries her tears and steers him toward linen material and coastal prints.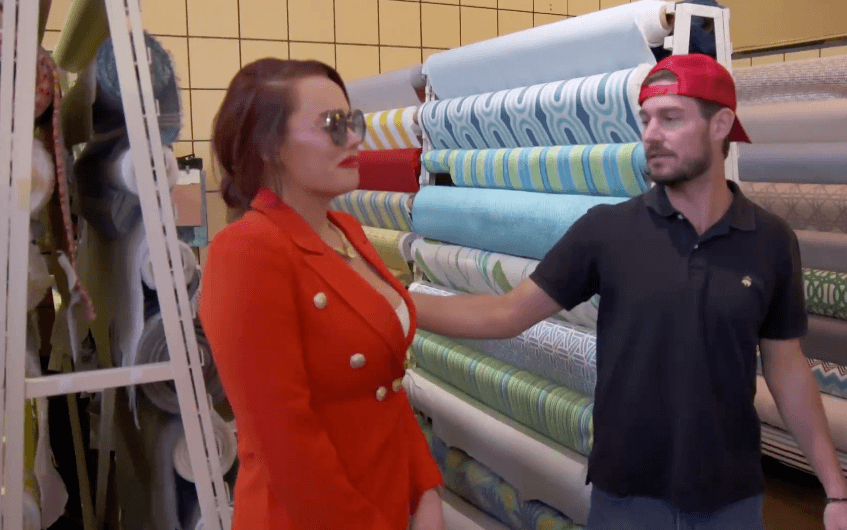 That evening, Anna-Heyward arrives to Craig's house with food and beer. Where's Craig? In bed. By the time he makes it downstairs, his roommate and AH have done all the work. Side note: Craig is wearing eyeliner. He claims the girls go wild over it. Cameran arrives and wonders why Craig is wearing guy-liner. Whitney, Chelsea, and Danni stop by. Not only are they confused at Craig's makeup choices, they wonder what a pillow party entails. Austen comes in and gives Chelsea an awkward hug.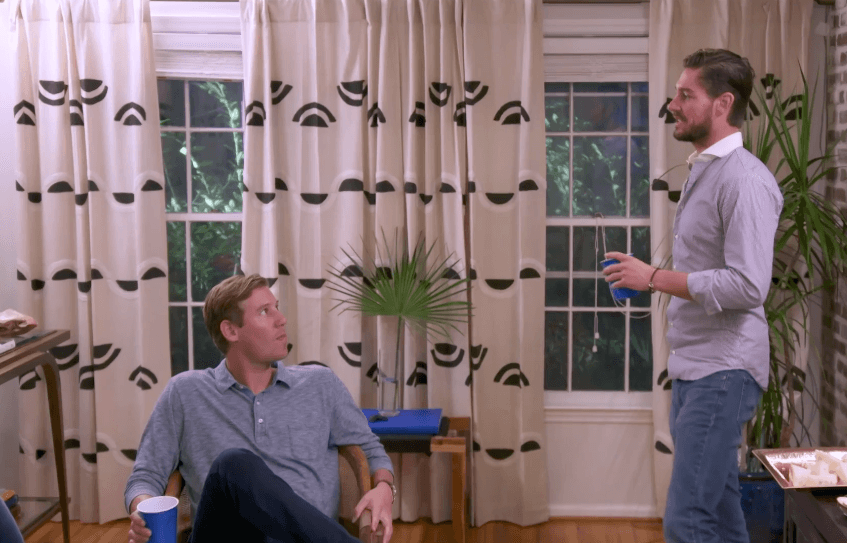 Craig finally drops the news: he's feeding them white bread sandwiches and chicken nuggets in exchange for their help in making pillows. No one is thrilled with this plan, but they do laugh their asses off.
When Shep finally shows up, Austen, Chelsea, and Craig go outside to talk. Craig brings up his RV dude trip idea. Austen's all for it.
Inside, Shep invites Whitney on the bro trip. And Shep announces that if Austen gets back together with Madison, he's cutting his old friend off for good. Cameran thinks that's possibly the dumbest thing she's ever heard — and she's at a pillow party, for God's sake!
A surprise visitor pops in. Patricia Altchul is there to support her endearing knucklehead, Craig. He proudly shows off his work room. And finally, Kathryn arrives a little late. She hugs Patricia like they're old, dear friends. She gives a side-hug to Danni, and you can feel the tension rolling off those two. Also, Kathryn is wearing a shaggy black jacket that makes her look like a crow from Game of Thrones.
Everyone wanders inside the house, leaving Chelsea and Austen alone on the porch. She says that she's seen the screen shots of Austen talking shit about her. Austen blames it on the alcohol Chelsea isn't buying it, because this is an ongoing occurrence, not a one off. Austen tries to turn it around. Why is Madison sharing his texts, damnit? Sorry, buddy, not so fast. Chelsea wants to know why Austen is commenting on Chelsea's sex drive and her new beau. What's that about, huh?
Austen says Chelsea railroaded him at last year's reunion when she said she was tired of picking up the check when they were dating. Too bad, little man. (Remember, we've all seen the video of Austen in his underwear. "Little" seems to be an apt description.) He finally apologizes. Being a big-hearted person, Chelsea forgives him. And warns him not to do it again or else. Inside, Patricia wonders about this pillow party. What's it all about? Sewing, Patricia. Just sew like the wind! No, that's not happening. Patricia and Cameran duck out before Craig can put them to work.
Shep, Austen, and Craig sit and trash talk Madison in the living room, while Chelsea, Danni and Kathryn convene in the kitchen. When Kathryn finds out the girls are gossiping about the recent tree house trip, she bolts out of the kitchen. Chelsea follows, trying to explain they weren't saying anything negative about her. Kathryn completely ignores the girls. Danni accuses her of being fake and not being mature enough to have a real conversation. Danni and Chelsea storm out of the house.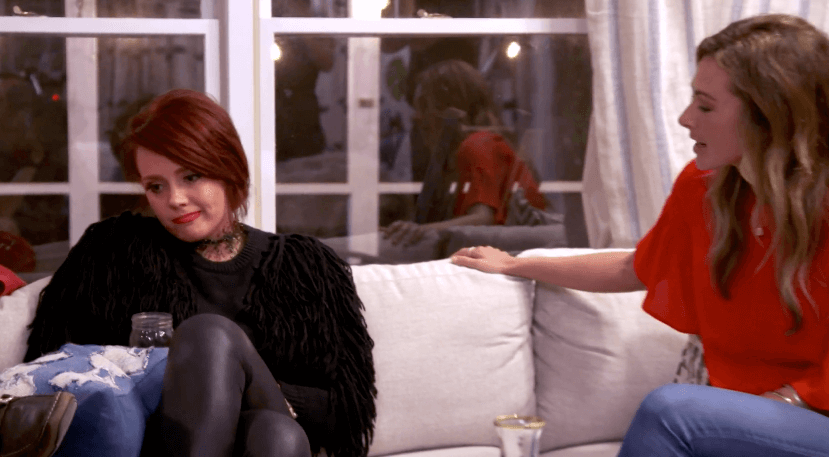 Danni's been a great friend to Kathryn, but she hasn't felt supported in the same way. Danni's stood up for Kathryn when no one else would. She even faced off with Thomas. This makes Chelsea angry, so she heads back inside to once again try to talk to Kathryn.
Kathryn shuts down. She isn't moved by Danni's tears. When Shep tells her to go talk to her friend, Kathryn blows him off, too. Shep lectures her, telling her that people are concerned for her welfare. Kathryn calls him a douche and leaves.
And that's the end of our episode. So, do you think Kathryn was attacked on the girls' trip or does she owe her friends an apology?
"Like" us on Facebook "Follow" us on Twitter and on Instagram