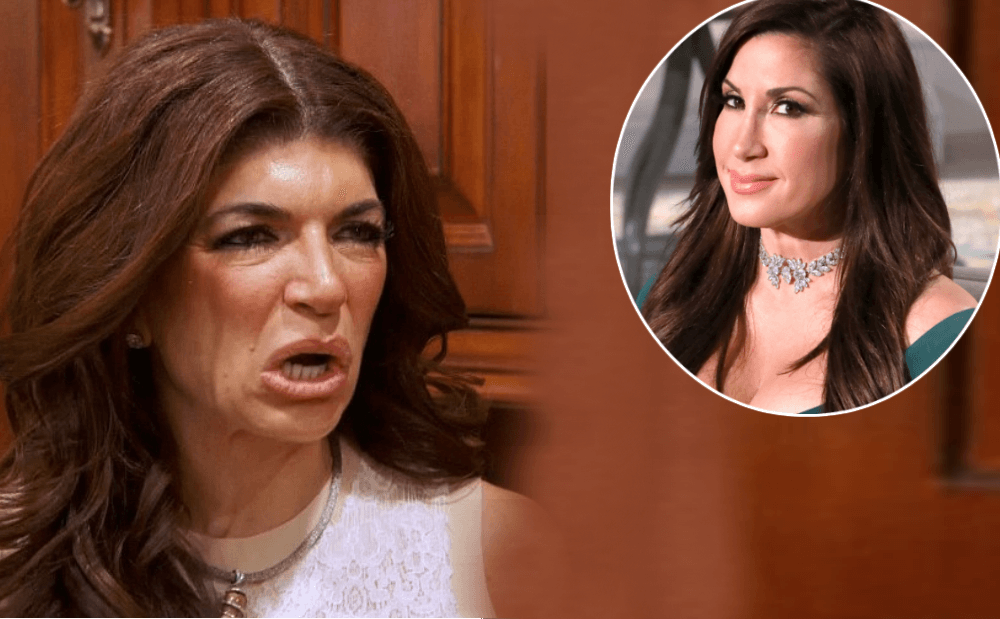 Jacqeline Laurita, 48, is speaking out on Teresa Giudice's decision to split from her husband, Joe Giudice, amid his deportation to Italy.
The Real Housewives of New Jersey season 9 reunion finale aired March 6 where Teresa Giudice revealed that she and her estranged husband would go their separate ways.
EXCLUSIVE: Teresa Giudice & Melissa Gorga's 'RHONJ' Reunion Fakery Exposed!
In October, a federal judge ordered Joe Giudice be deported back to his native Italy, upon his release from federal prison in a week and a half.
When responding to a fan on Twitter, The Real Housewives of New Jersey alum, called out Teresa Giudice for breaking up the family.
She choose to stay with him knowing all of that. She called him the love of her life. The kids were sad when their Dad went away. Now they can finally be a whole family unit again. Unless of course, it's actually not what Teresa really wants… like she said .

— Jacqueline Laurita (@JacLaurita) March 8, 2019
When challenged, Laurita explained keeping the family together was better for the children and the family overall.
EXCLUSIVE: Danielle Staub Is Sleeping With Her Best friend's Boyfriend! Find Out How the Drama Exploded!
The 46-year-old mother of four confirmed that she's not uprooting her daughters she shares with Joe — Gia, 18, Gabriella, 15, Milania, 13, and Audriana, 10.
"Unless my kids say, 'Mommy, we want to move to Italy,' [we] are not going]," Teresa says. "Gia's going to college next year; I haven't spoken to Milania or Audriana about it, we haven't gotten there yet; and Gabriella already voiced her opinion to me. She was like, 'That would be so hard for me, Mommy.' She doesn't speak the language. She's like, 'That would kill me even more.' "
"It's like starting a whole new life," Teresa says. "and they've been through so much already."
They are minors! I never wanted to move either! I'm happy my parents kept us all together and I got to experience all that I did, in retrospect.

— Jacqueline Laurita (@JacLaurita) March 8, 2019
That sounds ridiculous. Her and Joe are the parents and if they really want to be together then they can. They are married. The kids will adjust. They are a family.

— Jacqueline Laurita (@JacLaurita) March 10, 2019
I don't think being w/both of their parents is a punishment, away from the kids at school that know their business&make fun of them.Away from the cameras they don't https://t.co/ZsOjmspg2U think it's a healthy environment now? I know they miss their Dad & he misses them.

— Jacqueline Laurita (@JacLaurita) March 10, 2019
Jacqeline Laurita corrected a person who blamed Teresa's 2015 prison stint for fraud on her husband, Joe Giudice. 
She didn't go to prison because of him. She had her own part in it. That's #1. #2 I didn't choose to move as a kid. My Dad was stationed somewhere and my mom took me and my siblings and went with him.

— Jacqueline Laurita (@JacLaurita) March 10, 2019
Joe Giudice, 46, is currently serving a 41-month prison sentence for mail, wire and bankruptcy fraud that began in March 2016.
Jacqueline further clarified that Teressa made her decision based on her four daughters preference not to move to Italy.
If she chooses to divorce him for they way she was treated, that's different, but her decision is supposedly based on her children's decision not to move.

— Jacqueline Laurita (@JacLaurita) March 10, 2019
Press play to watch below.
Share your thoughts on Jacqueline Laurita blasting Teresa Giudice for choosing to leave Joe after he's deported. Sounds off below!
"Like" us on Facebook  "Follow" us on Twitter and on Instagram