Kathryn Dennis & Patricia Altschul Diss Ashley Jacobs — Claims They Were 'Ambushed' & Her Appearance Was Lackluster!
Patricia Altschul got messy on social media last week — and Southern Charm pariah, Ashley Jacobs, was on her hit list.
EXCLUSIVE: Thomas Ravenel Accuses Kathryn Dennis of Buying Drugs from 'Southern Charm' Costars
Ashley was invited back to film with the Bravo cast, and her surprise appearance at a filmed group event on January 15, caught Kathryn Dennis off guard.
Patricia Altschul shaded Ashley's cameo by noting "an ambush" on an Instagram snap — a photo of Kathryn modeling some killer heels. 
"Shoe shopping with [Kathryn Dennis] …..she needs these for the next ambush #southerncharm," Patricia wrote.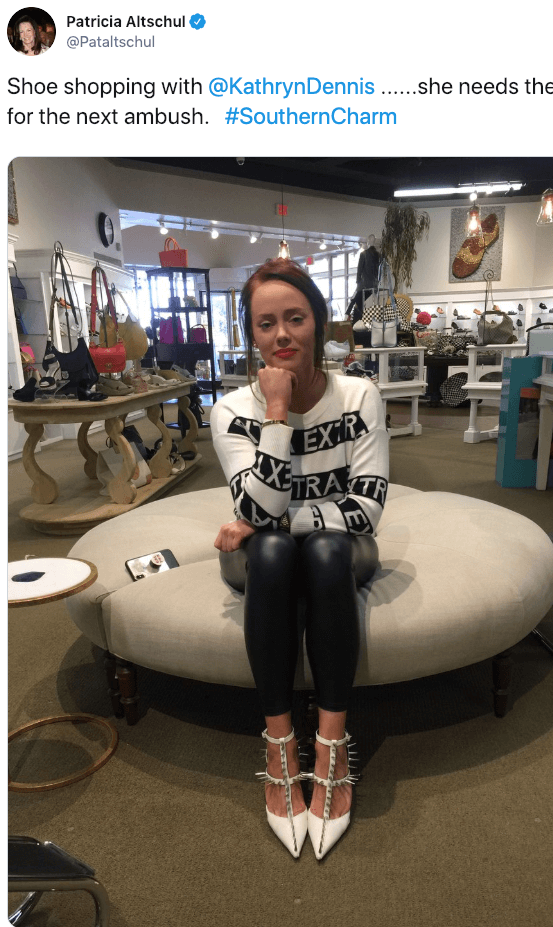 Patricia, 77, also "totally" agreed with a fan chiming in support for Thomas Ravenel's surprised baby mama. Both Patricia and Kathryn promised fans that Ashley would not be returning to Southern Charm, but Bravo pulled a whammy — and proved both women wrong. 
EXCLUSIVE: 'Southern Charm' Star Kathryn Dennis Shacks Up with Alleged Charleston Pill Pusher
The 77-year-old informed another fan that Ashley Jacobs' return was lackluster, and did not produce the same dramatic energy like she delivered in season 5. "Her brief appearance resulted in no drama, no acceptance, no storyline…in other words a pathetic dud." She tweeted on January 19.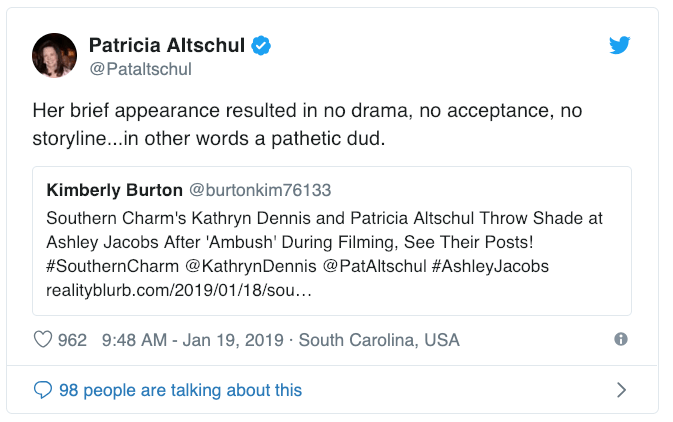 Ashley Jacobs was reportedly panting for another spin in the reality TV spotlight — and hopes to pull off a positive part-time comeback. 
EXCLUSIVE: Thomas Ravenel Blasts Ashley Jacobs For "Bad Mouthing" Kathryn Dennis After Blowout Fight!
Kathryn tossed her own Instagram shade when she commented on a photo posted by her friend, Wilson Jones. The duo was snapped at The William Aiken House in Charleston, where the Southern Charm Season 6 finale was filmed Thursday night. The pic captioned, "Bye Ashley." Kathryn snarked in the comment section — "Thank you, next," and "I'm so thankful someone took my ex."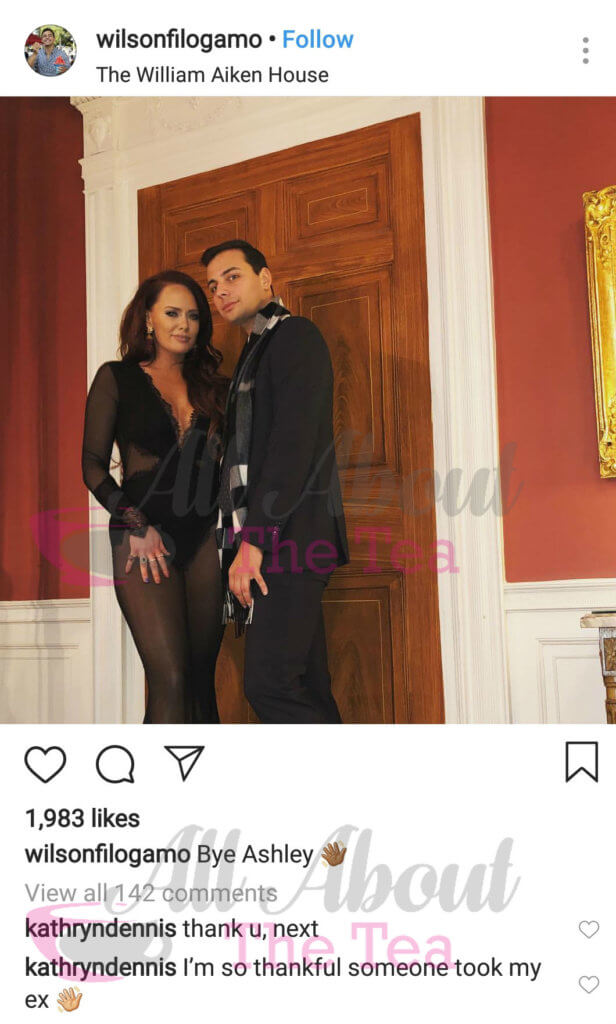 What do you think of Patricia Altschul and Kathryn Dennis mixing it up with Ashley Jacobs before the season even hits the airwaves?  
Southern Charm season 6 wrapped filming on Thursday — and the show is expected to return in April 2019.
"Like" us on Facebook  "Follow" us on Twitter and on Instagram 
Becca is a Senior Editor for All About The Tea. She's a coastal girl who loves the outdoors, and writing about the sneaky and silly side of reality TV. Her bio is short, but her snark is endless. She loves writing for the sharpest posters in the world.