Real Housewives of Beverly Hills
VIDEO: Kyle Richards & Dorit Kemsley Betray Lisa Vanderpump In Explosive 'Real Housewives of Beverly Hills' Season 9 Trailer — Watch Here!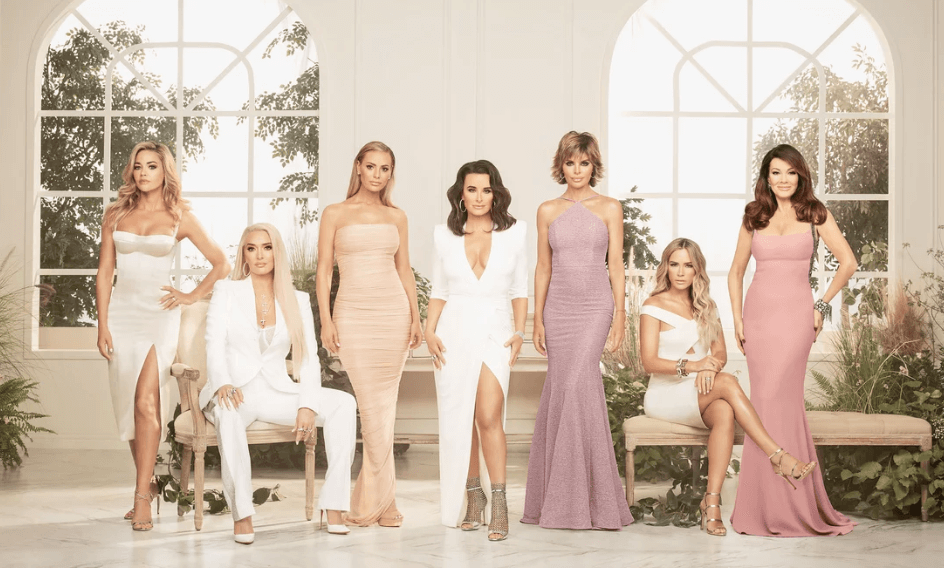 Santa came early this year — Bravo has released The Real Housewives of Beverly Hills season 9 trailer!
The Real Housewives of Beverly Hills ladies are back in what looks to be the most explosive season of backstabbing, and bitter betrayal.
Erika Girardi, Dorit Kemsley, Teddi Mellencamp Arroyave, Kyle Richards, Lisa Rinna, and Lisa Vanderpump and new housewife, Denise Richards, along with "Friend of the Housewives," Camille Grammer are all on board for the upcoming season.
RELATED: She's Done! Lisa Vanderpump Blocks Kyle Richards Phone Calls After Bitter Betrayal!
As fans know, rumors swirled that Lisa Vanderpump quit the Bravo reality series amid bullying from her fellow Real Housewives of Beverly Hills cast members — sparked by a feud with former friends — Kyle Richards and Dorit Kemsley.
"The real story is even more crazy, epic, unbelievable, and shocking," the trailer says. 
RELATED: Lisa Rinna Drags Lisa Vanderpump For Using Her Brother's Death To Not Film For 6 Weeks!
In the clip below, the restaurateur tells Dorit that she loves her, and then quickly points out, "Well, I actually don't."
Most of the ladies took issue with the Vanderpump Rules Executive Producer following her brother's recent passing. Lisa Vanderpump put all her energy into her family, work demands and maintaining a positive attitude but was harassed by her castmates for doing so.
VIDEO: Lisa Vanderpump Speaks Out On 'RHOBH' Exit Rumors!
In another part of the trailer, Lisa Vanderpump is heard saying, "I'm not going to say what a f—ing bitch she was," speaking about. "Up, I said it!" She continues.
As previously reported, Kyle Richards and Vanderpump's husband got into a nasty screaming match during a party at the couple's home. In a clip shown — Ken Todd is heard telling Kyle.
"You're a f—ing liar," he screams at her. "Goodbye Kyle."
In another scene, Vanderpump says Teddi Mellencamp Arroyave is "guilty by omission," while holding up printed copies of her text messages.
"They're all trying to make me feel like a terrible person," laments Vanderpump.
In a surprising twist, Erika Girardi defends Vanderpump when she calls out Dorit and Kyle in one scene.
"I kind of feel like the two of you are in cahoots."
"She doesn't want to sit and pretend to be nice to someone who has f—ed her over," Girardi tells the rest of her castmates. "That's not friendship, that's bulls—."
"I'm not responsible for Lisa Vanderpump's actions," Kyle shouts.
The string of confrontations will drastically change the dynamic of the friends group forever. 
Also in the trailer, Erika takes the ultimate leap of faith – and financial risk – when she embarks on an Erika Jayne National Tour, hoping her fans will show up to support her.
As her business flourishes into a multi-million dollar empire, the always-on-the-go Teddi must adjust to the newfound pressures of running her company while simultaneously maintaining her supermom status.
Lisa Rinna begins to wonder if acting still excites her, while coping with an empty household, as her husband is constantly traveling and her model daughters are getting ready to leave the nest.
Camille is prepping for her wedding day and though she is more than ready to leave the past behind, moving forward might not be as easy as she had hoped.
Press play above to watch the trailer and click through the post to see all 3 parts of the trailer. Merry Christmas to Real Housewives of Beverly Hills fans!
The Real Housewives of Beverly Hills season 9 premieres Tuesday, Feb. 12 at 9:00 p.m. ET, on Bravo.
"Like" us on Facebook  "Follow" us on Twitter and on Instagram