Kenya Moore Sells First Baby Photos to Tabloid For $6K — See Photo Here!
Kenya Moore's unapologetic baby pimping has ended with the debut of her baby in a tabloid spread.
As AllabouttheTEA.com exclusively reported on December 2, Kenya Moore has shared the first photos of her newborn daughter, Brooklyn Doris Daly, in People magazine's latest issue.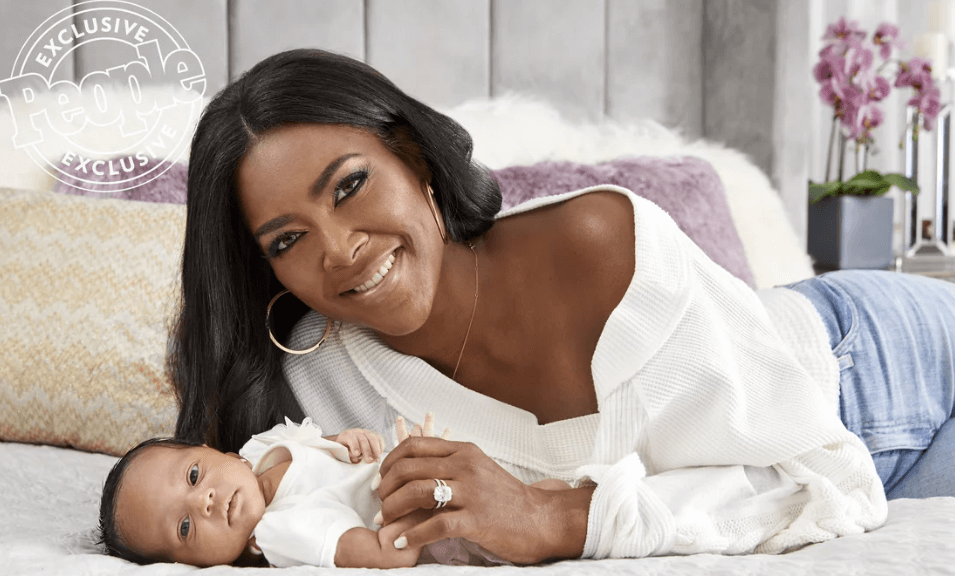 The shoot featured Kenya Moore, her husband Marc Daly, and their infant daughter, Brooklyn Doris Daly — and the former Real Housewives of Atlanta star collected a $6k for baby Brooklyn's big debut.
"I finally have everything I've dreamed of," she tells People, posing with her baby for this week's issue.
She continued: "She's so perfect in so many ways," adds Kenya, who says Brooklyn "makes 101 faces" that always make her laugh. "This little angel … so beautiful. I feel so blessed. It's all been so worth it."
VIDEO: Kenya Moore Displays 6-Month Old Clothes For Preemie Baby As She Preps For Bizarre Photo Shoot!
As fans know, the former Miss USA has not exhibited normal postpartum behaviors — she has not posted any photos of family/friends visiting her in the hospital or at home, despite claiming to have given birth on November 4.
According Kenya, her emergency cesarean section lasted three hours due to fibroids and she ended up being cut twice.
"They couldn't get the baby out," she says. "There were all these complications and they knew if they cut into a fibroid, I could potentially bleed out and die. So they ended up cutting me vertically too, to just get the baby out and make sure I survived the surgery. They were so scared they were going to lose me."
https://www.instagram.com/p/BqsPTEbH8cR/
Kenya Moore, 47, gave birth to daughter, Brooklyn Doris Daly, on November 4 — to coincide with The Real Housewives of Atlanta season 11 premiere.
The almost 50-year-old Z-lister lost all her baby weight (she ballooned to 200 pounds) practically overnight. On November 27, the former Real Housewives of Atlanta  star posted a photo of her bare belly with ripped abs.
Share your thoughts on Kenya Moore's tabloid baby debut. Sound off in the comments below!
"Like" us on Facebook  "Follow" us on Twitter and on Instagram 
Nancy Zhāng is an Entertainment Blogger for All About The Tea. Nancy covers hot topics, recaps and celeb news. She loves to multi-task as a writer and a private chef. She received a B.S. in Mass Communications from LSU. Nancy's married and the proud mom of 2 German Shepherds.