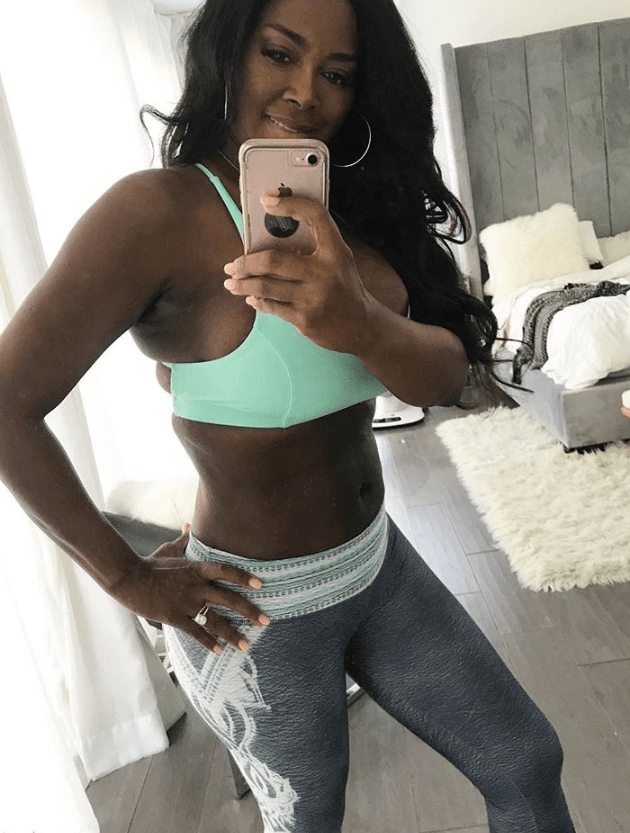 Kenya Moore is experiencing a miracle "the snapback," after giving birth via C-Section 3 weeks ago.
On November 27, the former Real Housewives of Atlanta  star posted a photo of her bare belly with ripped abs. "three weeks postpartum" and "47 year old snapback," her post captioned.
She continued: "The SnapBack is real! LOL. I still can't work out yet but I feel much better. I was cut twice during my 3 hr Csection but I made it! I've always been healthy and worked out my entire life…whatever my body will do I'm not rushing it. It feels good to start to feel myself again." 
According to the Mayo clinic, a C-section is major surgery. Just like with any surgery, your body needs time to heal afterward. New moms to stay in the hospital for three to four days after your delivery (longer if there are complications), and give your body up to six weeks to fully heal.
Kenya Moore gave birth to daughter, Brooklyn Doris Daly, on November 4 — to coincide with The Real Housewives of Atlanta season 11 premiere. However, the baby still remains a mystery to the public, as the mother has not revealed the child's face. 
Some The Real Housewives of Atlanta fans found Kenya's postpartum reveal to be highly suspicious and blasted the former Miss USA on social media.
"And it's one thing to lie about having a surrogate, but it's another thing to shame other Moms by showing your so-called "perfect" body 3 weeks after a c-section….?"
"Come on !! Really??? This fuckin lying troll. She did not have a child. How many more times am I going to tell you!! Her surrogate about to come fourth…. #fuckkenyamoore"
"Delusional, histrionic and the list goes on ."
"If you had a surrogate, this is how you would look. Just saying."
"How's the surrogate doing?"
"Yeah sure and I own a unicorn ?"
"She mental like her mother fuckin lies lies and more lies. Go away your 15 is long over and so is your bullshit"
On November 7, the reality TV actress announced that she's "Having a tough day of recovery and just got these!" she wrote. "So gorgeous feeling so emotional! Thank you @kandi for being you and all your generosity from you and your family! I love you mama!"
RELATED: Very Calculated! Kenya Moore Schedules Birth of Her Baby On 'RHOA' Season 11 Premiere!
Share your thoughts on Kenya Moore's miraculous postpartum body. Sound off in the comments!
"Like" us on Facebook  "Follow" us on Twitter and on Instagram