UPDATED: Thomas Ravenel's Rape Accuser Dawn Ledwell's LIES Exposed! (Exclusive Details)
Dawn Ledwell's LIES Exposed!
Ashley Perkins, the daughter of the first woman to accuse Thomas Ravenel of sexual assault is putting his second accuser, Dawn Ledwell on blast.
The Southern Charm star was arrested on September 25 — on charges linked to an assault complaint filed by former nanny, Dawn Ledwell.

On Thursday, Perkins took to Twitter to drop a bombshell revelation — exposing a covert convo she had with Ledwell — and shading the nanny's rape claims. 
"Regarding the arrest of Thomas Ravenel I want to state that the alleged victim contacted me before she went to PD." Perkins wrote.
"We talked around 20 hrs. Her story to me regarding Thomas has no resemblance to the police report & her interviews w/media."
Perkins continues, "I have informed the police & his attys."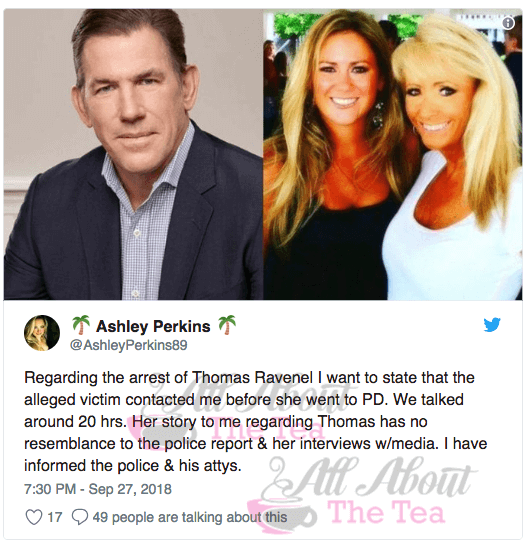 Back in May, Perkins claimed Ravenel assaulted her mother, Debbie Holloway Perkins, during a date on December 25, 2015.
A ROCK solid source has come forward to shed more light on Ashley Perkins' latest revelation about Ravenel's accuser, Dawn Ledwell.
"Ashley and Dawn spoke in May before Dawn went to the police. Ashley says Dawn told her nothing sexual happened between her and Thomas. Dawn routinely made sex jokes around Thomas and even offered to give him massages on more than one occasion. Dawn and Thomas had no problems until Thomas accidentally butt dialed Dawn and she overheard him insulting her looks, especially her weight." A source tells AllAboutTheTea.com.
The source continues: "Ashley and Dawn spoke for hours and after their call, Ashley was contacted by the Charleston police as part of their investigation into Dawn's claims. Ashley told the police details of her phone call with Dawn, and also told Thomas' attorney the same."
"It's my understanding that Ashley may have recorded her conversation with Dawn." The source revealed to AllAboutTheTea.com.
Additionally, a private message between Perkins and an unknown individual gives clear perspective on her doubts about Ledwell's story.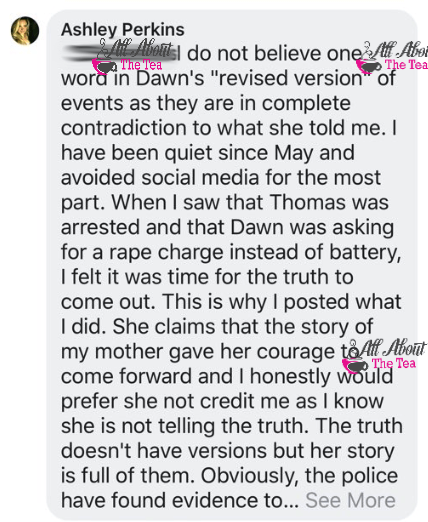 Ravenel, 56, was charged with misdemeanor second-degree assault and battery, according to a sworn statement from Dawn Ledwell.
According to Ledwell, her underwire bra cut into her chest and her shirt got caught around her neck, as Ravenel tried to forcibly take off her clothes.
Bravo released a statement shortly after saying Ravenel would no longer appear on the network's "Southern Charm" show.
Share your thoughts on Ashley Perkins' explosive reveal on the nanny's accusations about Thomas Ravenel. Sound off in the comments below!
"Like" us on Facebook  "Follow" us on Twitter and on Instagram 
Nancy Zhāng is an Entertainment Blogger for All About The Tea. Nancy covers hot topics, recaps and celeb news. She loves to multi-task as a writer and a private chef. She received a B.S. in Mass Communications from LSU. Nancy's married and the proud mom of 2 German Shepherds.