Hottest
NeNe Leakes' Dragged By Bryson's Baby Mama For Buying Him A House When 'He Can't Take Care of Himself!'
NeNe Leakes' Dragged By Bryson's Baby Mama!
Bryson Bryant's alleged baby mama, Symone Davis, is dragging NeNe Leakes for buying her son a house.
As reported, NeNe Leakes purchased a 4-bedroom, 3-bathroom house for her eldest son Bryson Bryant for his 30th birthday.
READ ALSO: NeNe Leakes Buys Son Bryson Bryant A House For His Birthday!
In 2017, Symone Davis, 28, had a fling with Bryson that produced their son, Blaze Kai Davis, and according to Symone, the Real Housewives of Atlanta grandmother won't acknowledge her alleged grandson.
On Friday, Symone Davis hopped on Instagram Story to blast NeNe Leakes for her generous gift to Bryson Bryant and claims Bryson is a deadbeat dad, who does not support their son, Blaze Kai Davis, 2, and his four other kids.
READ ALSO: NeNe Leakes Being Shakedown For Money By Bryson Bryant's Baby Mama Over Secret Grandson!
In the video below, Symone Davis, blasts the Real Housewives of Atlanta star — she claims NeNe, "Don't give a f*ck about her son."
Symone Davis also reveals that Bryson "can't take care of himself," and "still doing drugs."
She also claims that NeNe Leakes purchased the home for "her image." Press play below to watch.
Back in October, Symone Davis blasted Bryson in a lengthy Instagram rant — exposing his drug use and neglect of the couple's two-year-old, Blaze.
"Then I get messages from all type of bitches saying they seen him doing cocaine & in motels. So I say nvm to doing anything with him. Now here we are another year & Blaze bday comes. He told everyone he was coming to Blaze party…did he show, NOPE! Did he call to tell Bk Happy Birthday, NOPE! But days later calls me asking when am I ovulating so we have another child. The mf ain't bought a sock, diaper, pull up, bottle, happy meal, nothing for Blaze. Yet is always asking me for money or to order him a pizza bc he's hungry." She wrote.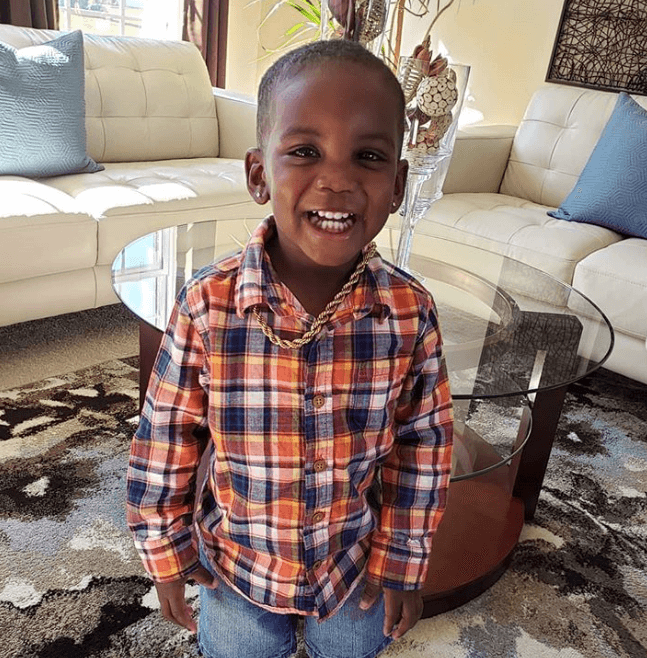 Blaze Kai Davis
The Real Housewives of Atlanta airs Sunday nights, at 8:00 p.m. ET, on Bravo.
Stay Connected With All About The Tea: Twitter Ι Instagram Ι YouTube