Exclusive
EXCLUSIVE: Dr. Deb's Shoplifting Victim Hires Lawyer After 'RHOC' Star Accused Merchant of Mexican Cartel Scam!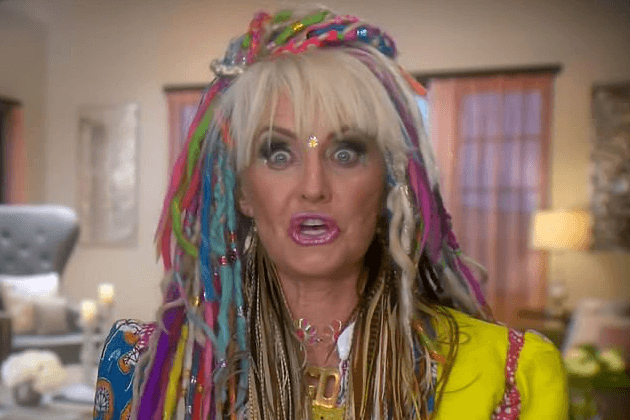 The shoplifting scandal involving Braunwyn Windham-Burke's mother, Dr. Deborah Windham, stealing from a Mexican merchant has taken a bizarre turn.
As reported, the shoplifting occurred on December 8 in a gift shop named Chaskis, located in San Miguel de Allende, Guanajuato (Mexico).
The store owner's daughter, Angie Ruiz, spoke exclusively to AllAboutTheTEA.com and claims the doctor and her husband stole clothing, jewelry and hats from her mother's gift shop.
"Dr. Deb and her husband came into my mother's store around 6pm on December 8. They looked around for a long time then left without paying 5,000 pesos ($264.00) worth of stuff." Angie Ruiz tells AllAboutTheTEA.com.
EXCLUSIVE: Braunwyn Windham-Burke's Mother, Dr. Deb Caught Stealing In Mexico!
After AllAboutTheTEA.com broke Dr. Deb's shoplifting scandal — the Real Housewives of Orange County star responded days later with claims that she was the victim of a scam tied to the Mexican cartel.
On December 17, Dr. Deb mocked the scandal on Instagram and posted an article from the Washington Post about Mexican cartels targeting US tourists and merchants in San Miguel de Allende in extortion plots.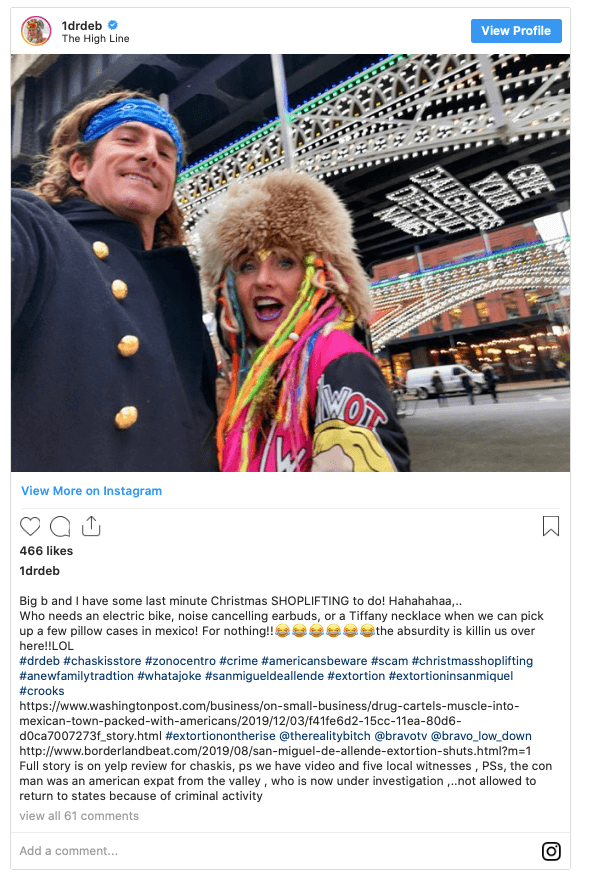 "Big b and I have some last minute Christmas SHOPLIFTING to do! Hahahahaa,..Who needs an electric bike, noise cancelling earbuds, or a Tiffany necklace when we can pick up a few pillow cases in mexico! For nothing!!??????the absurdity is killin us over here!!LOL." Dr. Deb starts her caption.
Dr. Deb continued her caption with numerous hashtags like "scam" and "extortion" — along with links to articles from Washington Post and Borderland Beat about Mexican cartel scams.
"#drdeb #chaskisstore #zonocentro#crime #americansbeware #scam #christmasshoplifting  #anewfamilytradtion #whatajoke #sanmigueldeallende  #extortion #extortioninsanmiquel  #crooks
https://www.washingtonpost. com/business/on-small-business/drug-cartels-muscle-into-mexican-town-packed-with-americans/2019/12/03/f41fe6d2-15cc-11ea-80d6-d0ca7007273f_story.html #extortionontherise @therealitybitch@bravotv @bravo_low_down http://www.borderlandbeat. com/2019/08/san-miguel-de-allende-extortion-shuts.html?m=1
Full story is on yelp review for chaskis, ps we have video and five local witnesses , PSs, the con man was an american expat from the valley , who is now under investigation ,..not allowed to return to states because of criminal activity"
The doc was not done there, she took her victimhood over to Yelp where she posted a lengthy rant on the shop's Yelp page — accusing the Mexican merchant of scamming and extorting her. 
"Dear San Miquel de Allende residents, BEWARE of SCAM ARTISTS! We are demanding the ENTIRE VIDEO which shows the transaction! Make absolutely sure to have them HAND YOU THE RECEIPT! DON'T TRUST THEM TO PUT IT IN THE BAG!" She wrote on Yelp.
Braunwyn Windham-Burke's mother goes on by providing an "update" which claims that she's alerted the SMA city council and an investigation (by whom is unknown) has been launched into her claims.
"UPDATE: there is an investigation of these crooks and they may have been arrested. Also, The city council of SMA has been alerted to their criminal activity." Dr. Deb wrote.
"We fell in love with your beautiful city. My husband and I are both doctors, business owners, professionals, and artists, and have just completed our new home, so we went to fill it with beautiful artisans work, furniture, and art. What you are about to read is horrifying."
EXCLUSIVE: Braunwyn Windham-Burke's Mother Called Black The N-Word During OC Fashion Show Fight!
"We were extorted by these 'seemingly "nice people"(the best cons are always personable! Remember, a nice dog doesn't mean a nice person). These people took our credit card as payment for a few pillow cases, returned my card to me after "payment", and proceeded to fold each pillow case, asked me which bag I wanted( distracting me from the counter)and placed them in the bag, handed it to me, and we left the store. The next morning I step out of my hotel and there's the  man that sold us the goods, a former american from California(so he says) accompanied by his "sister", and FOUR ARMED FEDERALES with MACHINE GUNS! Claiming we had stolen the pillow cases! He spoke perfect english, having told us he was from California and went to high school at Sherman Oaks High. His"sister" claims she spoke no english.With a sly, confident smile on his face, he claimed we had stolen the goods. He then told us he had followed us out the door and stayed outside our hotel all night, which is pretty creepy. Here's the CON scam, as I have now learned from the police. You give them your credit card to pay, he gives the card to the accomplice behind the counter, who doesn't run the card, so there's no record of the sale. I had to ask for my card back and saw her take it out of the credit card machine.
I assumed they would put the receipt in the bag."
"This is an extortion scam perpetrated on American tourists. They don't charge you, so there's no receipt, then, they follow you to know where you're staying, next in the scam, is to recruit local police, who will also get paid off. They proceeded to demand more money for the pillow cases than previously quoted plus he wanted a a "mill"pesos for his time(50$ became 500$) We had the hotel attorney and the manager of the guest house speak to the police and they caught the "sister" and him in multiple lies,she claims I was going to pay cash( I couldn't because I didn't have that much cash), and then after saying she didn't get my credit card, moments later,she told the manager and hotel lawyer that she "returned"my credit card to me.. meanwhile, the cons put out a security photo of the unsuspecting customer on a private FB page/social media. Beseeching 'anyone who has seen her or him' for info, this woman is also part of the scam."
"He threatens you with "social media" exposure if u don't come back to the shop immediately and give him the money. There are many people who know of this scam, but i did not know. Remember the best cons are the nice ones! Because of the incredible insult we incurred on social media, the hotels embarrassment, and the great offense of being called thieves, having armed police arrive, lying about us, getting caught in their lies by reputable business owners, we decided that instead of paying for the pillow cases, we would return them, how could we possibly keep something from extortionists with heavy handed tactics! All this over a few pillow cases! The con man and woman wanted more money, in the end, the police left, probably knowing they were not going to get any money…and we paid the extortionists 40$ to leave the street and go away."
"Yes, we loved the stores and galleries and spent thousands of dollars on home goods, art, hotels, food, fashion, we were already planning our next trip with the whole family. only to have these horrible criminals destroy the image of sma. We called our travel agent to get out of sma earlier than we had wanted, incurring great expense, there were so many places we wanted to explore, more shops, instead, we got out of town, it could have been scary,but we had many local reputable friends supporting us. This was something no one should have to encounter, and i feel for people who don't have the same local support, protection and friends in SMA that we have."
"DO NOT DEAL with these petty crooks, I'm glad one of my friends in sma saw the security camera photo in FB and alerted me, thats how i learned the name of this store,if this HAD BEEN the truth(it was lies), all they had to do was stop someone leaving the store,and they would have paid, they could have called the hotel to tell the customer about their error (remember,he admitted he followed us), but instead, they played a horrible scam to extract more money,it was awful ,.they may be nice, but there was nothing good about them."
The shop owner's daughter spoke to AllAboutTheTEA.com regarding Dr. Deb's response to their shoplifting claims and allegations that her gift shop scammed and extorted the RHOC star. 
"It's all nonsense!" Angie Ruiz tells AllAboutTheTEA.com about Dr. Deb's Yelp review. "These people have been saying lies around town about our business and I am taking a stand against that."
According to the shop owner's daughter — her mother is seeking legal action.
"We are speaking to an attorney about her lies. It's unfair for my mother. And I won't allow that woman to get away with slandering our business."
Mrs. Ruiz previously told AllAboutTheTEA.com, "My mother is a hard working woman. She works everyday and has struggled growing up. She's earned everything she owns and theft hurts her business." 
Share your thoughts on Dr. Deb's claims of extortion and the Mexican shop owner hiring an attorney to go after the doctor. Sound off below!
Stay Connected With All About The Tea: Twitter Ι Instagram Ι YouTube