Exclusive
EXCLUSIVE: Candiace Dillard Bombed While Performing Her New Single & Bravo Pulled Their Support!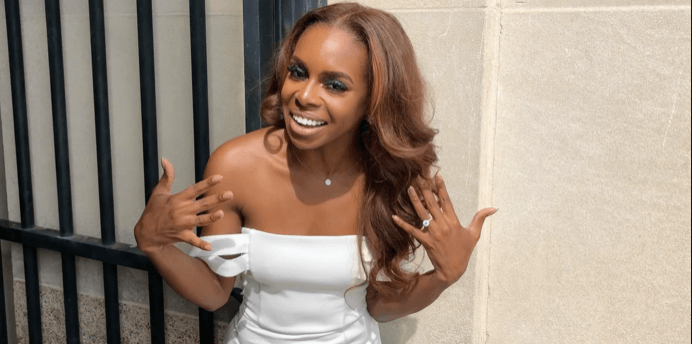 The Real Housewives of Potomac is currently filming season 5 and Candiace Dillard debuted her new song during a segment on DC Cable Thursday.
According to The Black Socialites on Instagram, Candiace Dillard reached out to several top DMV (DC, Maryland & Virginia) area GoGo bands to perform with her but they all declined, "due to her negative tweets about felons."
"She [Candiace] told Bravo that she was going to have a major DMV GoGo band perform with her." The Black Socialites tell AllAboutTheTEA.com, "But the band pulled out, and Bravo started calling them and they still declined on principle." They added, "No one in the DMV wants to be attached to her."
As a result, Bravo pulled considerable support from covering the event and only sent, "one producer to Candiace's performance with a handheld camera." The Black Socialites shared with AllAboutTheTEA.com. 
Read Also: Candiace Dillard Refused Mediation To Resolve Assault Case With Monique Samuels & Now She's Facing Jail Time!
As seen in the video below, Candiace Dillard's performance was mortifying to watch — she failed to stay on key and Bravo's shady camera guy captured it all for your viewing pleasure. 
Press play below to watch.
In mid November, Candiace Dillard accused Monique of preventing her from performing the national anthem at the Washington Fusion basketball game.
According to Candiace, she was "removed from the program," because a woman she tagged in the post, who works for the Entertainment and Sports Arena, fulfilled "a personal vendetta over one's own indiscretions" by listening to Monique and canceling Candiace's performance.
However based on Candiace's poor singing skills (seen in the video above) and alleged bad reputation in the DMV area — it's understandable why she was fired from the national anthem gig.
EXCLUSIVE: Candiace Dillard Cried After Bravo Refused to Ban Monique Samuels From Cast Events!
On December 9, Candiace Dillard promoted her new single on Atlanta's V-103's Morning Show.
During her appearance on the Atlanta radio show, Candiace Dillard also addressed the physical altercation with fellow Real Housewives of Potomac costar, Monique Samuels.
Host Frank Ski called out Candiace for initiating the fight by throwing a drink and glass in Monique Samuels' face during the heated fight — which Monique responded by grabbing Candiace by the hair and slamming her face on a table. 
When questioned who is the one that allegedly pulled hair, Candiace Dillard responded that her "mother taught her home training." She also claimed that she "did not attack" Monique Samuels.
Read Also: Candiace Dillard's Husband Facing Domestic Violence Charges & Candiace's Lawyer Issue A FAKE Threat!
In addition, host Frank Ski dropped a bombshell about domestic violence charges Candiace's husband, Chris Bassett, is dealing with.
Press play below to watch the full interview.
The Real Housewives of Potomac Season 5 premieres in Spring 2020.
Stay Connected With All About The Tea: Twitter Ι Instagram Ι YouTube