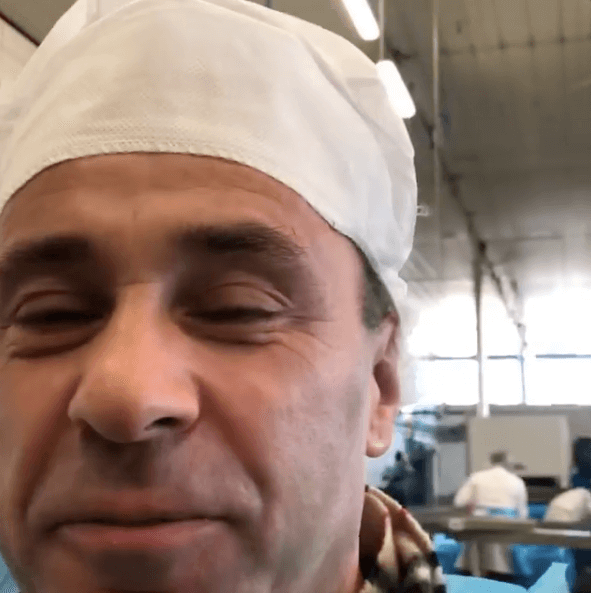 Joe Giudice has found a new career in Italy following his release from ICE custody in October. Now The Real Housewives of New Jersey husband has started a new job in a fish factory.
Read Also: Caroline Manzo Speaks Out After Teresa Giudice Calls 'RHONJ' Alum A 'Rat' Who Sent Her To Prison!
Joe Giudice, 48, gave fans a glimpse of his new fishy career via Instagram. Press play below to watch.
The proud working man is rebuilding his life in Italy amid a crumbling marriage and while fighting the US government in ab ongoing deportation case. Press play to watch another video.
Joe Giudice, who previously worked in construction, requested to be released from ICE custody and await a final decision on his deportation case from his native Italy so that he could "begin working and contributing financially to his wife and four young children, something that he has repeatedly stated he intends to do upon his release from custody," Giudice family attorney James J. Leonard Jr. certified in a court documents. 
In the video below from the fish factory, Joe is seen smiling, wearing his uniform and he describes the job as, "pretty cool."
In November, Joe Giudice shared a tour of his new Italian apartment. He stated that he "Goes to the gym, go eat, and that's my Saturday afternoon. I start work next week. I'm very excited. Life is good," he said. "I wish I was home, but this is better than where I was."
Since his release from ICE custody on October 11, Joe Giudice has remained positive amid his divorce and deportation woes. He released a statement from Italy following his release from ICE custody. In the statement below, Joe reflects on his journey as he looks forward to what the future holds.
"Life, it's always better to look through the windshield and not through the rearview mirror, you know. It's a much bigger picture when you're looking through the windshield. But at the end of the day, people make mistakes. Nobody's perfect," he said. "But I've learned a valuable lesson from all this and I know my family is the most important thing to me. But it's better that I'm out here than in there. I just want to let you know that I love you and I'm always here for you. You know that."
VIDEO: Joe Giudice Keeping His Hopes Up After Release From ICE Custody Despite Divorce Drama!
Joe Giudice spent 3.5 years in federal prison on multiple fraud charges and during his time away, he received his high school diploma, in addition to taking computer courses and doing programming, he shared during his and wife Teresa Giudice's interview with Andy Cohen in October. He also said that he was in talks with a fellow inmate to launch a sports picking business after their release. "We pick the teams. We don't take the bets. You do your own betting," he explained the business to Andy. "There's a lot of guys out there that do that."
The Real Housewives of New Jersey returns on November 6, on Bravo, at 8:00 p.m. ET!
Stay Connected With All About The Tea: Twitter Ι Instagram Ι YouTube