Exclusive
EXCLUSIVE: 'Love After Lockup' Star Glorietta Reveals Alexander Is Bipolar & Drags Julianna For Flirting With Her Man!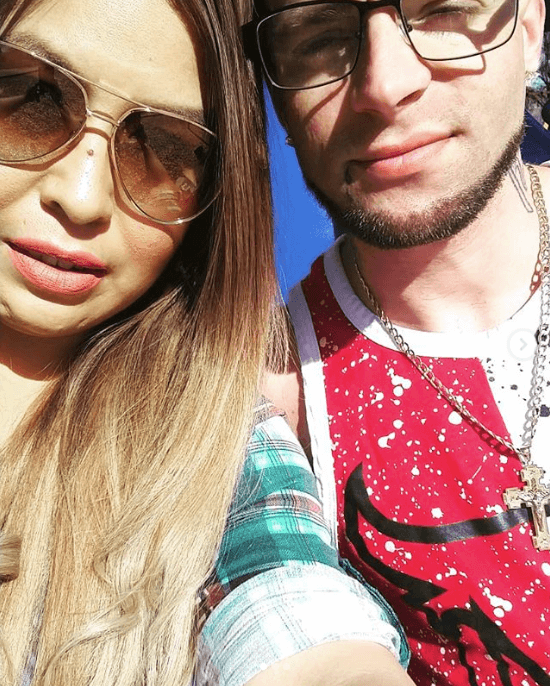 Even though the most recent season of Love After Lockup has finished airing, the drama in Glorietta, 33, and her boyfriend Alexander Bentley's lives never seems to end.
After Alexander Bentley was release from prison, her secretly reunited with his ex-girlfriend, Julianna, behind Glorietta's back, which led to a blowout fight with Glorietta's mother.
We caught up with Glorietta to get her take on the show and the scoop on her relationship. Check out AllAboutTheTEA.com's exclusive interview below.
Q: How did you & Alex initially meet?
"I met Alexander while he was incarcerated. He was in the clink with a family member of mine. Alexander would wait by the phone when my family member was calling me (I'd like to call it eavesdropping) and it really just escalated from there. He obtained my cell phone number from my cousin and the conversations I had with him were great! I thought he had a wonderful voice and an amazing talent with singing and writing songs for me. I was attracted to the ambition he possessed and that I recognized in him. That characteristic is something that I really like and enjoy. That was an incentive to continue talking to him because I liked that positive energy that I saw in the beginning. After several conversations I gave him my house number, he started writing letters, I started to go visit him, and it really escalated from there!" 
Q: What was your reaction to seeing Alex call his ex when you guys were staying in the hotel together? 
"I was quite surprised… I NEVER knew he called his ex until I watched that episode like everyone else. It was quite shocking and unexpected! I wasn't really sure how to take it because time had gone by since that particular day occurred. I like to move forward and I don't like to hold grudges… I don't think it's healthy. I still processed it for many days going back and forth on my feelings, and I just decided that I'm not going to be mad at all anymore. I'm not going to cry over spilled milk and I just kind of forgot about it. I do think however that it was quite sneaky of him and I never saw something like that coming so early on in the relationship. To make such a bold move like he did after I went out of my way to get all these balloons as this grand gesture… I felt he was a little ungrateful. But I also get that when you're released from prison after so long, you just wanna be a wild child." 
Q: I know you have a son, why did you decide for him to not be on the show & what does he think of you being on TV? 
"I believe that my son is proud of me and he's very happy for me to be on television. However, this is not his first time around the merry-go-round. He's accustomed to a similar industry. In the past (in my 20's) I was a car show model for ten years. I would do music videos and I started my own clothing line with my own models and photographers. He is not surprised or shocked in a bad way, he's very happy about the situation. I choose not to have my son on television because I know when you're in the public eye there may not be much privacy. It's very personal with what I've shared with the world and I don't want him to have to worry about being recognized. My son is very conservative and he really enjoys his down time. He's working very hard to graduate and he's a third year ROTC cadet. I wouldn't want my shenanigans to interrupt his peaceful and therapeutic vibes. I wouldn't be opposed to him being on the show, but it was just a decision I had to make quickly and that was my decision at the time."
'Love After Lockup': Lacey's Ex-Con Lover John Slater Arrested For DWI After Exposing Lacey Has Herpes!
Q: What was your reaction to seeing Alex going on a date with his ex while you were wedding dress shopping? Also he seemed very affectionate with her. Have you addressed that with him? 
"To be completely honest, I like to think of myself as a resilient woman. With that being said, not knowing that meet-up took place between Julianna and Alexander… I was surprised, I was shocked, and I was really mad. I don't think I was hurt as much as you may think, but I would use the word mad. I was also pleasantly surprised by the things Julianna had said regarding the situation. I think that was a stand up thing to say as a woman. But, you cannot fool these eyes! I saw right through her and she had a lot of body language that was flirty. I think Julianna's intentions were to show up there and show Alexander that she's clean, she's out of rehab, and this is what I look like. Alex even said that he's never seen her smile before and he's never seen this body, so how well can she really know Alexander when he didn't even know she looked the way she did. He must have hurt her in the past because he's a big flirt… I mean look what he did to ME!" 
'Love After Lockup' Star Brittany Santiago Awarded Full Custody Of Son – Tito's On METH!
Q: Does your Mom feel bad for the way she acted at your engagement party? 
"My mom wants only the best for me. My mother is skeptical due to a few past relationships that were really bad. I probably stressed her out and really scared her when I informed her of the engagement and that may be why she behaved the way she conducted herself. She feels that she could have handled the situation differently." 
Q: Why did you ultimately agree with Alexander regarding letting your possible future children to practice the Islamic faith? 
"When you truly love a person it requires compromising and sacrifices and sometimes you have to be the bigger person. Alex proved his love when he proposed and I wanted to return the love. So, in favor I offered to let my guard down and trust him and I agreed for our future children to practice the Islamic faith." 
'Love After Lockup' Star Tracie Wagaman Arrested For Felony Drug Possession After Admitting To Smoking Crack! (Mugshot Photo)
Q: Where are you and Alexander at today? 
"I would like to say the situations I had endured involving Alex and myself are disappointing and complex. We also never stopped completely being in each other's lives since filming except when he would have a bipolar episode and at that point I would go MIA due to his behavior. We are not currently dating and he is incarcerated again. The future is unpredictable since we break up and make up, however I do not want him in my life as of today especially since he embarrassed me on national television…" 
As reported, Alexander Bentley, 28, was arrested November 4 for possession of a gun and illegal drugs.
According to the police report, an officer pulled over Alexander Bentley with expired tags in Elk Grove, California, around 9:30 p.m. Alexander was on probation at the time, so he was not allowed to be carrying guns or ammunition. When officers searched his car, officials said he was found with a gun, ammunition, methamphetamine and heroin.
Read Also: 'Love After Lockup' Alexander Bentley Arrested For 9 Felonies — Gun Possession, Meth & Heroin!
Alexander Bentley was arrested for felon in possession of a firearm and ammunition, concealed firearm in a vehicle and numerous drug-related charges and taken to the main jail, according to officials. In total, he was charged with 9 felonies.
Stay Connected With All About The Tea: Twitter Ι Instagram Ι YouTube