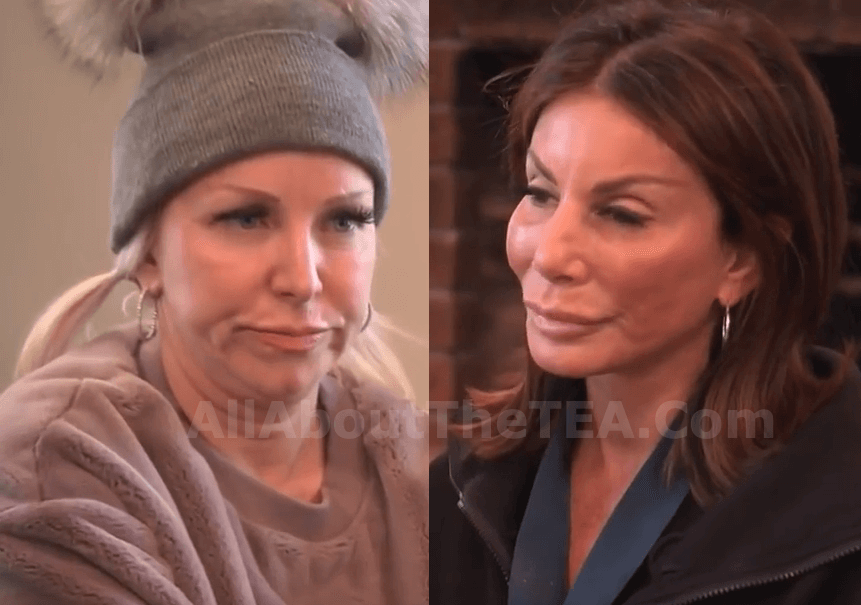 Wednesday nights episode of The Real Housewives of New Jersey was explosive to say the least!
Dolores Catania organized an obstacle course adventure to cheer up Teresa Giudice amid her husband's deportation crisis. She invites all the girls including Danielle Staub (with the exception of Jackie Goldschneider, who Teresa did not want invited). Afterwards the gang retreats at Dolores' house for refreshments with a side of drama!
Jennifer Ayden mentions her daughter is being bullied at school and this prompts Margaret Josephs to compare it to Jackie being bullied by Jen mocking her on social media. Teresa Giudice jumped into the mix to blast Jackie for spreading rumors about her cheating on Joe — Teresa thinks that's bullying, "I don't even think that's bullying!" she interrupted herself. "I think that's assassination of character! That's f–ked up! No, that's f–ked up! That's f–ked up!"
EXCLUSIVE: Danielle Staub's Violent Outbursts Fueled By Oxycontin, Cocaine and Weed In 2015 EXPOSED! 
Melissa Gorga is afraid that Teresa Giudice won't be able to keep her cool with Jackie at her 40th birthday, and Teresa agrees. "She's said a lot of f–ked up shit to me," she said, as Danielle laughed and noted that this was "another party I'm not invited to." She was referring to Jennifer's husband's work party.
Jennifer begins to explain why she didn't invite unstable Danielle when Margaret Josephs interrupts and unloads on Danielle over a scandal involving Marge's friend, Gina (Danielle use to be friends with Gina then stole her man). 
"By the way, you rewrite history." Margaret interjects. "You can't hurt people and damage other peoples lives. Look what you did to Gina. You put a knife in her heart." 
"You're the one that after four years of having an affair with Joe, you decide to dignify Jan with a divorce!" Danielle screamed at Margaret, who barked back, "It wasn't four years. By the way, I have an ex-husband that adores me, my current husband adores me. That's a lot more than you could say for yourself."
"It was still cheating!" Danielle said. Margaret replied by calling Danielle a "prostitute."
"You f–ked a lot more married men than I have," she added, prompting Danielle to stand up and announce she was "leaving because I'm not gonna sit here with trash." She called Margaret a "homewrecker, f–king piece of shit. You talk about me like that? You're a sick f–king human being! F–king whore!"
The "Gina" Margaret Josephs' referenced in the episode is Gina Curko, a former close friend of Danielle Staub, who once talked Danielle out of committing suicide. 
As AllAboutTheTEA.com exclusively reported back in February, Gina Curko, was blindsided with the double betrayal by her boyfriend and her close friend, Danielle Staub. Oliver Maier initially denied the relationship with Danielle — claiming he was 'Photoshopped,' and tried to reconcile with his heartbroken ex.
"Gina found out after reading an article and immediately called Oliver in St. Barts — hysterically crying. She asked him why is he kissing Danielle and why is he in St. Barts with her when he's supposed to be on a business trip. Oliver denied everything and claimed Danielle Photoshopped him in the photo of the two kissing." A source confirms to AllAboutTheTEA.com.
Oliver Maier admitted to the infidelity behind Gina Curko's back in an interview with PEOPLE.
"I didn't intend for it to happen that way, it's my mistake. If you have to blame it on someone, blame it on me, not Danielle," Maier said about the crashed relationship with his ex. "I care about Danielle. She's phenomenal, comes from a good family and is beautiful beyond belief. I'm happy we're together."
Gina Curko believes that Danielle's motives for seducing her wealthy investment banker boyfriend were driven by money.
"I have known her [Danielle Staub] for 7 years. All she cares about is money. She needs money to buy Marty's house!" Gina shared with AllAboutTheTEA.com.
During a talking head confessional, Margaret Josephs referred to Danielle Staub as "the Duchess of Dicks" and told the camera, "Olivier is a very rich guy, and when Danielle smells money, she doesn't care whose d*ck she has to suck to get to it."
In another scene from the episode, Margaret visits Gina at her New Jersey boutique. Gina is in shock over Danielle and Oliver's betrayal. The ladies agree that Danielle is "pure evil," with Margaret saying that "everybody's onto her except Teresa."
Press play below to watch the drama unfold.
The Real Housewives of New Jersey airs Wednesdays at 8 p.m. on Bravo.
Stay Connected With All About The Tea: Twitter Ι Instagram Ι YouTube