Real Housewives of Potomac
Monique Samuels Charged with Second-Degree Assault For Slamming Candiace Dillard's Face On A Table In Explosive Fight!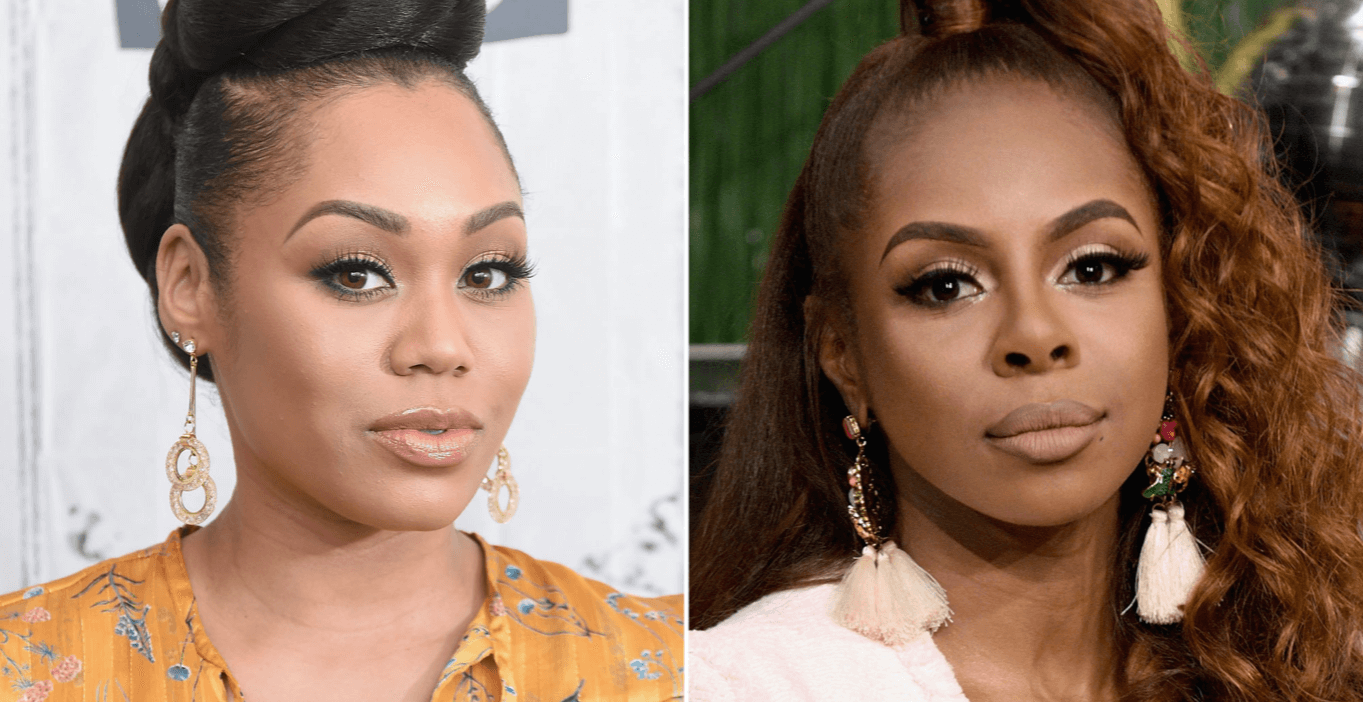 Candiace Dillard is pressing charges on Monique Samuels after her Real Housewives of Potomac co-star literally dragged her during an explosive fight.
The ass whooping must have been brutal because the District Court of Montgomery County in Maryland has charged Monique Samuels, 36, with second-degree assault, according PEOPLE.
On November 7, Candiace Dillard, 32, filed a complaint directly with the court's commissioner and the commissioner found probable cause to issue a summons for Monique Samuels to appear in court on Dec. 23.
Read Also: 'RHOP' Fans Drag Candiace Dillard For Calling Ashley Darby A Roach That 'Laid On Her Back' For Money & A Racial Slur On the Same Day She Gave Birth!
The altercation took place on October 16. Monique Samuels and Candiace Dillard filmed scenes with the rest of the Real Housewives of Potomac cast at a vineyard for the upcoming fifth season, when they got into a heated argument. Candiace got physical first by throwing a drink in Monique's face. Monique defended herself by grabbing Candiace by the hair and slamming her face on the table. Of course, Bravo cameras captured the action for the upcoming season.
A second-degree assault conviction would come with potential jail time. 
Candiace Dillard's attorney, James L. Walker, Jr. provided the statement below to the outlet. 
"At this time, we do not want to say too much and just allow the criminal process to play out. We only ask everyone to pray for our client Candiace and her family," Walker said. "The physical assault, humiliation and emotional distress have all been very painful and difficult for Candiace, as it would be for anyone attacked so viciously," he continued. "We also pray that Monique will get some help," said Walker. "The summons to court charge of Second Degree Assault is just one step below first-degree assault and must be taken very seriously. This behavior has no place in our society." He concluded with, "Everyone respect the privacy of the parties and allow the Montgomery County District Court to exercise its duty here to protect victims like Candiace."
Ironically, fans witnessed Candiace lash out on-screen at her RHOP co-stars (and her husband) during multiple unhinged fits of rage.
Back in July, Monique Samuels spoke exclusively to AllAboutTheTEA.com, and she explained that she's no longer on speaking terms with Candiace and was forced to "block her on IG," amid their falling out.
"I blocked her on IG because I don't want her stalking my page. She wants attention and I refuse to give it to her." Monique shared with AllAboutTheTEA.com. "I don't give in to temper tantrums… I laugh at them! Ask my kids."
The former friends started feuding after Monique voiced concerns over Candiace's violent outburst where she wielded a knife at RHOP costar, Ashley Darby — Candiace misconstrued Monique's advice and lashed out at her former friend.
"I tried to warn her during filming not to become Ashley, Jr. Now she's projecting who she is on to me so that she doesn't have to be accountable for HER actions." Monique tells AllAboutTheTEA.com.
Monique feels Candiace's violent temper may stem from her toxic relationship with her mother, Dorothy Dillard. "She can take this battle to the appropriate source- her mommy." Monique told AllAboutTheTEA.com.
As reported, Dorothy Dillard and Candiace's relationship turned physical during an argument that led to her mother slapping her daughter upside the head.
Stay Connected With All About The Tea: Twitter Ι Instagram Ι YouTube