EXCLUSIVE: The Shocking Reason Candiace Dillard's Mother Slapped Her Upside Her Head EXPOSED!
Candiace Dillard's toxic relationship with her mother, Dorothy Dillard, turned physical during an argument that led to her mother slapping Candiace upside her head.
The Real Housewives of Potomac star made the shocking revelation during a therapy session with her mother, — and AllAboutTheTEA.com has exclusive details behind the pocketbook whooping. 
"They [Candiace and Dorothy] had a nasty argument at a friend's party that escalated…like it usually does," a ROCK solid source explained to AllAboutTheTEA.com. "Her mom was pissed at her for attacking a baby's looks on Twitter. She felt that behavior was classless and beneath Candiace."
"Dorothy tried to get Candiace to see the error of her ways but there was no reasoning with her. They argued back and forth until Dorothy got so frustrated that she popped Candiace really hard in her forehead with her purse."
MUST READ: 'RHOP' Fans Drag Candiace Dillard For Calling Ashley Darby A Roach That 'Laid On Her Back' For Money & A Racial Slur On the Same Day She Gave Birth!
During Candiace's rookie season the pageant princess' social media attacks raised eyebrows of Real Housewives of Potomac producers. The blushing bride routinely spews venom at fans on social media — often hitting way below the belt. But she crossed the line with one particular fan exchange in August 2018 — when she called the person's infant Chucky — which is a demon doll that murders people.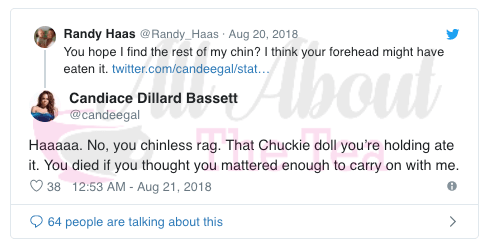 Real Housewives of Potomac producers were "pissed about that Twitter exchange and spoke to Candiace because it's not a good look for the brand," a source explains to AllAboutTheTEA.com.
"The guy on Twitter [Randy] that she attacked was trying to get Candiace fired and reached out to production. Production was pissed about the situation. This had Candiace shook." A source close to the RHOP star tells AllAboutTheTEA.com.
During a recent appearance on RHOP After Show, Candiace vaguely addressed the reason for her mom's assault. She did not go into great detail about what was said during their argument. Press play below to watch.
As fans know, Candiace Dillard's mom controls many aspects of her life — she pays a large chunk of her daughter's bills, financed her wedding, and even controlled the guest list. When Candiace told her mother she was inviting her half-brother, Michael to her wedding, Dorothy really let her daughter have it. Mom has very little respect for her married daughter and her husband freeloading off her dime.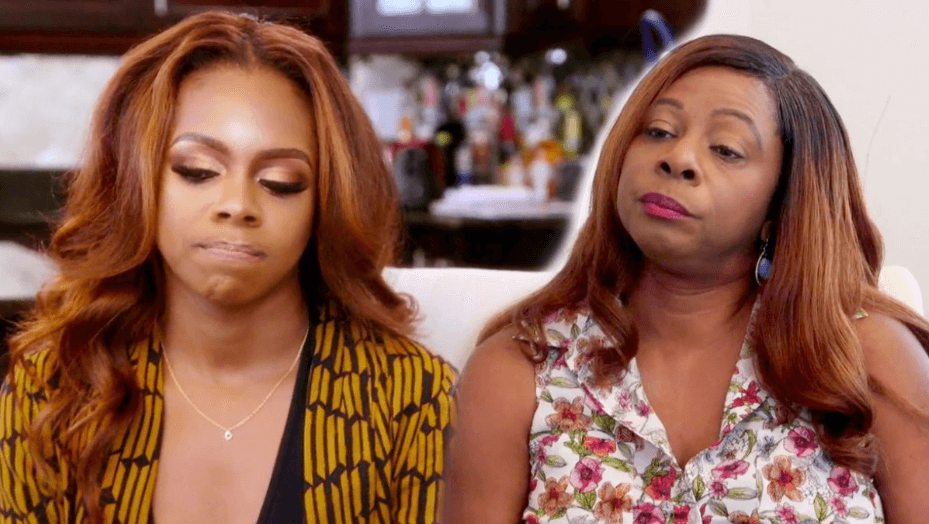 Fans have witnessed Candiace lash out on-screen at her co-stars and her husband during unhinged fits of rage. During a recent episode, Candiace accused her co-star, Ashley Darby, of disrespecting her mother, Dorothy. Their fight ended with Candiace waving a knife in Ashley's face and screaming for her to "get the f*ck out" of her house.
The Real Housewives of Potomac airs Sunday nights, on Bravo, at 8:00 p.m. ET.
"Like" us on Facebook "Follow" us on Twitter and on Instagram
Nancy Zhāng is an Entertainment Blogger for All About The Tea. Nancy covers hot topics, recaps and celeb news. She loves to multi-task as a writer and a private chef. She received a B.S. in Mass Communications from LSU. Nancy's married and the proud mom of 2 German Shepherds.