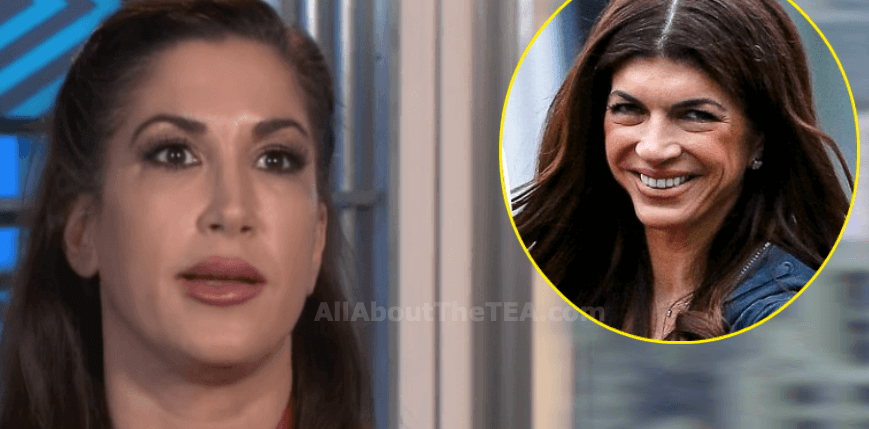 Jacqueline Laurita is responding to Real Housewives of New Jersey star, Teresa Giudice's recent comments accusing Caroline Manzo of ratting her out to the feds.
In 2014, Teresa and Joe Giudice were convicted of bank, mail, wire, and bankruptcy fraud, which netted the couple over $5 million during a 10-year period. Teresa spent 12 months in a federal prison and Joe Giudice served 3.5 years, followed by deportation to Italy.
"I don't know what Teresa's hatred towards Caroline is," Jacqueline told Champion Daily. "I think she doesn't like Caroline because Caroline is a lot smarter than her and she can use her words wisely… She was pissed that Caroline was right. Not that she's a psychic, but Caroline knows her character."
During Bravo's The Real Housewives of New Jersey Special Event: Joe and Teresa Unlocked, Andy Cohen, played an old video of Real Housewives of New Jersey alum, Caroline Manzo, predicting Joe Giudice would go to prison and Teresa would divorce him.
Exclusive: Margaret Josephs Throws Water In Danielle Staub's Face During Vicious Fight!
Teresa reacted to the video, asserting that Caroline may have called the feds because "How could she predict that? Could she have anything to do with what happened to Joe and I? Is she a rat?" Teresa blurted out.
Read Also: Joe Giudice Says He Never Wanted to Marry Teresa On the Explosive Season 10 'RHONJ' Trailer!
Jacqueline Laurita disagreed and explains the couple's legal troubles stemmed from them flaunting cash on TV, "[Teresa] was on national TV flashing cash like crazy. Everyone saw it," Jacqueline recalled.
According to Jacqueline Laurita, the person that snitched on the Teresa Giudice and Joe Giudice was a former business partner of Joe's that was defrauded.
"This was already an ongoing investigation from way back. So then what added to it was Joe's business partner who he screwed over went to a mutual friend of ours and said that he was gonna go to the feds if Joe didn't pay him the money," Jacqueline shared.
Joe Giudice reportedly said that his ex-partner "can go f**k himself" and refused to pay him back, so the business associate "went to the feds."
"Teresa never really takes accountability for things she does in her life. It's very hard for her to do that. It always has been. She's a narcissist, sociopath," Jacqueline explained. "To me, if she wouldn't have lied about her assets [and] if she would've given up her financial information, she wouldn't have gone to prison… [But] she has no accountability."
She also sounded off on Teresa and Joe's failing marriage — accusing both of cheating. Teresa's marriage has been strained ever since Joe started his 41-month prison sentence for fraud in 2016. Before Joe was sent away, Teresa served 11 months in federal prison.
"[Teresa] loves him as a person, as the father of her kids. But there's still resentment towards him. So she wants him to be happy and successful and whatever but at the same time she doesn't love him enough to be with him," she suspected.
"She's not in love with her husband. She's angry at him [and] she doesn't really want to be with him," Jacqueline added.
The Real Housewives of New Jersey season 10 premieres Nov. 6 at 9 p.m. ET on Bravo.
Follow AllAboutTheTEA.com
 Facebook Ι Twitter Ι Instagram