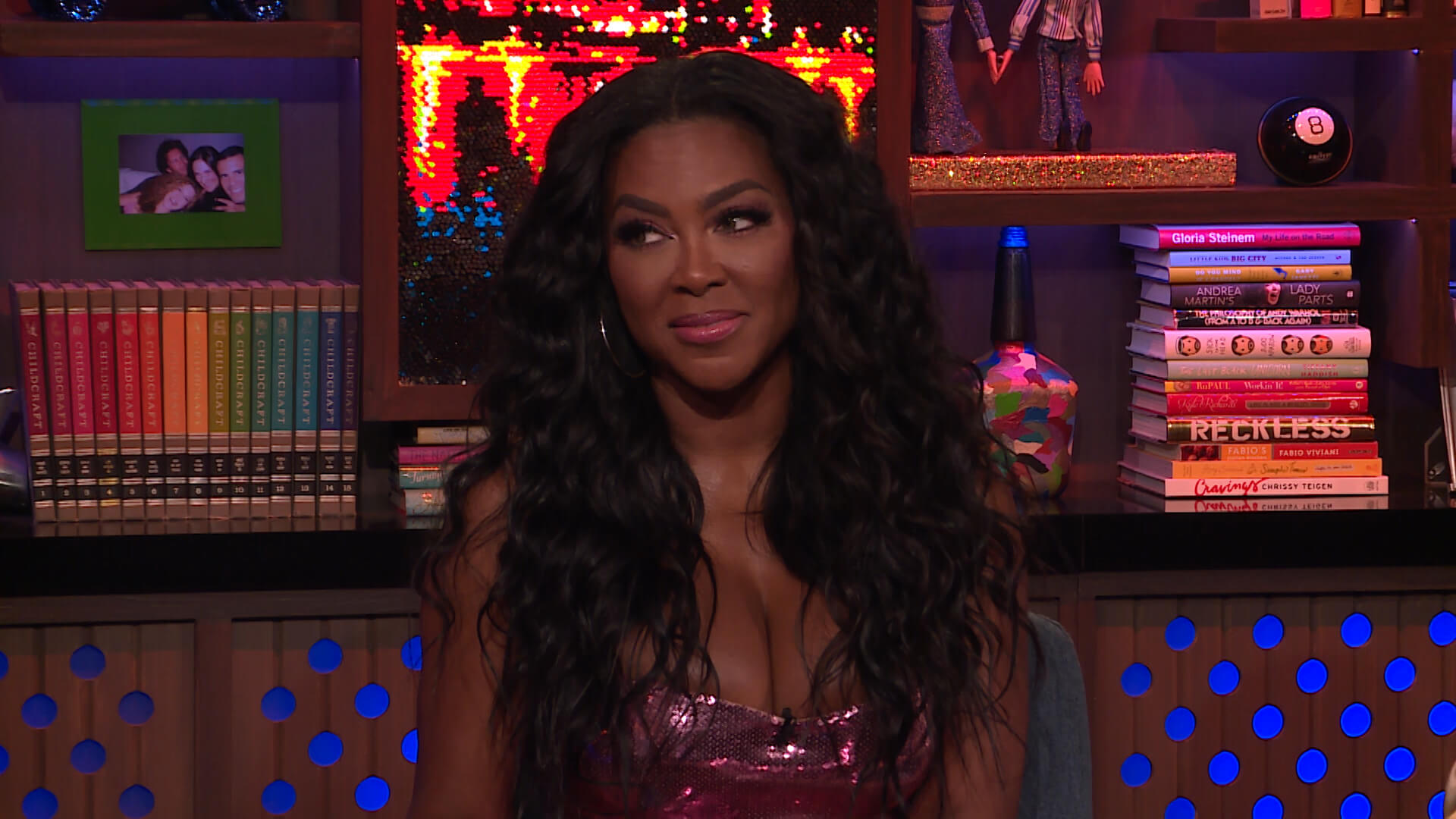 Kenya Moore appeared on Watch What Happens Live Sunday night after the season 12 premiere of The Real Housewives of Atlanta and announced it was her daughter, Brooklyn Doris Daly's birthday on that day (November 3). 
In the snippet below, Kenya Moore tells host Andy Cohen, "And today is her birthday," after a clip of Kenya Moore's baby is played from the premiere episode. Andy Cohen responds, "And today is her FIRST birthday." Then Kenya smiles in agreement and replies, "Yesss!" Press play to watch below.
But how could that be? The former Miss USA announced that she had given birth to her daughter, Brooklyn Doris Daly on November 4th — so that would make the child one years old on Monday, November 4th — not Sunday, November 3rd.
Speculation twirled after Brooklyn Doris Daly's birth date coincided with the Season 11 premiere of The Real Housewives of Atlanta. Many fans accused Kenya Moore of staging the birth date to spite the Bravo reality series for firing her at the conclusion of season 10. 
Kenya Moore Desperate To Reconcile With A Reluctant Marc Daly — He's Declined To See Her Since Breaking Up!
Kenya Moore announced her pregnancy during the season 10 reunion — which was filmed on March 15, 2018. Even if Kenya conceived on that exact date — her due date would land on December 6. Therefore, Kenya Moore was not pregnant in mid March when she announced it.
Additionally, according to Kenya Moore, her "miracle baby" was born "nearly six weeks premature" so her November 4th delivery date pointed to a mid December due date, not Thanksgiving as she originally announced before giving birth.
The 48-year-old Real Housewives of Atlanta star also revealed that she has yet to officially file for divorce from her estranged husband, Marc Daly. The pair, who tied the knot in 2017 and welcomed their daughter last year, announced their separation in September.
"I believe it was mutual," she said of her and Daly's decision to breakup. "And… there's always hope. We haven't filed yet. There's always hope."
"[Issues in the relationship] haven't been worked through and I think that's always what I was asking for and just never happened," she added. 
The Real Housewives of Atlanta star and Marc Daly announced their split on September 19. As AllAboutTheTEA.com has exposed for months prior to the breakup, the couple's relationship was in major crisis and their 'happy marriage' facade would soon crumble. AllAboutTheTEA.com was first to spill the tea about Marc Daly's secret life and cheating with another woman.
Did Kenya Moore forget her daughter's birth date or has she been caught in another lie? Sound off below!
"Follow" us on Twitter and on Instagram