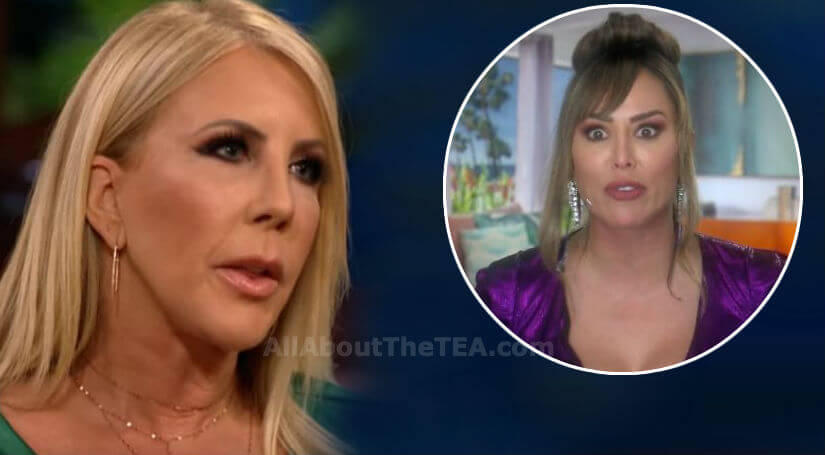 Vicki Gunvalson has had enough of Kelly Dodd spewing damaging lies about her real life career and she's taking legal action.
On Friday, a lawsuit was filed by a Jane Roe against Kelly Dodd and Real Housewives of Orange County producers at Bravo and NBCUniversal regarding the following defamatory statements made on air by Kelly Dodd about Vicki.
"You prey on older people."

"You are a con woman."

"You engaged in 'fraud.'"
The identity of "Jane Roe" is a no-brainer because the legal pseudonym describes oneself as a TV personality starring on Real Housewives of Orange County, who is also a retirement planning specialist and president of an insurance and financial services company. That clearly describes Vicki Gunvalson.
EXCLUSIVE: Bravo Orders Kelly Dodd Into Anger Management After 'Violent' & 'Unhinged' Spa Outburst!
Vicki Gunvalson was rightfully infuriated after viewing footage of Kelly Dodd making the libelous comments and reached out to producers to explain the claims were false and damaging to her livelihood, if aired.
In the suit, Vicki Gunvalson points out she's never been sued over the last 31 years of her profession and has an A-Plus rating with the Better Business Bureau.
EXCLUSIVE: The Real Reason Meghan Edmonds Fired Nanny Carly & The Hockey Game Photo Explained!
It's unclear from the docs if Kelly Dodd remarks are actually going to air on the current season of 'RHOC,' but Vicki's going on the offensive because she believes the producers are going to leave it in the episode. She has reason to be worried … in the trailer for season 14, Kelly drops the "con woman" line.
The insurance mogul is simply requesting the three sentences made by Kelly Dodd above be edited out of the episode, court docs state NBCU "will suffer no harm to their popular TV program by removing a fraction of an overall episode."
Vicki Gunvalson is suing to get an injunction to block the defamatory remarks removed from the episode before it airs, and also for damages.
"Follow" us on Twitter and on Instagram