EXCLUSIVE: The Real Reason Meghan Edmonds Fired Nanny Carly & The Hockey Game Photo Explained!
The divorce saga surrounding Jim Edmonds, Nanny Carly and Meghan Edmonds gets messier by the day — and AllAboutTheTEA.com is here to break down all the drama!
As reported, Meghan Edmonds accused Jim Edmonds of "having an affair" with their former 22-year-old nanny before he filed for divorce on Friday, October 25. Nanny Carly Wilson and Jim both vehemently deny the accusations but a photo circulating on social media of Jim Edmonds with Carly attending a hockey game last week has the rumor mill churning.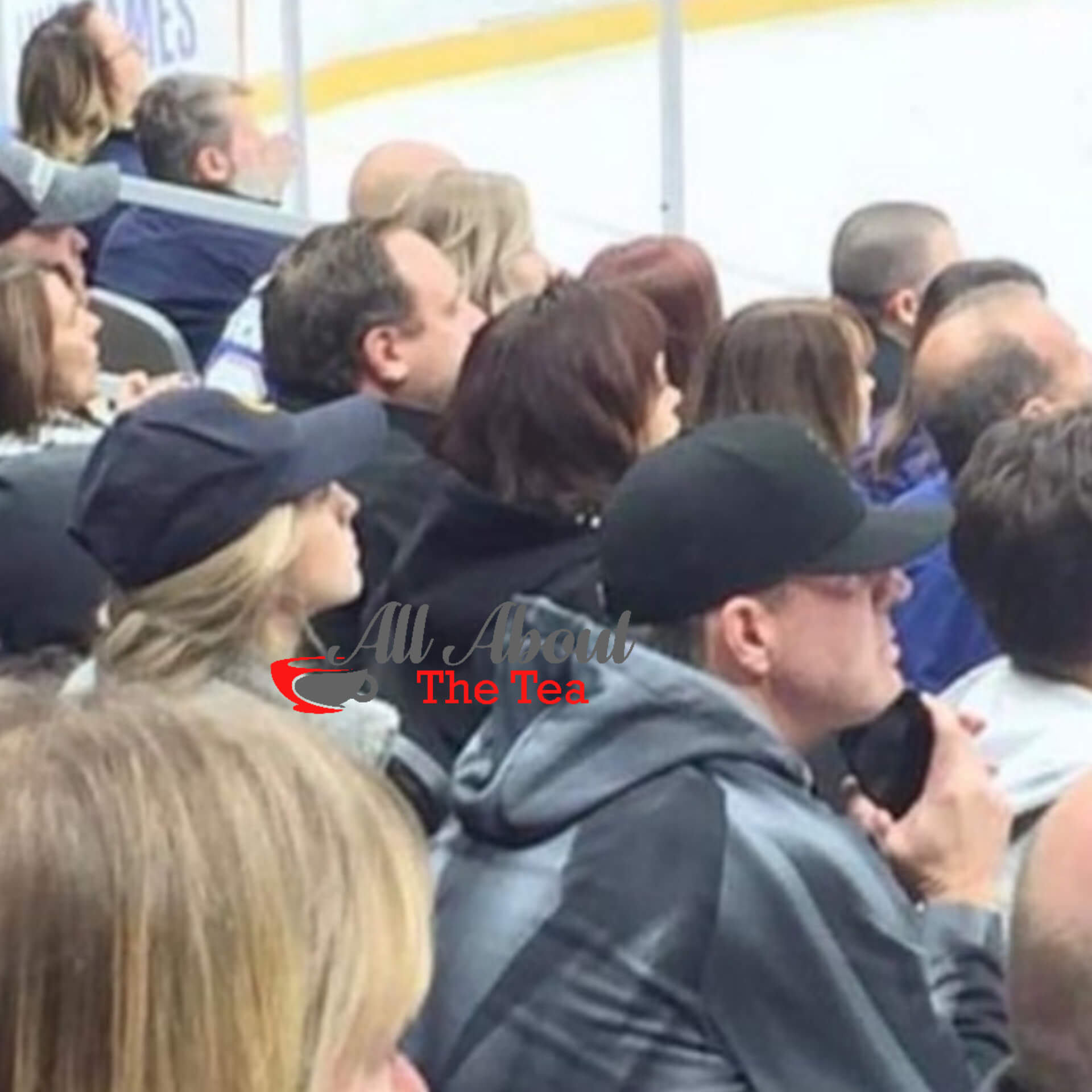 AllAboutTheTEA.com spoke to a ROCK SOLID source very close to the family, who clarified the hockey photo and explained what led up to Meghan firing Carly Wilson.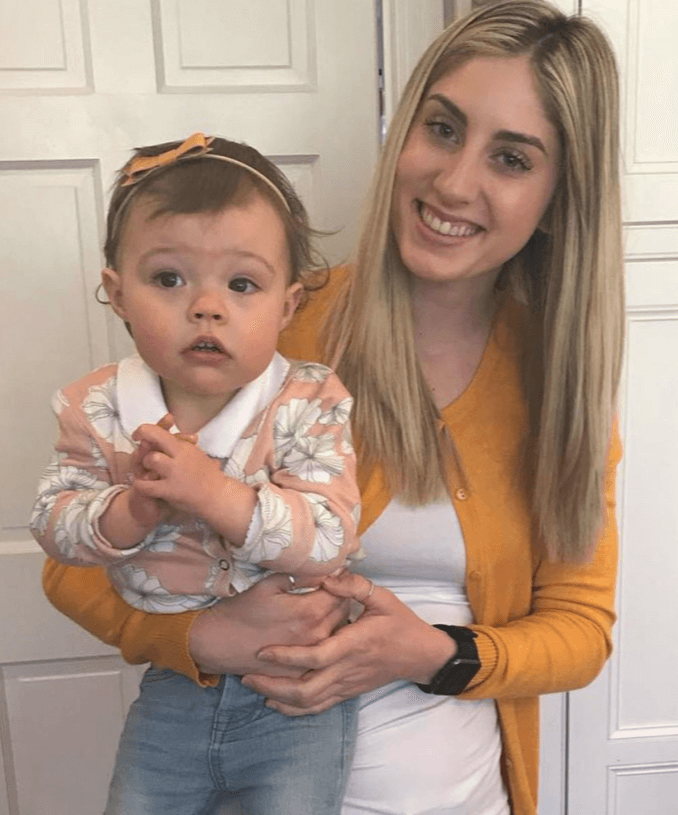 The hockey game in question took place last week and The Real Housewives of Orange County alum was well aware that her estranged husband and Carly would be attending the sporting event together.
"Jim offered to take Meghan to the hockey game and she did not want to go, so he told her he was giving the other hockey ticket to Carly." A source close to the family clarified for AllAboutTheTEA.com.
Read Also: Meghan Edmonds Denies Husband Jim Had Sexual Affair Because Mistress Looks 'Gross' and 'Disgusting'
According to the source, this is nothing out of the ordinary and routine for the family.
"That is nothing new, Carly has been apart of the family for over 2 years." A source told AllAboutTheTEA.com.
After the game, Jim and Carly hung out with a group of Jim's friends and business associates, as well as the Edmonds other nanny. The couple had two nannies as of last week.
EXCLUSIVE: Jim Edmonds' Ex-Wife Allison Jayne Raski Breaks Her Silence In Blistering Statement Dragging Meghan Edmonds!
So what exactly led to Carly being fired after attending the hockey game with Jim?
"Nothing! Meghan actually exploded on the other nanny the day before and fired her. Then the next day, she fired Carly." A source revealed to AllAboutTheTEA.com. "The cheating accusations came completely out of the blue."
According to a ROCK solid source, issues in Jim Edmonds and Meghan's marriage existed for a long time, "Things have been horrible for years!" The source shared.
Read Also: Meghan Edmonds' Nanny Denies Affair With Jim Edmonds Following Divorce Filing!
Both Jim Edmonds and the nanny have denied having an extramarital relationship. On Monday, Jim posted a lengthy message to his Instagram account, calling the allegations "disgusting and irresponsible." Jim said he looked at Carly as one of his children.
"It's one thing to be accused of something. It's another thing to be so negligent and so careless, and ruin the lives of innocent young people.. I did not sleep with our nanny," he wrote. "She's not just a nanny, she is someone that we brought into our house and promised to protect and look after while she was in our home. We have been treating and raising this young girl like she is our own child! For someone to accuse me of sleeping with her is not only wrong, it's disgusting and irresponsible."
He continued: "Just because I am an athlete and I was portrayed as a bad person on bravo TV. Doesn't mean I dont have a clue what life is all about. We made a promise to that young girls mom, that We would take care of her and make sure that she was safe while she was in our hands. I will not sit here and take this bullshit without fighting back."
Jim Edmonds also accused his soon-to-be ex of exploiting her social media platform to spread lies.
"Just because you're extremely whitty [sic] and intelligent, and know how to play the Instagram game. Doesn't give you the right to use that platform to wrongfully accuse," he concluded. Not only is it irresponsible. It is dangerous and puts my family in harms way. We all make mistakes. This is not one of those times. My heart is broken for everyone involved. if you get anything out of this post. Get the truth."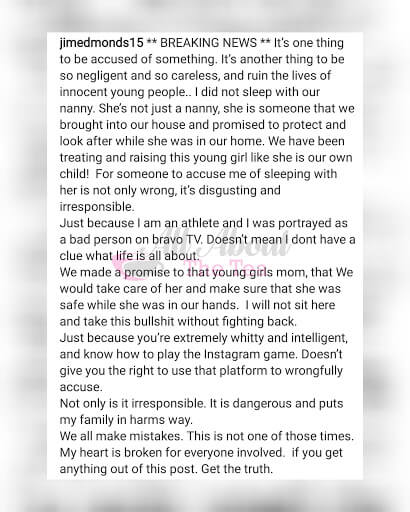 Jim Edmonds, 49, filed for divorce on October 25, and over the weekend, Meghan, 35, posted a cryptic statement about their relationship status on Instagram, uploading a selfie which she captioned "so raw."
The Real Housewives of Orange County airs Tuesdays at 9:00 p.m. ET, on Bravo.
"Follow" us on Twitter and on Instagram
Avigail is an Entertainment blogger at All About The Tea, who specializes in The Real Housewives of Atlanta and The Real Housewives of Potomac. Avigail has a background in marketing. She's a Brooklynite living in the Bahamas, with a passion for travel, writing, reality TV watching, pop culture and spoken word.