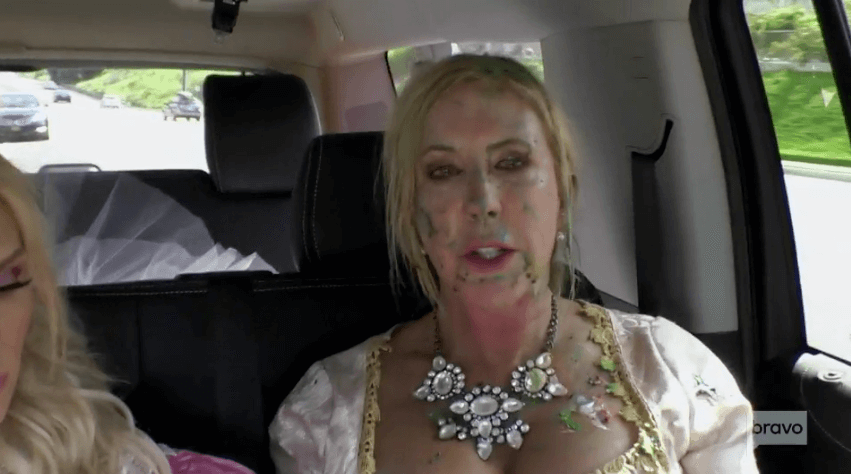 It's another sunny day for the Real Housewives of Orange County. We open with Gina Kirschenheiter combing her son's hair. Kelly Dodd and Jolie have a mother/daughter date with the dentist. Emily Simpson's daughter, Annabelle, is having an eye exam. And Vicki Gunvalson is riding along with Tamra Judge to a costume shop to try on outfits for an upcoming the upcoming tea party. Because everyone wears a costume to a tea party, no? Um, no.
Tamra Judge shares that her friend spied Gina and her estranged husband, Matt, making out at a bar the night before. And Gina was wasted. Alcohol and exes equal bad life decisions. Tamra feels that Gina will fall back in with Matt. And since he's a big, fat cheater, he doesn't deserve a second chance.
Over at Braunwyn Windham-Burke's house, she complains about being a short order cook. She's a mother to a vegan, a vegetarian, and she herself can't have nuts or dairy, so cooking three or four different dinners every evening is a nightmare.
EXCLUSIVE: Bravo Orders Kelly Dodd Into Anger Management After 'Violent' & 'Unhinged' Spa Outburst!
During dinner, Braunwyn asks her son about the college cheating scandal where celeb parents paid to get their kids into universities. Braunwyn's husband, Sean, thinks parents need to allow their kids to fail. Rowan has already looked into applications for schools in NY, but due to her OCD, Braunwyn fears that Rowan will slip back into old habits that include an eating disorder. 
Tamra Judge and Vicki arrive at the costume rental shop to find a Queen Victoria outfit. When Shannon Beador stops by, Tamra starts spilling the tea about Gina and Matt. But when Gina stumbles into the shop looking hungover, they have to shut it down. For now.
Vicki Gunvalson and Shannon look for outfits, and Tamra lights into Gina. "No touching! No alcohol!" Tamra shouts. Gina swears she didn't have sex with her ex. Sure, she may have touched the peen, but that's as far as it went.
Next up, Gina's daughter, Sienna goes for an evaluation. She's been regressing at school and has some sensory processing issues. Gina feels guilty that the kids have been getting worse with Matt out of the picture. She admits she should have gotten Sienna tested sooner and feels that she's failed her children. Maybe taking Matt back would be the right thing for the kids.
Tamra Judge is getting ready for Vicki's birthday tea party. She calls Kelly, who isn't going even though she was invited. She tells Tamra she's headed to LA and has no desire to be around Vicki. She'd rather attend Vicki's funeral than her birthday.
Vicki Gunvalson arrives to use Tamra's hair and makeup peeps. Then Shannon shows up. Tamra has planned for Vicki's makeup to be Marie Antoinette-ish, because even though she's calling herself Queen Victoria, her dress is pre-French revolution all the way. She even has a piece of cake and a wine goblet glued to her towering white wig.
Finally, we're at the tea party. While everyone at the tea shop is dressed normally, Gina arrives wearing a pink wig and sporting a Mad Hatter ensemble. Which doesn't go with Queen Vicki's Marie Antoinette vibe at all. But then again, Tamra is dolled up like a southern belle. And when Emily walks in, she looks ready for the Kentucky Derby. I'm so terribly confused by all this mishmash of clothing. Braunwyn and Emily feel left out, since they didn't get the costume memo.
The waiter offers them champagne or wine while they wait for the others, but Braunwyn is allergic to both. Instead, he pours her a cup of tea, adding that milk and sugar are on the table. Oh, but that would be too easy. Braunwyn doesn't want lactose! Coconut milk is acceptable, though. Gina puts it out there: Braunwyn is a pain in the ass. 
Gina admits to Emily Simpson and Braunwyn that she had a dinner date with Matt. And they had, gasp, s-e-x. Yeah, we all figured that, Gina. Emily thinks Gina is the one regressing.
Shannon calls Gina and tells the girls to get their booties out to the parking lot. There they find a princess carriage, complete with white horses. Tamra and Shannon hop out with a red carpet and announce Queen Victoria's presence. 
The ladies all fall in at the table, where Braunwyn discusses the fashion show from last week and the debacle that happened between the coordinator and Kelly. The other women are disgusted at Kelly's go-to insult of calling people ugly, as she did with the coordinator. The women all agree that she needs to stop talking about women and their looks. 
But Braunwyn is impressed that Kelly lost her temper, and instead of fighting, she managed to rein in her anger. Then Shannon says Tamra has been telling everyone about Kelly's most recent bar fight. Kelly and her boyfriend, Dr. Brian were out and about. When a woman touched Dr. Brian, Kelly yanked the girl's hand from her man, and now the girl says that her hand is broken. Check out the link below for exclusive details on Kelly's bar fight.
EXCLUSIVE: New Shocking Details of Kelly Dodd's Violent Bar Fight Exposed — Threatening Voicemails, Photos!
Emily notes that Kelly removed pics of her and Dr. Brian from her Insta account. Braunwyn thinks it's all a tempest in a teacup. (Just going with the theme here, kids.) Brian and Kelly were at the home of a mutual friend and got into a big fight. Though they separated that night they were back together the next day. 
Tamra and Shannon go to the restroom inside. Tamra says she's not going to sit at the table and listen to everyone bashing Kelly. Of course, the rumor about Kelly's bar fight originated with Tamra in the first place. Tamra points out that if she really wanted to be a bitch, she could say that Kelly wants to celebrate Vicki's death. But she won't because she's classy and shit.
Shannon is upset that Kelly has said such negative things about Vicki. It's just bad karma. So, Tamra facetimes Kelly, asking her to come to the party once more. Kelly says she's sick and not up to it. No mention of LA. Tamra lets Kelly know the ladies are talking about her. 
Vicki Gunvalson soon comes inside and wrangles all the women back to the table, where Gina gets a phone call about her daughter's upcoming occupational therapy. Lunch arrives and Braunwyn makes them take back her plate and deliver one that is free of nuts. Then Gina tells everyone that her daughter needs therapy. Braunwyn asks if Gina's kids go to public school, which Gina takes as a dig. But Braunwyn points out that public schools help kids with special needs.
Gina thinks Braunwyn is being snarky. So, when Braunwyn asks for a separate glass for her Perrier, Gina calls her out for being a snob. She says Braunwyn sounds like an asshole for even asking the question about public school. Braunwyn is shocked at how mean Gina's being. Braunwyn's three oldest kids go to public school and it's been better than the private schools she's tried. Tamra asks which school. When Braunwyn tells her, she's attacked for sending her kids to a charter school — which is publicly funded. Shannon butts in and says that charter schools are public schools—for those who make the cut. At this point, Braunwyn starts crying.
She points out that availability for the charter school depends on whether you can donate money. If not, then you audition for placement. Braunwyn and Sean donate and sit on the board of the charter school her kids attend. She turns to Gina and explains that she's in favor of public school because of the way they've helped her daughter, Rowan. 
Gina isn't listening and says she can't deal with Braunwyn's tears. Tamra backs up Gina, saying Braunwyn came off as sounding superior. When Braunwyn tries to clarify her statement, Gina yells, "I'm not talking about your kids! It's not about you, Braunwyn!" The other ladies fall silent. Braunwyn leaves the table. Gina feels Braunwyn was implying that she was poor for not being able to afford a private school. 
Outside the bathroom, Braunwyn defends herself to Shannon. She admits she may be a tad self-centered, but she was trying to be supportive of Gina. Shannon says the whole situation is a misunderstanding. Gina doesn't share her life very often, and since she's going through an emotional divorce, Gina just snapped. 
Braunwyn and Shannon go back to the table. Braunwyn apologizes to Vicki and then to Gina. Gina admits that she doesn't open up easily. She wants everyone to tiptoe around her when she shares intimate details of her life. 
Braunwyn Windham-Burke admits she can be an asshole sometimes, but she meant no disrespect with the public school comment. Gina refuses to apologize for calling Braunwyn a snob. And Vicki is bummed that her tea party went south so fast.
The birthday cake arrives. Braunwyn doesn't eat dairy, but she's now terrified to mention it because Gina will reach over the table and throttle her.
Vicki takes a phone call before cutting the cake, so Tamra takes a forkful and smears cake and frosting on Vicki's face. That breaks the tension and the ladies all burst into laughter.
We see a shot of the table in the aftermath of the party. With the crumbs and debris, it looks like ten six-year-olds attended, not six middle aged women. Shannon and Tamra escort Vicki to the car. Vicki's face, hair and chest are covered with frosting and the hem of her dress is caught in the car door.
Shannon wonders out loud if Kelly was really sick. Tamra points out that Kelly said she was headed to LA. Oh, and she said she'd rather go to Vicki's funeral than celebrate her birthday. Oopsie! That wasn't supposed to come out! Riiiiight. Hurt, Vicki says Kelly wouldn't be allowed to attend her funeral, so take that!
Kelly Dodd is now at Brian's part-time condo, the one beneath her own. She complains the women are talking about their big fight. He's not surprised, because it was a bad one. The ladies might be gossiping about Kelly breaking up on Instagram, but Brian points out that it's all true. He also notes that Kelly's emotions run deep. She loves deeply. She angers deeply. 
Back in the Tres Amigas car, Shannon thinks Kelly needs to learn to stop saying inappropriate things. Vicki is in tears after hearing Kelly's opinion of her and begins to list all the mean things Kelly has said about her in the past. But Shannon tells Vicki that she's dished it back to Kelly. Neither woman is innocent in the war of words. Vicki says she didn't take it to social media. Nor did she tell anyone that Kelly pushed her own mother down the stairs. Shannon disapproves of Vicki airing Kelly's dirty laundry. But wait, wasn't Shannon the one who brought up Kelly's bar fight earlier? Yes. Yes, she was.
Shannon Beador offers to sit down with Vicki and Kelly and try to broker peace. Tamra wants to be in on that convo. But of course she does. Tamra loves to be in the middle conflict, after all.
And this ends our episode. So, do you think Tamra "slipped" when she told Vicki about Kelly's comment? Or was it planned? And was Gina overreacting to Braunwyn's public school question? What are your thoughts about the latest episode?
"Follow" us on Twitter and on Instagram